April 7, 2023 : Genndy's Latest (and It's Not Primal)
Last year's agreement between Genndy and CN/WB mentioned the new series Unicorn: Warriors Eternal. The trailer is now out and looks awesome (aka on brand for Genndy):
The series is set to premiere May 4th on Adult Swim, and I am stoked. Although full disclosure: I still haven't watched the second season of Primal. It's on the list… sadly, time is a factor. But rest assured, that and this will be consumed sooner rather than later – and I expect to be fully entertained.
posted by Pi Visuals at 1:02 am
Tags:&nbsp
Genndy Tartakovsky
July 4, 2022 : Welcome Home, Genndy!
In a move that seems obvious for Cartoon Network and Warner Bros. Animation, Genndy Tartakovsky signed an exclusive multiyear agreement with the studio pair. The article also mentions the premiere of Primal's second season.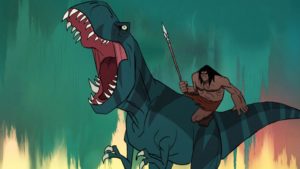 Anytime Genndy is creating original material, it's a good thing. I was unaware of his current project, Unicorn: Warriors Eternal, but I also want to see what else he'll get to work on. The dude's a workaholic.
Other fans have expressed hope he'll resurrect his Popeye Animated movie or previously cancelled shows (specifically Sym-Bionic Titan). Whatever it is, sign me up!
posted by Pi Visuals at 12:08 am
Tags:&nbsp
Genndy Tartakovsky
&nbsp,&nbsp
Sym-Bionic Titan
September 27, 2019 : Genndy's Latest and Greatest
For whatever reason, this has flown under my radar, but Genndy's newest project premieres on Adult Swim in a few weeks. Below is the most recent trailer – although I haven't watched it since I like going in fresh:
I'm still a little uncertain what the scope of this project is. It premieres October 7th, which is a Monday, and will air the remaining four episodes one a night for the remaining days of the week. I suppose it means this is more of a mini-series versus a full fledged show?
To make things weirder, it is getting a limited seven day run at a theater in Los Angeles – ahead of its premiere date. Some speculate this is being done to qualify it for the Oscars. It is worth pointing out Adult Swim previously submitted Aqua Teen Hunger Force Colon Movie Film for Theaters to the Academy for consideration.
Either way, I'm watching it – with the full expectation of being entertained and impressed. The DVR is queued up so I'm ready to go.
posted by Pi Visuals at 10:41 pm
Tags:&nbsp
Adult Swim
&nbsp,&nbsp
Genndy Tartakovsky
February 10, 2017 : Watch Out! Samurai Jack Is Upon Us (Almost)
Adult Swim recently announced the premiere date for Samurai Jack… via bumper of course. The awesomeness starts March 11! I didn't realize this season, which is only ten episodes, will conclude the series. I'd prefer to see more episodes of Jack (or anything Genndy related), but I'm definitely stoked the series will get the send off it deserves. Below is the trailer for the new season:
From the trailer, it's pretty obvious these new episodes will be darker than the original, kid-friendly version. However, that information has already been stated in numerous articles and interviews. Some have expressed concern about this darker material; and while I can see their point, I have faith in Genndy that we will get the Samurai Jack ending everybody deserves.
posted by Pi Visuals at 11:44 pm
Tags:&nbsp
Genndy Tartakovsky
&nbsp,&nbsp
Samurai Jack
July 6, 2016 : Plenty Coming Down Toonami's Pipeline
Anime tends to be comprised of short runs – either for a season or the series as a whole. This means Toonami must frequently add new material to its lineup; and there has recently been much to talk about their schedule, both in the short-term and long-term.
In the immediate future, One-Punch Man will be starting on July 16th, and it looks… interesting.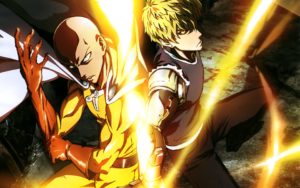 One-Punch Man started as a Web-comic back in 2009 and quickly went viral. The webcomic is still ongoing, but it was also remade into a digital manga and that was later adapted into an anime series. It apparently parodies the superhero genre as well as martial arts anime (like DBZ). Needless to say, I am intrigued.
The next bit of news is the announcement that Season 2 of Attack On Titan will air next Spring. For the record, I believe this is the Japanese premiere date and not Toonami's. However, given Titan's popularity, smart money says it will soon follow.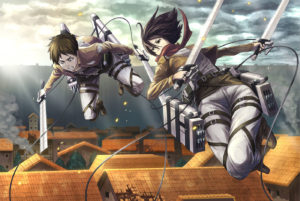 To be honest, I am mixed on this show. It had so much promise, but I felt the second half of the the first season really dragged. As a side note, the first season was made in 2013 (and aired on Toonami back in 2014) – it seems they are taking a page from the Venture Bros.' production schedule.
Lastly, Adult Swim released a cool behind-the-scenes video for Samarai Jack. It doesn't show any footage, but it has plenty of Genndy – and that's more than enough to get me even more excited for the show's return. I always prefer these types of videos versus trailers because they remain spoiler free, yet still provide insight into show.
I was originally going to start the post with this info, but decided against it since I have talked plenty about Samarai Jack lately. I was going to type that I've talked about it 'more than enough', but I don't think you can ever talk enough about Jack.
posted by Pi Visuals at 11:53 pm
Tags:&nbsp
DBZ
&nbsp,&nbsp
Genndy Tartakovsky
&nbsp,&nbsp
Samurai Jack
&nbsp,&nbsp
Toonami
&nbsp,&nbsp
Venture Bros.
June 23, 2016 : Samurai Jack Update
During the recent Annecy Interational Animated Film Festival, Genndy Tartakovsky revealed some updates on the new Samurai Jack, along with some concept art.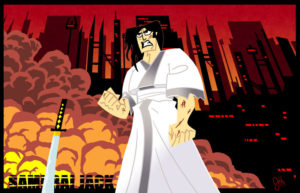 While a premiere date for the new season was not mentioned, they did say it will be 10 episodes long – and with a pacing of a "five-hour movie". It will also take place 50 years after the events of the last episode. I'm not sure how they will address Jack being 50 years older, but I assume it won't be a Batman Beyond situation.
The article goes on to state the tone of the show will be darker and more mature than the previous iteration, which makes sense since it will air on Adult Swim. While some are worried this change in the show's makeup will do harm, I'm optimistic Samurai Jack will still Samurai Jack.
posted by Pi Visuals at 12:47 pm
Tags:&nbsp
Genndy Tartakovsky
&nbsp,&nbsp
Samurai Jack
June 14, 2016 : Dexter's Laboratory's Importance To Cartoon Network
Den Of Geek has a solid article about the impact of Dexter's Laboratory on the Cartoon Network's success over the last twenty years. It talks about the history of the network as well as the origins of the series.
Besides Genndy Tartakovsky, who created the show, it mentions other important people involved with production who went on to have very successful animation careers: specifically Butch Hartman, Craig McCracken, and Seth MacFarlane. The article is an interesting read.
Even though I didn't get Cartoon Network obsessed until after Dexter's Laboratory, I always enjoyed reruns whenever on. For me, its greater value was paving the way for shows I really enjoyed. Most importantly, it allowed Genndy to create more – specifically Samurai Jack (and to a lesser extent Star Wars: Clone Wars and Sym-Bionic Titan…sigh, RIP). For that, props to you Dexter's Laboratory!
posted by Pi Visuals at 11:16 pm
Tags:&nbsp
Genndy Tartakovsky
&nbsp,&nbsp
Samurai Jack
&nbsp,&nbsp
Sym-Bionic Titan
December 3, 2015 : Watch Out, Aku! Jack Is Back!
File under an early Christmas gift, Adult Swim announced this morning Samurai Jack is coming out with new episodes on Toonami in 2016. This teaser trailer was also released:
Production has already started, and as expected, Genndy will be involved – serving as Executive Producer. Also part of the news packet, this sweet poster:
In an interview back in September, Genndy hinted towards some unhappiness with Sony. It was confirmed that he wouldn't be involved with Hotel Transylvania 3, but it was assumed he was developing a project for them that he created (Can You Imagine?). I'm not sure if that's still in the works; but if it gets temporarily shelved for new Samurai Jack episodes, I think most people will take it.
posted by Pi Visuals at 12:07 am
Tags:&nbsp
Genndy Tartakovsky
&nbsp,&nbsp
Samurai Jack
September 23, 2015 : Solid (And Lengthy) Genndy Interview
Cartoon Brew interviewed the force that is Genndy Tartakovsky. It's pretty long, which in this example is great. He talks about plenty – including Samurai Jack and Sym-Bionic Titan (sniff, sniff). You can read it here.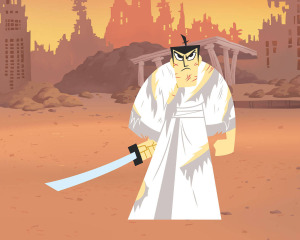 It's interesting to hear his usual optimism interwoven with subtle frustration. Personally, I appreciate both his passion and his humility. However, I'll still continue to hold my breath about any reboot/ revival of Samurai Jack, but you never know. After all, Reboot is making a comeback (sorta).
posted by Pi Visuals at 3:09 pm
Tags:&nbsp
Genndy Tartakovsky
&nbsp,&nbsp
ReBoot
&nbsp,&nbsp
Samurai Jack
&nbsp,&nbsp
Sym-Bionic Titan
October 21, 2014 : Say Goodbye To Beware The Batman
It what seems to be a yearly tradition, another animated show I enjoy has had its run prematurely ended. This year, the tragedy belongs to Beware the Batman. While it's fate was sealed nearly a year ago when Cartoon Network pulled it from the airwaves, the first run of episodes didn't finally conclude until late September (with a seven episode marathon on Adult Swim to finish out its first and only season).
I don't know exactly where to rank this in terms of my disappointment, but it is up there – probably not as high as a Genndy series, but definitely above ThunderCats. It's not much of a secret, but I am a huge Batman fan. I am not sure how critics or other fans felt; but I enjoyed this series.
In addition to being 3D, I felt it did a good job of putting a new spin on the franchise. This was the first time I was introduced to Katana (a character who made sparring appearances in other DC properties), and I liked how Alfred was more than just a wise, old man. He was more than willing to bitch slap you to next Tuesday. Plus, the villains were a nice mix of popular and lesser known.
I am at least glad the overarching story for the season was wrapped up; but as is the case with most of these shows, another story line was set up that I would have wanted to see. Sadly, Anarchy's antics will have to wait for another time.
posted by Pi Visuals at 12:01 am
Tags:&nbsp
Batman
&nbsp,&nbsp
Cancelled
&nbsp,&nbsp
Genndy Tartakovsky
&nbsp,&nbsp
ThunderCats