February 10, 2017 : Watch Out! Samurai Jack Is Upon Us (Almost)
Adult Swim recently announced the premiere date for Samurai Jack… via bumper of course. The awesomeness starts March 11! I didn't realize this season, which is only ten episodes, will conclude the series. I'd prefer to see more episodes of Jack (or anything Genndy related), but I'm definitely stoked the series will get the send off it deserves. Below is the trailer for the new season:
From the trailer, it's pretty obvious these new episodes will be darker than the original, kid-friendly version. However, that information has already been stated in numerous articles and interviews. Some have expressed concern about this darker material; and while I can see their point, I have faith in Genndy that we will get the Samurai Jack ending everybody deserves.
posted by Pi Visuals at 11:44 pm
Tags:&nbsp
Genndy Tartakovsky
&nbsp,&nbsp
Samurai Jack
July 6, 2016 : Plenty Coming Down Toonami's Pipeline
Anime tends to be comprised of short runs – either for a season or the series as a whole. This means Toonami must frequently add new material to its lineup; and there has recently been much to talk about their schedule, both in the short-term and long-term.
In the immediate future, One-Punch Man will be starting on July 16th, and it looks… interesting.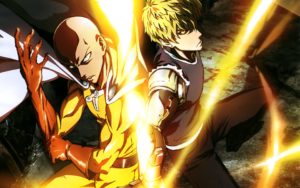 One-Punch Man started as a Web-comic back in 2009 and quickly went viral. The webcomic is still ongoing, but it was also remade into a digital manga and that was later adapted into an anime series. It apparently parodies the superhero genre as well as martial arts anime (like DBZ). Needless to say, I am intrigued.
The next bit of news is the announcement that Season 2 of Attack On Titan will air next Spring. For the record, I believe this is the Japanese premiere date and not Toonami's. However, given Titan's popularity, smart money says it will soon follow.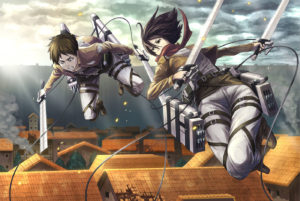 To be honest, I am mixed on this show. It had so much promise, but I felt the second half of the the first season really dragged. As a side note, the first season was made in 2013 (and aired on Toonami back in 2014) – it seems they are taking a page from the Venture Bros.' production schedule.
Lastly, Adult Swim released a cool behind-the-scenes video for Samarai Jack. It doesn't show any footage, but it has plenty of Genndy – and that's more than enough to get me even more excited for the show's return. I always prefer these types of videos versus trailers because they remain spoiler free, yet still provide insight into show.
I was originally going to start the post with this info, but decided against it since I have talked plenty about Samarai Jack lately. I was going to type that I've talked about it 'more than enough', but I don't think you can ever talk enough about Jack.
posted by Pi Visuals at 11:53 pm
Tags:&nbsp
DBZ
&nbsp,&nbsp
Genndy Tartakovsky
&nbsp,&nbsp
Samurai Jack
&nbsp,&nbsp
Toonami
&nbsp,&nbsp
Venture Bros.
June 23, 2016 : Samurai Jack Update
During the recent Annecy Interational Animated Film Festival, Genndy Tartakovsky revealed some updates on the new Samurai Jack, along with some concept art.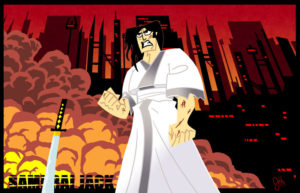 While a premiere date for the new season was not mentioned, they did say it will be 10 episodes long – and with a pacing of a "five-hour movie". It will also take place 50 years after the events of the last episode. I'm not sure how they will address Jack being 50 years older, but I assume it won't be a Batman Beyond situation.
The article goes on to state the tone of the show will be darker and more mature than the previous iteration, which makes sense since it will air on Adult Swim. While some are worried this change in the show's makeup will do harm, I'm optimistic Samurai Jack will still Samurai Jack.
posted by Pi Visuals at 12:47 pm
Tags:&nbsp
Genndy Tartakovsky
&nbsp,&nbsp
Samurai Jack
June 14, 2016 : Dexter's Laboratory's Importance To Cartoon Network
Den Of Geek has a solid article about the impact of Dexter's Laboratory on the Cartoon Network's success over the last twenty years. It talks about the history of the network as well as the origins of the series.
Besides Genndy Tartakovsky, who created the show, it mentions other important people involved with production who went on to have very successful animation careers: specifically Butch Hartman, Craig McCracken, and Seth MacFarlane. The article is an interesting read.
Even though I didn't get Cartoon Network obsessed until after Dexter's Laboratory, I always enjoyed reruns whenever on. For me, its greater value was paving the way for shows I really enjoyed. Most importantly, it allowed Genndy to create more – specifically Samurai Jack (and to a lesser extent Star Wars: Clone Wars and Sym-Bionic Titan…sigh, RIP). For that, props to you Dexter's Laboratory!
posted by Pi Visuals at 11:16 pm
Tags:&nbsp
Genndy Tartakovsky
&nbsp,&nbsp
Samurai Jack
&nbsp,&nbsp
Sym-Bionic Titan
December 3, 2015 : Watch Out, Aku! Jack Is Back!
File under an early Christmas gift, Adult Swim announced this morning Samurai Jack is coming out with new episodes on Toonami in 2016. This teaser trailer was also released:
Production has already started, and as expected, Genndy will be involved – serving as Executive Producer. Also part of the news packet, this sweet poster:
In an interview back in September, Genndy hinted towards some unhappiness with Sony. It was confirmed that he wouldn't be involved with Hotel Transylvania 3, but it was assumed he was developing a project for them that he created (Can You Imagine?). I'm not sure if that's still in the works; but if it gets temporarily shelved for new Samurai Jack episodes, I think most people will take it.
posted by Pi Visuals at 12:07 am
Tags:&nbsp
Genndy Tartakovsky
&nbsp,&nbsp
Samurai Jack
September 23, 2015 : Solid (And Lengthy) Genndy Interview
Cartoon Brew interviewed the force that is Genndy Tartakovsky. It's pretty long, which in this example is great. He talks about plenty – including Samurai Jack and Sym-Bionic Titan (sniff, sniff). You can read it here.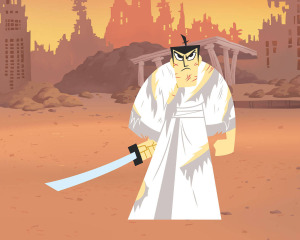 It's interesting to hear his usual optimism interwoven with subtle frustration. Personally, I appreciate both his passion and his humility. However, I'll still continue to hold my breath about any reboot/ revival of Samurai Jack, but you never know. After all, Reboot is making a comeback (sorta).
posted by Pi Visuals at 3:09 pm
Tags:&nbsp
Genndy Tartakovsky
&nbsp,&nbsp
ReBoot
&nbsp,&nbsp
Samurai Jack
&nbsp,&nbsp
Sym-Bionic Titan
July 23, 2013 : Watch Out! Samurai Jack Comic Coming Out
Solid news for Samarai Jack fans – a new comic book is due out this fall, which will pick up where the series (abruptly) ended. It's not a movie (or a new season), but it's better than nothing… even if it's 9 years late. Below is one of the covers, and as expected, it's pretty bad ass.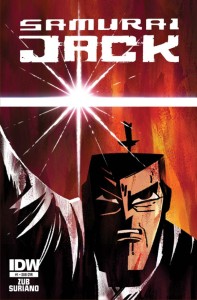 I'm not huge into comic books, although to see Jack again, I'm willing to make an exception. Of course, the bigger picture is that it might be successful enough to gain enough traction for a movie, something that Genndy Tartakovsky still shops around. One can only hope.
posted by Pi Visuals at 11:58 pm
Tags:&nbsp
Genndy Tartakovsky
&nbsp,&nbsp
Samurai Jack
0 Comments | Post a comment
March 31, 2011 : Say Goodbye To Sym-Bionic Titan
Genndy Tartakovsky has yet another series end prematurely on Cartoon Network. They released next season's schedule, and it does not have Genndy's Sym-Bionic Titan on it. While it hasn't been formally cancelled, the absence of the show on the upcoming season's schedule shows it has not been renewed – a similar fate as Genndy's greatest show, Samurai Jack.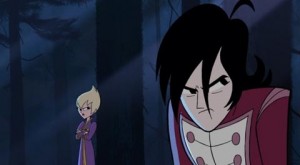 According to the article, while Titan received competitive ratings, the decision to not move forward with another season was because "it didn't have enough toys connected to it". Personally, this seems like a weak reason, but it obviously contributes to the show's bottom line. The more pressing question is – how does a show featuring robots not have marketable toys? Not only does each character their own robot, but they form together to create an entirely new one (Titan… the baddest of them all).
That means the remaining two episodes will be the series last, barring any miracles. Sadly, so many cool storylines will not be resolved (or even touched). But I guess at this point, there's no use crying over spilled milk – all one can do now is make sure they enjoy these last two episodes.
Although, it is disheartening to see another good show end too soon.
posted by Pi Visuals at 12:41 pm
Tags:&nbsp
Cancelled
&nbsp,&nbsp
Disappointing
&nbsp,&nbsp
Genndy Tartakovsky
&nbsp,&nbsp
Samurai Jack
&nbsp,&nbsp
Sym-Bionic Titan
2 Comments | Post a comment
August 18, 2010 : Watch Out, Jack!
On a similar topic to my previous post, Topless Robot came out with a list of The 11 Greatest Episodes Of Samurai Jack.
As usual, lists like these are always up for debate, but it is still worth a read. There were definitely episodes I thoroughly enjoyed that were omitted, but the article begins with a poignant description of the show and its impact on animation.
Plus, reading about most of these episodes was a nice blast from the past.
posted by Pi Visuals at 10:21 pm
Tags:&nbsp
Samurai Jack
0 Comments | Post a comment
August 11, 2010 : Sym-Bionic Jack… I Mean Titan
Genndy Tartakovsky is returning to Cartoon Network, and it will be next month. While I am not sure the exact date  – his new show, Sym-Bionic Titan, premieres in September.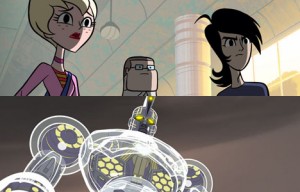 Being a huge fan of Samurai Jack and the original Star Wars: Clone Wars, hearing this definitely made my day. Plus, it stars John DiMaggio (Bender from Futurama) and Brian Posehn (the big guy from Mr. Show, The Sarah Silverman Program, and Mission Hill).
Seeing as how I just found out about Sym-Bionic (how did I not hear about this sooner?), I've decided not to learn much about the show. I want to go in fresh… fresh. So you're on your own using Google to find clips.
posted by Pi Visuals at 10:07 pm
Tags:&nbsp
Genndy Tartakovsky
&nbsp,&nbsp
Samurai Jack
3 Comments | Post a comment