October 6, 2017 : SyFy Says, "Goodbye Dark Matter, Hello Futurama"
The news is about a month old, but SyFy cancelled Dark Matter. Season 3 is waiting to be watched on my DVR Queue, but I was a fan of the show. I will still view it – after I finish up a few other older shows – but now it will be bittersweet. Dark Matter was intended to be a 5 season series, and so it clearly will leave stories left untold and questions unanswered.
In better news (or should I say "Good News, Everyone"), SyFy purchased the rights to Futurama and will begin airing episodes in November. It sounds like the deal is for multiple years; and while it has a hefty price tag, it isn't exclusive. That said, it will be nice to see Futurama back on TV while flipping through the old Boob Tube. I just hope they don't do the awful editing that Comedy Central did when it ran them.
posted by Pi Visuals at 2:02 pm
Tags:&nbsp
Cancelled
&nbsp,&nbsp
Futurama
October 21, 2014 : Say Goodbye To Beware The Batman
It what seems to be a yearly tradition, another animated show I enjoy has had its run prematurely ended. This year, the tragedy belongs to Beware the Batman. While it's fate was sealed nearly a year ago when Cartoon Network pulled it from the airwaves, the first run of episodes didn't finally conclude until late September (with a seven episode marathon on Adult Swim to finish out its first and only season).
I don't know exactly where to rank this in terms of my disappointment, but it is up there – probably not as high as a Genndy series, but definitely above ThunderCats. It's not much of a secret, but I am a huge Batman fan. I am not sure how critics or other fans felt; but I enjoyed this series.
In addition to being 3D, I felt it did a good job of putting a new spin on the franchise. This was the first time I was introduced to Katana (a character who made sparring appearances in other DC properties), and I liked how Alfred was more than just a wise, old man. He was more than willing to bitch slap you to next Tuesday. Plus, the villains were a nice mix of popular and lesser known.
I am at least glad the overarching story for the season was wrapped up; but as is the case with most of these shows, another story line was set up that I would have wanted to see. Sadly, Anarchy's antics will have to wait for another time.
posted by Pi Visuals at 12:01 am
Tags:&nbsp
Batman
&nbsp,&nbsp
Cancelled
&nbsp,&nbsp
Genndy Tartakovsky
&nbsp,&nbsp
ThunderCats
October 10, 2013 : Say Goodbye To Tron: Uprising
It seems like a yearly tradition, but yet another show I watch has been cancelled. This time around, the victim is Tron: Uprising – joining the ranks of such fallen comrades as The Green Lantern: The Animated Series, ThunderCats, and Sym-Bionic Titan.
Technically, Tron wasn't cancelled… it just wasn't renewed; and that's too bad because visually, it was spectacular. Plus, it had a fast-paced storyline that sadly will never get resolved – a fate shared with the many other forgotten shows I used to enjoy.
On the plus side, at least Wilfred will be given a chance to wrap things up in its fourth and final season. Here's hoping they can execute.
posted by Pi Visuals at 1:31 pm
Tags:&nbsp
Cancelled
&nbsp,&nbsp
Green Lantern
&nbsp,&nbsp
Tron: Uprising
0 Comments | Post a comment
March 30, 2012 : Say Goodbye To ThunderCats
Apparently it wasn't that thunderous of a return. Cartoon Network's recent upfront release showed that ThunderCats will not be one of the returning shows next year. This comes nearly a year after the cancellation of Sym-Bionic Titan. For the record, I will be more bummed about losing Titan, but ThunderCats was still a worthwhile show.
The new season just premiered last week, which implies this decision was made without TV ratings in mind (or at least the new season's). Many speculated the demise of the show due to no new toys being released at the recent Toy Fair.
The question is – which action precipitated which? Were no new toys made because the show was about to be cancelled, or was the show cancelled because their weren't marketable toys? If it was the former, then why would a second season even be green lit if the show was to be canned before the new season started? If it was the latter, then what the hell? Growing up, I couldn't have enough ThunderCat toys. Then again, I couldn't believe Sym-Bionic Titan couldn't find a market for toys with a giant robot as its main character.
posted by Pi Visuals at 12:13 am
Tags:&nbsp
Cancelled
&nbsp,&nbsp
Sym-Bionic Titan
&nbsp,&nbsp
ThunderCats
0 Comments | Post a comment
March 31, 2011 : Say Goodbye To Sym-Bionic Titan
Genndy Tartakovsky has yet another series end prematurely on Cartoon Network. They released next season's schedule, and it does not have Genndy's Sym-Bionic Titan on it. While it hasn't been formally cancelled, the absence of the show on the upcoming season's schedule shows it has not been renewed – a similar fate as Genndy's greatest show, Samurai Jack.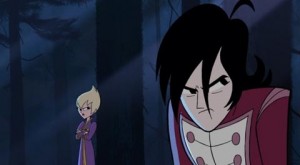 According to the article, while Titan received competitive ratings, the decision to not move forward with another season was because "it didn't have enough toys connected to it". Personally, this seems like a weak reason, but it obviously contributes to the show's bottom line. The more pressing question is – how does a show featuring robots not have marketable toys? Not only does each character their own robot, but they form together to create an entirely new one (Titan… the baddest of them all).
That means the remaining two episodes will be the series last, barring any miracles. Sadly, so many cool storylines will not be resolved (or even touched). But I guess at this point, there's no use crying over spilled milk – all one can do now is make sure they enjoy these last two episodes.
Although, it is disheartening to see another good show end too soon.
posted by Pi Visuals at 12:41 pm
Tags:&nbsp
Cancelled
&nbsp,&nbsp
Disappointing
&nbsp,&nbsp
Genndy Tartakovsky
&nbsp,&nbsp
Samurai Jack
&nbsp,&nbsp
Sym-Bionic Titan
2 Comments | Post a comment