April 19, 2021 : Dolly Zoom Exploration: Addendum
Via the comments of my last post on the Dolly Zoom technique, UrbanExile3d called me out pointed out that I didn't properly execute the maneuver. In particular, the main subject did not remain the same size in the shot. Instead, I took creative liberties and chose to zoom in on him as well.
As a result, I created a new batch of renders, more accurately capturing the Dolly Zoom:
The top two versions definitely give that traditional Dolly Zoom vibe – although the workbench still looks funky to me so I prefer the upper right take.
Oddly enough, I wasn't a fan of the lower left version this time around. I think the BG was too boring to really capture much emotion. Similarly, I felt the lower right version looked cool but wasn't as compelling as the previous version.
Ultimately, the context of the scene should inform the proper camera angles and movements; and it was fun to dive deeper into the Dolly Zoom technique.
posted by Pi Visuals at 11:54 pm
April 16, 2021 : Dolly Zoom Exploration
I finished up my quick Dolly Zoom Study. Several versions were created for review – using the same character movement but changing the background. I also threw in animated color corrections to better sell it in After Effects. Below is the final compilation (click on the image for the GIF to animate):
From a technical perspective, performing the maneuver digitally was very easy. I had full control of the camera and was able to tweak things to get things how I wanted.
The background composition sold the effect. Having a flat one dimensional BG (upper right) made things very dull and ineffective. Similarly, the upper left version added depth with the workbench, but it moved in parallel to the Character… not in contrast, thus limiting its value.
The lower left version did have two walls in the shot, and I felt it was an improvement; but the lower right had the most dynamic staging. As such, it had the most dramatic. Overall, it was a cool exploration into the Dolly Zoom, and I'm glad I have it in my skillset moving forward.
A footnote: this was done in Lightwave 2015… I still don't have much of a clue how to use 2020.
posted by Pi Visuals at 11:35 pm
Tags:&nbsp
After Effects
&nbsp,&nbsp
Lightwave
&nbsp,&nbsp
The Dolly Zoom
March 31, 2021 : New Exercise Identified: The Dolly Zoom
A few months ago, I did some research on the camera technique called "The Dolly Zoom." There are a lot of videos that cover it, and below is one I thought was solid:
I wasn't planning on using The Dolly Zoom for anything in particular. Instead, it was more out of curiosity. Since then, I've wanted to re-create the effect in Lightwave – which admittedly will be much easier than doing it with a real camera.
My hope is to work on it over the next month, most likely re-using assets from Me and Me. I think it's a cool technique to have in one's arsenal. The real question is if I will take a stab at doing this in Lightwave 2020 or not.
posted by Pi Visuals at 9:51 pm
Tags:&nbsp
Lightwave
&nbsp,&nbsp
MeAndMe
&nbsp,&nbsp
The Dolly Zoom
March 14, 2021 : Happy Pi Day!
It's been a year. However, I know a sure fire way to cheer you up – with the celebration of your favorite day and mine (probably mostly mine)… Pi Day!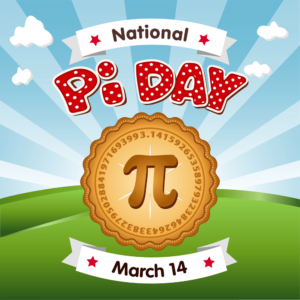 Did you know there's a site dedicated to Pi Day? The internet… who knew, amirite? Anyway, it's filled with all things Pi. So pretty much porn for nerds. They even sell some solid shirts, which I may or may not be considering.
posted by Pi Visuals at 12:15 am
Tags:&nbsp
Pi
March 6, 2021 : Linus and Lucy
A normal Holiday tradition of mine is to relearn Linus and Lucy on piano (commonly known as the Peanuts theme song). Sadly, I haven't done it the last two years. As such, I challenged myself the last month and change to spend 10-15 minutes a day on the song – even learning a slightly new arrangement. Below is the end result.
It's far from perfect – with a few rough spots – but overall I was happy with it. I recorded it to keep myself honest with achieving my goal, but I also used it as an exercise in composition. The video wasn't not nearly as theatrical as other piano pieces of mine, but it was fun nonetheless.
posted by Pi Visuals at 10:33 pm
Tags:&nbsp
Piano
February 24, 2021 : The Heart of Batman Documentary
It apparently came out in 2018, but there's a documentary about Batman: The Animated Series – and DC just put it up on their YouTube Channel.
The history of the show's development was really cool, with plenty of insight and interviews from all the key players… and even a Kevin Conroy sighting!
Throw in some character sheets, tons of stills and Boards, and a bunch of 2.5D parallax effect on photos; and it's a nice stroll down memory lane.
posted by Pi Visuals at 10:04 pm
Tags:&nbsp
Batman
&nbsp,&nbsp
Kevin Conroy
February 5, 2021 : Lightwave 2020 Will Have A Learning Curve
I finally got Lightwave properly installed – thanks to UrbanExile and with absolutely zero help from Newtek support (ugh). Unlike previous upgrades, it looks like I will need some time to study and learn about the new version. When opening up a previously created Scene in 2020, Lightwave creates new files and source directory folders. More importantly, the scene looks different, with the Textures/ Shaders (and thus renders) affected.
I am a little torn about this. To be honest, at the moment I don't have the time to learn new software. One of the reasons I like Lightwave is my familiarity with it and how it fits into my pipeline so easily. Then again, these changes could signify Newtek actually improving the software. It's worth pointing out these changes could very well have taken place in Lightwave 2018, but I skipped that upgrade.
In either case, it looks like they didn't focus much on having satisfactory customer support… awful.
posted by Pi Visuals at 11:27 pm
Tags:&nbsp
Lightwave
January 15, 2021 : Adding C4D To The Arsenal
I still haven't installed Lightwave 2020, but it's on the To Do list. Also on said list is getting more familiar with Cinema 4D. I've used the program on and off over the last few years, but I wouldn't call myself a regular (or proficient). That said, the software is great for motion graphics and complements After Effects really well.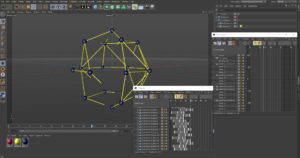 As such, I am trying to make a more concerted effort to use it. I have identified a few professional projects where I can inject some C4D work in the pipeline. It's not intended to create anything Earth-shattering. Instead, I want to give the final video some added flair. The goal isn't to become a master but to get more fluent.
posted by Pi Visuals at 11:19 pm
Tags:&nbsp
Cinema 4D
December 30, 2020 : Lightwave 2020 – In The Arsenal
I finally got around to purchasing Lightwave 2020 this week. For tax reasons, I planned on doing it before the end of the year – and I did just before the deadline!
The last version I had was 2015… so yeah, it's been a while. I haven't installed it yet, nor do I have any plans to use it in the near future (or projects to use it on), but I'm excited. Lightwave is far from industry leading, but it fits nicely in my pipeline for certain things – and I always advocate using what works.
posted by Pi Visuals at 9:59 pm
Tags:&nbsp
Lightwave
December 11, 2020 : Tis' the Season – For This Year's Holiday Card
During the Me and Me wrap up, some time was allocated to this year's Holiday card:
The lift was minimal, compared to previous years; but it was nice to hop into Photoshop… it's been too long. Small projects like these serve as a good break.
posted by Pi Visuals at 11:42 am