November 13, 2022 : Kevin Conroy is Batman
Mark Hamill said it best: "He will always be my Batman."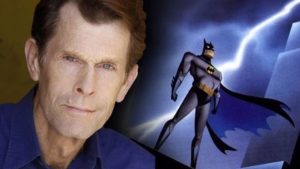 RIP 🙁
posted by Pi Visuals at 12:32 am
Tags:&nbsp
Kevin Conroy
October 23, 2022 : Books Of Yesteryear
Moving has a way of forcing one to Spring Clean… even when it's October. In addition to going through old software installation discs, I also took a look at my book collection – focusing on books I keep as references for specific programs. It was quite a stroll down memory lane:
There were a few more I found after taking the picture, but obviously the collection was very Lightwave heavy. Most of these should have been tossed years ago, but some were referenced periodically back to when I was using the program. I ended up getting rid of the lot, but it was a nice sense of nostalgia seeing them all together. Then again, I also felt some disappointment in what Lightwave has become.
posted by Pi Visuals at 12:47 am
Tags:&nbsp
Lightwave
September 30, 2022 : Me and Me – Early Sketches Uncovered
Things have been really hectic lately. Between a couple side jobs and moving, I haven't had time to do a whole lot (insert violin music here). During the clean up portion of the move, I came across this loose sketch from Me and Me's Pre-Production:
I am always a fan of seeing how a project evolves over time. This was probably done two or three years ago (for future reference, I should date my sketches). At this point, the script was probably firmed up, and I already went through several drafts of initial sketches and needed to firm up some design details… which explains the notes.
I keep a folder for each project that houses all of these notes, drafts, and sketches. I'm not sure why this was by itself in a drawer, but it was cool to come across. Maybe when I put it in the folder where it belongs, I will peruse through some of the other items in there.
posted by Pi Visuals at 12:10 am
Tags:&nbsp
Drawing
&nbsp,&nbsp
MeAndMe
August 20, 2022 : This Weekend's Top Movie? Dragon Ball Super, Of Course
The new Dragon Ball Super movie premieres this weekend, and expectations are that Crunchyroll's first global release will take the top spot at the box office. This seems bizarre; but it is probably a mix of the weak box office lineup and the rise in popularity of anime.
Then again, considering the recent success of other anime movies combined with the Dragon Ball brand, perhaps it makes sense. I'm not sure I'll watch it in the theaters, but it is on my radar so I'm hopeful I get to watch it sooner rather than later.
As a side note, I finally watched the Broly movie. Meh… at least story wise. The visuals were definitely solid. Here's hoping Super Hero does a better job of merging the two.
posted by Pi Visuals at 1:14 am
Tags:&nbsp
DBZ
July 22, 2022 : Happy Pi Approximation Day!
The Silver Medal to my favorite day is here… Pi Approximation Day! The reminder that Pi is so great, it gets two separate celebrations each year.
If you want to learn something fun (and crazy), read about the Indiana Pi Bill. It's a bizarre story of someone trying to pass a bill in the late 1800's claiming he found a way to "Square the Circle" – something that cannot be done because of Pi's inherent nature (i.e. it's 'transcendental'). Still, it didn't stop someone from confusing others, wasting people's time, and ultimately making a fool of oneself… and the state of Indiana. Good stuff.
posted by Pi Visuals at 11:38 am
Tags:&nbsp
Pi
July 4, 2022 : Welcome Home, Genndy!
In a move that seems obvious for Cartoon Network and Warner Bros. Animation, Genndy Tartakovsky signed an exclusive multiyear agreement with the studio pair. The article also mentions the premiere of Primal's second season.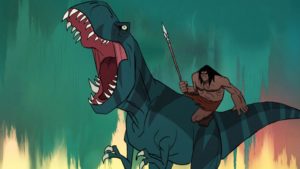 Anytime Genndy is creating original material, it's a good thing. I was unaware of his current project, Unicorn: Warriors Eternal, but I also want to see what else he'll get to work on. The dude's a workaholic.
Other fans have expressed hope he'll resurrect his Popeye Animated movie or previously cancelled shows (specifically Sym-Bionic Titan). Whatever it is, sign me up!
posted by Pi Visuals at 12:08 am
Tags:&nbsp
Genndy Tartakovsky
&nbsp,&nbsp
Sym-Bionic Titan
June 12, 2022 : Iron Giant LP Release and Fan Film
Always on the look out for all things Iron Giant, I saw the upcoming release of a 2-LP Vinyl release of the soundtrack (as well as a high res Digital Release):
Cool stuff indeed, but more interesting is a fan film I stumbled across. It takes place 40 years after the original movie:
It isn't overly ambitious and has some decent CG elements. There could have been a little more audio mixing with Giant, in my opinion, as well as a few more nods and winks to the original movie; but overall it was a solid piece.
posted by Pi Visuals at 12:26 am
Tags:&nbsp
The Iron Giant
May 14, 2022 : A New Dragon Ball Super Movie
There is a new Dragon Ball Super movie coming out this summer, which also happens to be Crunchyroll's first global theatrical release. The trailer looks interesting for a few reasons:
First off, Red Ribbon Army (could be cool). Secondly, Gohan looks bad ass (he better). Thirdly, a lot of the animation sequences uses 3D – not just for the background and camera movements, but also the characters. This is the second Dragon Ball Super movie. The first was Dragon Ball Super: Broly (Battle of Gods and Resurrection F were considered DBZ), which I vaguely remember but didn't watch.
Broly used 3D periodically, but it still predominantly kept with the 2D pipeline. I'm not sure if Super Hero is fully 3D, but it definitely uses significantly more. This could be a good thing or a bad thing, depending on the execution.
We'll see, but I'm intrigued. Also, I need to watch Broly.
posted by Pi Visuals at 12:09 am
Tags:&nbsp
DBZ
April 23, 2022 : Zoom Blur Transition
I mentioned Match Cuts in a previous post. Another transition I've been trying to incorporate more is the Zoom Blur (note: turning these into Gif's did degrade their quality).
While Match Cuts can be used in animation as well as live action, Zoom Blur is more intended for live footage; but I think they are powerful since there our multiple variations – it's just a matter of being creative.
posted by Pi Visuals at 12:36 am
Tags:&nbsp
After Effects
&nbsp,&nbsp
Animation
&nbsp,&nbsp
Transitions
April 2, 2022 : April Fools' Flashback
I'm not one to partake in April Fools' foolery, but here's a post from back in the day talking about others who did. I still chuckle at the reaction Taco Bell got. It's also crazy to think this post was from 13 years ago (?!).
In the event you want to feel mistreated during this time "Holiday", here's a clip of one of my least favorite commercials of all time… which happens to be by Taco Bell. It was so bad, I boycotted them at a time when I would actually eat there. This apparently was also a time when I had a bigger budget for Toilet Paper.
Awful… just awful.
posted by Pi Visuals at 12:37 am
Tags:&nbsp
Taco Bell