November 9, 2019 : My Struggles With Establishing Shots
I had a little time to work on the new short recently. Things are moving slowly, but that's mostly due to other obligations (versus the difficulties of the project itself). Animation is about to kick-off – I am just tying some loose ends with Pre-Production.
The recent work has reminded me of my difficulties associated with Establishing Shots – in particular, what goes after them. If there is an exterior shot, which leads to an indoor scene, I struggle determining what shot to use after the establishing shot.
In many ways, this is a second establishing shot since it needs to set the table specific to the immediate upcoming actions. However, this should be quicker than the previous shot since you're on the clock trying to grab/ keep the viewer's attention.
Right now, I am finalizing some storyboards and running into that fine line between descriptive and excessive. It's a fun exercise but can be stressful because of the importance in setting the table for the scene, which is the main focus for the story.
posted by Pi Visuals at 12:50 am
Tags:&nbsp
Lightwave
&nbsp,&nbsp
MeAndMe
October 18, 2019 : Tips and Tricks From Showrunners
I came across this article, which highlights lessons learned from three showrunners. They discuss their struggles and give tips on their experiences. I also saw the trailer for Cupcake and Dino: General Services for the first time:
I had not heard of the series, but it looks interesting.
As for the article, there is definitely a lot of advice in it on collaboration, being a leader, and succeeding in a new position – much of which translates to other roles and even industries.
posted by Pi Visuals at 11:53 pm
Tags:&nbsp
Animation
&nbsp,&nbsp
Netflix
September 27, 2019 : Genndy's Latest and Greatest
For whatever reason, this has flown under my radar, but Genndy's newest project premieres on Adult Swim in a few weeks. Below is the most recent trailer – although I haven't watched it since I like going in fresh:
I'm still a little uncertain what the scope of this project is. It premieres October 7th, which is a Monday, and will air the remaining four episodes one a night for the remaining days of the week. I suppose it means this is more of a mini-series versus a full fledged show?
To make things weirder, it is getting a limited seven day run at a theater in Los Angeles – ahead of its premiere date. Some speculate this is being done to qualify it for the Oscars. It is worth pointing out Adult Swim previously submitted Aqua Teen Hunger Force Colon Movie Film for Theaters to the Academy for consideration.
Either way, I'm watching it – with the full expectation of being entertained and impressed. The DVR is queued up so I'm ready to go.
posted by Pi Visuals at 10:41 pm
Tags:&nbsp
Adult Swim
&nbsp,&nbsp
Genndy Tartakovsky
September 2, 2019 : Transitions In The Matrix (Are Awesome)
The recent news of a new Matrix movie certainly got me stoked. It also gave me reason to think about the awesomeness of the first movie; and low and behold, I stumbled on this killer video detailing how incredible the transitions were for the movie:
It's not like I need to be told the movie was incredible, but the analysis in this video pointed out a few things I hadn't noticed before. Well done, fellow Matrix fan. Well done.
As for the upcoming movie, it will be interesting to see new details as they come out. Although, I will keep apprised of the ones that are more from a production standpoint. Plot wise, I will try to avoid those… I like to go in fresh.
posted by Pi Visuals at 12:17 am
Tags:&nbsp
The Matrix
August 18, 2019 : Inching Closer To Production
A few (paid) projects have taken the bulk of my time lately, but I have still been able to devote a little time here and there toward the new short. Last week, I finished the model and rig of the second character, which inches things closer to Production.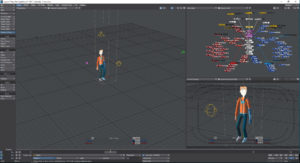 The only major item left in Pre-Production is modeling the location/ scenery. This work has started; but as is always the case with backgrounds, there's a decent amount of objects to model.
posted by Pi Visuals at 12:25 am
August 3, 2019 : Lupin Goes CGI
A new Lupin movie will be released in Japan this coming December. A trailer has recently made the rounds, showing the film will be CGI:
Overall, I'm digging the look. Although to be honest, I've never been very high on Lupin. I always liked it – the animation, story, character design, voice acting, etc – but for whatever reason, the series never grabbed me enough to make it a must watch. This past season I didn't even bother recording, which was mostly due to the prioritization of other shows I wanted to watch more.
That said, I would be more inclined to watch a movie versus a full season, and the CGI look has be genuinely intrigued. A U.S. release date hasn't been set, but I'm hoping it becomes readily available when it does come stateside.
posted by Pi Visuals at 11:26 pm
Tags:&nbsp
Animation
&nbsp,&nbsp
Anime
July 22, 2019 : Happy Pi Approximation Day!
It might not be the real deal, but it's close enough (sorta). Well, at the very least, it deserves its props. Happy Pi Approximation Day!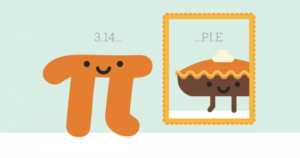 An interested tidbit I recently learned is that today is also called Casual Pi Day. I had not heard about this before, but it was on the internet so it must be true.
posted by Pi Visuals at 12:37 pm
Tags:&nbsp
Pi
July 13, 2019 : UV Mapping
Slowly but surely, things are moving forward with the second character's model. The modeling itself is almost done; but before I can take care of the rigging, I need to do some surfacing. This includes UV Mapping, something I am admittedly rusty at.
In the past, most of my projects reused a basic UV map for the face – needed to draw in the nostrils, ear marks, or chin shadows. My more recent models have moved away from this to image projections. Instead, this model will need some UV Mapping for the clothes. It isn't all that complicated, but I still needed to look up a few things in order to refresh my memory on how to go about taking care of it.
That said, I am almost done with the the UV portion of the surfacing. After that, I need model the face components and tweak some colors… then I can take care of the rig.
posted by Pi Visuals at 12:17 am
Tags:&nbsp
Lightwave
&nbsp,&nbsp
MeAndMe
June 29, 2019 : Spirited Away vs. Toy Story
Last weekend, Toy Story 4 topped U.S. box office receipts. The results had one of two narratives:
– It was the fourth best opening for an animated film ever, and the best yet for the franchise.
– It fell significantly short of projections, indicating audiences were wary for another chapter in the franchise.
Personally, I've enjoyed the Toy Story movies but would prefer new material versus sequels That said, I am sure the movie is solid and will eventually watch it.
What I found more interesting was with China's Box Office. Specifically, the premiere of Miyazaki's Spirited Away more than doubled Toy Story 4's receipts.
To be fair, Spirited Away played at more theaters (with about a 3:2 ratio), and I don't believe China was previously exposed to any of the previous Toy Story films. Still, I always love me some Miyazaki love, and this should not be viewed necessarily as a knock on Toy Story but praise for Spirited Away – and who doesn't like that?
posted by Pi Visuals at 11:59 pm
Tags:&nbsp
Hayao Miyazaki
&nbsp,&nbsp
Pixar
June 14, 2019 : Reacquainted With The Node Editor
After a short (and planned) hiatus, things are moving forward again with the new short. Except for a few last minute tweaks, the rig for the first character is complete. This one took a little longer than the second will because I had re-familiarize myself with some of my 'more recent' updates to my master rig ('more recent' means only two years old).
This included work in the Node Editor, something I have always wanted to get better at but never seem to follow up. For the rig, the Node Editor was used to better handle the Edges of the facial features (Eyes, Brows, Nose, Mouth, etc.). Below was the node structure I had to duplicate:
To prevent future slowdowns, I spent extra time documenting the steps needed to set this part of the rig up – as well as detail the logic behind the methodology. As for the second character, the rigging should go more smoothly. However, I will have some additional modeling – something that will take more time but will be fun.
posted by Pi Visuals at 11:11 pm
Tags:&nbsp
Lightwave
&nbsp,&nbsp
MeAndMe