March 14, 2023 : Happy Pi Day!
Spring is upon us. Not only does that mean some potential Illinois March Madness action (apparently… but to be honest, I haven't watched a single game this season), but it also means the return of C2E2. Most importantly, it's that time of year where we get to enjoy the awesomeness that is Pi Day!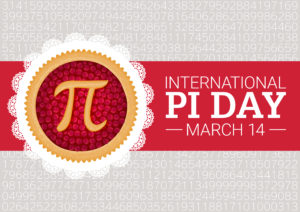 Fun fact: Pi didn't get its name until the early 1700's. Before then, people just used the definition when talking about it ("the quantity which, when the diameter is multiplied by it, yields the circumference"). Pi is definitely more succinct. Happy Pi Day!
posted by Pi Visuals at 12:03 am
Tags:&nbsp
Pi
February 18, 2023 : Watanabe Forbes Interview
Last week, there was a click-baity article floating around about a Forbes interview with Shinichiro Watanabe where he discusses his views on the live action Bebop… being sure to highlight his disapproval and its failure.
They had me at Watanabe so obviously I checked it out. The article has maybe a paragraph about the Netflix version, which is fine since I didn't really want to spend much time bashing the project. In fact, he didn't go into detail about his opinion of the series – basically, he wasn't involved so he didn't have much interest in it. It turns out, the article was predominantly him covering his career as whole, and it was a great read.
For the record, I still haven't watched the Netflix Bebop. I'll probably get to it eventually; but seeing as how it wasn't very well received, it's not a high priority. As an aside, if you are looking for a better analysis of the live action version, there's this video by Corridor Digital Studios (which I saw via UrbanExile). That does a great job of discussing its deficiencies. As for the Watanabe article, enjoy his life story and straight from the horse's mouth.
posted by Pi Visuals at 12:24 am
Tags:&nbsp
Cowboy Bebop
&nbsp,&nbsp
Watanabe
January 21, 2023 : Tis the Season – For An Overdue Post About A Holiday Card
I meant to crank out a quick post last month highlighting the most recent Holiday card, but I guess I never got around to it – which is weird since this Holiday season wasn't particularly busy. Well, better late than never: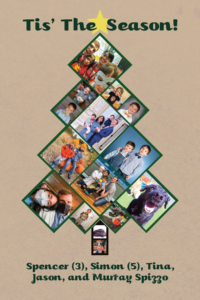 The theme for this last year's card (number 6, by the way) was locked in pretty early. The same goes for the layout and photos. However, there was a lot of back and forth with the coloring and smaller design details. I'm used to tweaking things to death, but this one seemed more than usual. Either way, I was happy with the final product – and a few ideas were even brainstormed (and documented) for next year.
posted by Pi Visuals at 12:08 am
Tags:&nbsp
Holidays
January 13, 2023 : Pretty Sketchy Stuff
Decluttering is a never ending process. Two months ago, I found a box of sketches I've done over the years. Many were over fifteen years old (?!). Some were specific to projects that actually came to fruition, while others were just random techniques and poses I was working on. I'm guessing these amounted to several thousand sheets of paper; and they ranged from awful to not quite as bad. That said, I went through them all and kept the ones I really liked. Being very discriminating, I ended up with 42… because Hitchhikers? Below is a compilation:
I had varying reason for choosing each one. Some reminded me of a project, and I liked how it captured the process. Others told a story (that may or may not have come to fruition). Others were kept out of pure nostalgia.
Either way, I am holding onto these and tossed (recycled) the rest. I haven't drawn anything of significance lately, but it was cool to revisit all the old drawings I did over the years (good and bad); and maybe these saved ones will help provide some inspiration in the future.
posted by Pi Visuals at 12:03 am
Tags:&nbsp
Drawing
December 25, 2022 : Join the Team, Goten
Gohan lasted about 8 years. Piccolo is now past that age; and while it has been mostly running without issue, limitations are now starting to appear. Specifically, it is unable to update to Windows 11, and Adobe will be releasing an update soon that will no longer be stable with its current GPU. The HDD also crapped out this summer, which fortunately didn't result in the loss of many files.
As such, I already planned for a new computer last December to happen this year (it was also beneficial to do it this calendar year for tax purposes). I originally wanted to do it this summer, but I got sidetracked. With Black Friday sales providing the impetus, I finally started the process and purchased the components: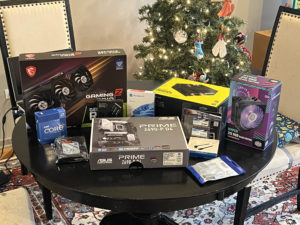 There were several starts and stops… the biggest one being me buying laptop RAM (doh!), but I also had limitations on when I was able to devote time to the build. That said, I was finally able to finish things up. The end result? Goten:
A big thank you to Moridin for returning the favor and doing the leg work on this build. I haven't had a chance to give Goten a spin and see how he runs. In fact, he isn't set up in my pipeline yet – I still need to figure out where he will physically sit – but it's only a matter of time before that happens. In the meantime, I'm please the process is over, and I can finally check this off my to-do list!
posted by Pi Visuals at 9:44 pm
Tags:&nbsp
DBZ
&nbsp,&nbsp
Pipeline
December 1, 2022 : Animation For Anyone Video Series
For no good reason, it's been a while since I've worked on honing my animation skillset. Like anything else, it requires time and effort to stay on top of your game. Fortunately, I stumbled on Alex Grigg's Animation For Anyone channel, which is a series of solid videos about animation. It is filled with explanations on theory as well as exercises. It's great for beginners or seasoned vets looking to brush up on their skills.
His main software is Animate (which used to be Flash?); and while I'm not sure I have the time/desire to learn another piece of software, I keep wanting to dip my toes in the 2D animated pool and this could provide easy entry. That said, I think I would need to use a tablet – which my current setup doesn't use.
posted by Pi Visuals at 11:30 pm
November 13, 2022 : Kevin Conroy is Batman
Mark Hamill said it best: "He will always be my Batman."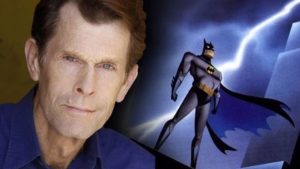 RIP 🙁
posted by Pi Visuals at 12:32 am
Tags:&nbsp
Kevin Conroy
October 23, 2022 : Books Of Yesteryear
Moving has a way of forcing one to Spring Clean… even when it's October. In addition to going through old software installation discs, I also took a look at my book collection – focusing on books I keep as references for specific programs. It was quite a stroll down memory lane:
There were a few more I found after taking the picture, but obviously the collection was very Lightwave heavy. Most of these should have been tossed years ago, but some were referenced periodically back to when I was using the program. I ended up getting rid of the lot, but it was a nice sense of nostalgia seeing them all together. Then again, I also felt some disappointment in what Lightwave has become.
posted by Pi Visuals at 12:47 am
Tags:&nbsp
Lightwave
September 30, 2022 : Me and Me – Early Sketches Uncovered
Things have been really hectic lately. Between a couple side jobs and moving, I haven't had time to do a whole lot (insert violin music here). During the clean up portion of the move, I came across this loose sketch from Me and Me's Pre-Production:
I am always a fan of seeing how a project evolves over time. This was probably done two or three years ago (for future reference, I should date my sketches). At this point, the script was probably firmed up, and I already went through several drafts of initial sketches and needed to firm up some design details… which explains the notes.
I keep a folder for each project that houses all of these notes, drafts, and sketches. I'm not sure why this was by itself in a drawer, but it was cool to come across. Maybe when I put it in the folder where it belongs, I will peruse through some of the other items in there.
posted by Pi Visuals at 12:10 am
Tags:&nbsp
Drawing
&nbsp,&nbsp
MeAndMe
August 20, 2022 : This Weekend's Top Movie? Dragon Ball Super, Of Course
The new Dragon Ball Super movie premieres this weekend, and expectations are that Crunchyroll's first global release will take the top spot at the box office. This seems bizarre; but it is probably a mix of the weak box office lineup and the rise in popularity of anime.
Then again, considering the recent success of other anime movies combined with the Dragon Ball brand, perhaps it makes sense. I'm not sure I'll watch it in the theaters, but it is on my radar so I'm hopeful I get to watch it sooner rather than later.
As a side note, I finally watched the Broly movie. Meh… at least story wise. The visuals were definitely solid. Here's hoping Super Hero does a better job of merging the two.
posted by Pi Visuals at 1:14 am
Tags:&nbsp
DBZ