October 18, 2019 : Tips and Tricks From Showrunners
I came across this article, which highlights lessons learned from three showrunners. They discuss their struggles and give tips on their experiences. I also saw the trailer for Cupcake and Dino: General Services for the first time:
I had not heard of the series, but it looks interesting.
As for the article, there is definitely a lot of advice in it on collaboration, being a leader, and succeeding in a new position – much of which translates to other roles and even industries.
posted by Pi Visuals at 11:53 pm
Tags:&nbsp
Animation
&nbsp,&nbsp
Netflix
August 3, 2019 : Lupin Goes CGI
A new Lupin movie will be released in Japan this coming December. A trailer has recently made the rounds, showing the film will be CGI:
Overall, I'm digging the look. Although to be honest, I've never been very high on Lupin. I always liked it – the animation, story, character design, voice acting, etc – but for whatever reason, the series never grabbed me enough to make it a must watch. This past season I didn't even bother recording, which was mostly due to the prioritization of other shows I wanted to watch more.
That said, I would be more inclined to watch a movie versus a full season, and the CGI look has be genuinely intrigued. A U.S. release date hasn't been set, but I'm hoping it becomes readily available when it does come stateside.
posted by Pi Visuals at 11:26 pm
Tags:&nbsp
Animation
&nbsp,&nbsp
Anime
July 19, 2016 : China's Monkey King: Hero Is Back
China's highest-grossing domestic animated film, Monkey King: Hero Is Back, is finally getting distribution in the United States, due to a partnership with DirecTV. Below is the English trailer:
While the trailer doesn't jump out at me, the movie's success does have potential significance. Having grossed US$153 million during last year's release in China on a mere $16 million budget has pushed a lot of other animation features into production.
If this movie's limited American release and On-Demand rentals prove fruitful, it will only kick things into a higher gear. I believe the increased demand will result in higher budgets and better projects coming out of China.
posted by Pi Visuals at 10:50 am
Tags:&nbsp
Animation
May 27, 2016 : 'Player Two' Animated Short
I saw a cool student animation film on Vimeo earlier this week. If you have just under four minutes, it's worth a view.
There are several reasons why I enjoyed the short: the video game references, the subtle music track, and the overall message. However, I was particularly surprised with how much I liked the design.
I assumed it was rotoscoped, which is confirmed by the creator in the video's description, and normally I am not a huge fan. I think the jagged edges often come off too jarring. This film didn't use edges, which reminded me of Samurai Jack, and the softness works by offsetting the fast movements.
To be fair, I never really considered my brother Player One or Two – but he is definitely Player B in my mind.
posted by Pi Visuals at 7:50 pm
Tags:&nbsp
Animation
December 27, 2012 : Must See Animated Short Films
I'm not one for internet lists. They're basically somebody's opinion, followed by countless dissenters whining about it in the comments section. The only times I tend to read these lists is when they offer interesting new info or links. This was the case with Listverse's 10 Must See Animated Films.
A few of the entries I had previously seen, and I personally would have preferred less Pixar shorts (not because they were bad, but it seemed like the list should have veered away from the mainstream). However, overall the shorts were fun to watch. If you have about an hour to kill, you should check it out. Still, there was one short that I really enjoyed.
I loved the innovative concept, and the meshing of 2D and 3D animation was very well executed. The 2D animation reminded me of the old school Looney Toons, and the 3D work had a tremendous amount of detail devoted to it. And above everything else, the story was interesting. If you have five minutes, give it a look.
posted by Pi Visuals at 2:38 am
Tags:&nbsp
Animation
0 Comments | Post a comment
July 17, 2012 : Tom Hanks' Electric City
Tom Hanks created a new animated series called Electric City. The interesting thing about this series is that it will air exclusively online – on Yahoo's video site, Yahoo! Screen. It is one of the first major animation productions specifically designed for online viewing (at least that I know of). Today, the first ten episodes aired, each one 5-7 minutes. Over the next two days, the remaining ten will be released. Below is the first episode:
The animation clearly has a decent sized budget, and the story concept is pretty interesting; however I think it's a little underdeveloped and stalls at times. While I am mildly curious to see how the series wraps up, I am more interested to see what kind of impact, in any, it has on future online animated series. I'm not sure exactly what the business model is for this type of roll out, but it's different… and that definitely catches my attention.
posted by Pi Visuals at 10:22 pm
Tags:&nbsp
Animation
0 Comments | Post a comment
July 28, 2011 : David Wolter's "Eyrie"
I came across David Wolter's short film, Eyrie, and I think it's pretty impressive. Check it out below.
The animation and overall design isn't all that refined, but the short still works… and quite well I must say. I think the obvious lesson here is the importance of story and how it should be the driving force for any project. You don't need a sexy look and perfect animation to resonate with an audience – the first thing should always be the actual content (I always go back to South Park as a perfect example of this).
A secondary lesson here is the importance of music, particularly in animation. There isn't a word of dialogue in the film; and while the emotions are well conveyed visually, the score does a great job of solidifying the tone throughout. I don't think the film would have come off as well without it. It not only complements the short but enhances it, and that should be the goal when considering music in a project.
posted by Pi Visuals at 9:39 pm
Tags:&nbsp
Animation
&nbsp,&nbsp
South Park
0 Comments | Post a comment
September 1, 2010 : God & Co.
Stephen and Joel Levinson created, wrote, and directed a few animated shorts called God & Co. The shorts aren't bad. They have won several awards, and apparently they are pitching the idea around.
The really cool part about this is the backstory to the creation of these shorts. After writing the first script, these NYC brothers asked a few famous comedians to be in their short – comedians they didn't know… and to do so without any compensation. The cool thing, was they all said yes.
The end result, a bunch of pretty funny people lending their voices. Leading the charge, is Jonathan Katz… starring as God. The shorts were also animated under the supervision of Ed Mundy (who has experience with Archer and Sealab 2021).
Needless to say, a pretty impressive cast and crew.
posted by Pi Visuals at 3:29 pm
Tags:&nbsp
Animation
&nbsp,&nbsp
Archer
0 Comments | Post a comment
April 30, 2010 : Meet Meline
A French couple spent two years creating a nice looking animation called Meet Meline. The nearly seven minute short goes for a realistic look and tells a nice story about a young girl. Above everything else, the lighting really stands out as impressive.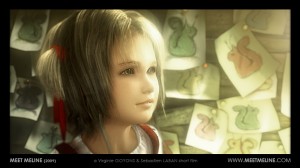 The accompanying website, in my opinion, is the really cool thing. It details a lot of the work throughout the process. In addition to a blog and production diary, a Making Of video was also released. This goes into a lot of the work required to create the short – from idea conception all the way through post-production. Plus, you get glimpses of the software and techniques used.
posted by Pi Visuals at 1:00 pm
Tags:&nbsp
Animation
0 Comments | Post a comment
March 5, 2010 : Peanut Butter Adventure Time!
Adventure Time With Jake and Penn, premieres next month on Cartoon Network. This is the first show on the network that I have been pretty stoked about that hasn't been Adult Swim or D.C. Comics related in quite some time. The cast also has some familiar names – including John DiMaggio (Bender from Futurama), Dee Bradley Baker (Klaus from American Dad), Tom Kenny (from so many animated shows), and Mark Hamill (you know who he is).
Adventure Time is based on the short created by Pendleton Ward for Frederator Studios' Random! Cartoons, and it was hilarious. Some Cartoon Network shows are clearly aimed at younger audiences. However, there are the occasional shows that come around and appeal to an older crowd, while still remaining viewable to kids (Power Puff Girls, Courage the Cowardly Dog, and Samurai Jack come to mind).
If the short is any indication, this could be one of them. It's random, bizarre humor is right up my alley, and I am looking forward to its premiere.
posted by Pi Visuals at 12:43 pm
Tags:&nbsp
Animation
1 Comment | Post a comment