July 28, 2011 : David Wolter's "Eyrie"
I came across David Wolter's short film, Eyrie, and I think it's pretty impressive. Check it out below.
The animation and overall design isn't all that refined, but the short still works… and quite well I must say. I think the obvious lesson here is the importance of story and how it should be the driving force for any project. You don't need a sexy look and perfect animation to resonate with an audience – the first thing should always be the actual content (I always go back to South Park as a perfect example of this).
A secondary lesson here is the importance of music, particularly in animation. There isn't a word of dialogue in the film; and while the emotions are well conveyed visually, the score does a great job of solidifying the tone throughout. I don't think the film would have come off as well without it. It not only complements the short but enhances it, and that should be the goal when considering music in a project.
posted by Pi Visuals at 9:39 pm
Tags:&nbsp
Animation
&nbsp,&nbsp
South Park
0 Comments | Post a comment
September 1, 2010 : God & Co.
Stephen and Joel Levinson created, wrote, and directed a few animated shorts called God & Co. The shorts aren't bad. They have won several awards, and apparently they are pitching the idea around.
The really cool part about this is the backstory to the creation of these shorts. After writing the first script, these NYC brothers asked a few famous comedians to be in their short – comedians they didn't know… and to do so without any compensation. The cool thing, was they all said yes.
The end result, a bunch of pretty funny people lending their voices. Leading the charge, is Jonathan Katz… starring as God. The shorts were also animated under the supervision of Ed Mundy (who has experience with Archer and Sealab 2021).
Needless to say, a pretty impressive cast and crew.
posted by Pi Visuals at 3:29 pm
Tags:&nbsp
Animation
&nbsp,&nbsp
Archer
0 Comments | Post a comment
April 30, 2010 : Meet Meline
A French couple spent two years creating a nice looking animation called Meet Meline. The nearly seven minute short goes for a realistic look and tells a nice story about a young girl. Above everything else, the lighting really stands out as impressive.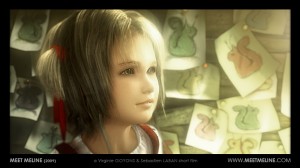 The accompanying website, in my opinion, is the really cool thing. It details a lot of the work throughout the process. In addition to a blog and production diary, a Making Of video was also released. This goes into a lot of the work required to create the short – from idea conception all the way through post-production. Plus, you get glimpses of the software and techniques used.
posted by Pi Visuals at 1:00 pm
Tags:&nbsp
Animation
0 Comments | Post a comment
March 5, 2010 : Peanut Butter Adventure Time!
Adventure Time With Jake and Penn, premieres next month on Cartoon Network. This is the first show on the network that I have been pretty stoked about that hasn't been Adult Swim or D.C. Comics related in quite some time. The cast also has some familiar names – including John DiMaggio (Bender from Futurama), Dee Bradley Baker (Klaus from American Dad), Tom Kenny (from so many animated shows), and Mark Hamill (you know who he is).
Adventure Time is based on the short created by Pendleton Ward for Frederator Studios' Random! Cartoons, and it was hilarious. Some Cartoon Network shows are clearly aimed at younger audiences. However, there are the occasional shows that come around and appeal to an older crowd, while still remaining viewable to kids (Power Puff Girls, Courage the Cowardly Dog, and Samurai Jack come to mind).
If the short is any indication, this could be one of them. It's random, bizarre humor is right up my alley, and I am looking forward to its premiere.
posted by Pi Visuals at 12:43 pm
Tags:&nbsp
Animation
1 Comment | Post a comment
February 9, 2010 : Did I Catch A Niner In There?
I finally got around to see Nine, and it was a pretty entertaining movie.
The film was based off of director Shane Acker's computer animated short, and it's worth a viewing. The themes are slightly more adult oriented than most animated movies; and while it didn't pull off Pixar or Dreamworks like numbers, it still turned a profit.
Also, the Super Bowl had it's fair share of horrendous commercials (you did again, Taco Bell!), but the trailer for The Last Airbender looked pretty sweet.
posted by Pi Visuals at 1:41 pm
Tags:&nbsp
Animation
0 Comments | Post a comment
January 19, 2010 : Wordle Weekend
Between being bored this weekend and thinking more about my previous post, which had a visual representation of what is often discussed on this blog, I decided to make a quick short using the images obtained from Wordle.
If you look closely (or pause the video frequently), a lot of funny phrases show up that were randomly present in the original Wordle image.
The link to the video is here. By the way, IE6 and/or IE7 might have issues playing this file – it is recommended to use a different browser.
Also, the primary software used was After Effects.
posted by Pi Visuals at 2:25 am
Tags:&nbsp
Animation
2 Comments | Post a comment
October 23, 2009 : The Iron Giant Turns Ten
Ten years ago, in August, one of the greatest movies of all time was released… to pretty much empty theaters.
The Iron Giant is one of my favorite all-time movies. More so than any other animated movie, live action movie, and even Ace Ventura (yeah, you read that right).
Tonight there will be a 10th anniversary panel discussion about the movie in Burbank. Panelists include the art director, lead animator, and the super awesome Brad Bird. Tickets for this event sold out within 24 hours; and because of its demand, the location was changed in order to sell additional tickets.
Going to this would be worth a trip out to Cali on its own. Hopefully there will be some video about it on the interweb.
posted by Pi Visuals at 1:48 pm
Tags:&nbsp
Animation
&nbsp,&nbsp
The Iron Giant
0 Comments | Post a comment
October 22, 2009 : Reboot: In Development Hell?
It is unclear exactly how many hurdles Rainmaker Entertainment (formally Mainframe Entertainment) has run into while producing the Reboot Trilogy – although the original writer did drop out last year. The release of new Reboots has been talked about for a while and were even mentioned on this blog… twice. Despite all this time, there has been little to nothing leaked to its fans: no footage, screen grabs, general storylines, pre-vis work… nothing.
At least until now. A few weeks ago, Rainmaker released a teaser trailer – and the emphasis is on teaser.
It's cool to finally see something, and it certainly brings back memories of the series. However, the clip is a mere 15 seconds long and has zero characters in it. Has anything of significance really been developed for the movie? It is slated for a 2010 debut, but who knows how definite that is.
Sigh… Apparently, it's back to the waiting game. Wait, Astroboy is coming out soon? Okay, never mind.
posted by Pi Visuals at 11:21 am
Tags:&nbsp
Animation
&nbsp,&nbsp
Astroboy
&nbsp,&nbsp
ReBoot
0 Comments | Post a comment
September 3, 2009 : I Don't Think The Onion Liked It
Most people probably heard about the failure that was Delgo. Its backstory made it tough to root against – an animator wanting to make a CGI movie not just outside of Hollywood (like Coraline) but also without a major studio backing. Unfortunately, its pipeline was plagued with an avalanche of horrible decisions and poor execution. Still, this review of the movie by The Onion's A.V. Club was too funny not to mention. Ouch.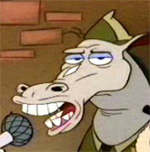 Also – Hayao Miyazaki's new movie, Ponyo, is out in theatres. Like most of his work, it looks pretty sweet. My favorite is still Princess Mononoke.
posted by Pi Visuals at 12:46 pm
Tags:&nbsp
Animation
&nbsp,&nbsp
Hayao Miyazaki
&nbsp,&nbsp
Laika
1 Comment | Post a comment
July 6, 2009 : Oh Yeah – I Almost Forgot
I figure I'd follow up from a previous post. I ended up seeing Up a few weeks ago.
As expected, I liked it. It's tough to say how high it ranks with some of my favorites. Personally, I like most of Pixar's movies (although there are a few exceptions), it is only the ones that I find really good that stand out above the rest.
Is Up one of them? That usually takes some time thinking about the movie – story, animation, characters, etc – before any conclusion could be made. In either case, it was very well done; and it definitely had its moments. Also, it's story did travel an untraditional route, so props for that.
posted by Pi Visuals at 9:37 pm
Tags:&nbsp
Animation
&nbsp,&nbsp
Pixar
1 Comment | Post a comment