June 12, 2022 : Iron Giant LP Release and Fan Film
Always on the look out for all things Iron Giant, I saw the upcoming release of a 2-LP Vinyl release of the soundtrack (as well as a high res Digital Release):
Cool stuff indeed, but more interesting is a fan film I stumbled across. It takes place 40 years after the original movie:
It isn't overly ambitious and has some decent CG elements. There could have been a little more audio mixing with Giant, in my opinion, as well as a few more nods and winks to the original movie; but overall it was a solid piece.
posted by Pi Visuals at 12:26 am
Tags:&nbsp
The Iron Giant
December 2, 2016 : Spirited Away 15th Anniversary Theatrical Re-Release
Fathom Events is known to do some limited re-releases – most notably The Iron Giant last year. In honor of its 15th anniversary, they will have a 3-day theatrical run for Spirited Away. The screenings will take place Sunday, December 4, as well as the following Monday and Thursday. Sunday's screening will be the English dub, while Monday's will be English subtitled. I am not sure about Thursday.
Spirited Away is Miyazaki's most successful movie. I was surprised to find out it is still Japan's highest grossing film (Number 2 and 3 is Titanic and Frozen, respectively). To be honest, I think my favorite Miyazaki film is Princess Mononoke – although that's probably because that was my first exposure to the director/ animator. Either way, Spirited Away is beyond solid and seeing it at the theaters would be a great way to appreciate the artwork (and story).
posted by Pi Visuals at 2:48 pm
Tags:&nbsp
Anime
&nbsp,&nbsp
Hayao Miyazaki
&nbsp,&nbsp
The Iron Giant
September 30, 2015 : The Iron Giant's New Blu-Ray Release
Filed 'yet another reason for me to finally get a Blu-Ray player', Warner Bros. confirmed the rumors that The Iron Giant will get a new Blu-Ray release. The release date for The Iron Giant: Signature Edition has not been announced. However, it will include the two new scenes that are part of this week's limited theatrical release as well as a yet-to-be-made documentary about the making of the film.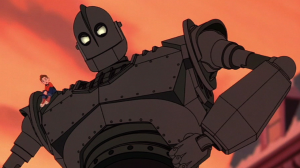 For those that cannot wait, the movie will be available digitally this fall. As for me, I will be watching the movie on the big screen Sunday and plan on getting the Blu-Ray (whenever it comes out). I have gotten plenty of mileage out of my DVD so I'm ready for the upgrade. Now all I need is the equipment to play it on.
posted by Pi Visuals at 3:38 pm
Tags:&nbsp
The Iron Giant
July 10, 2015 : The Iron Giant's Special Re-Release
The Iron Giant, one of my favorite all-time movies (animated or non), is getting a special limited re-release this Fall. Below is the new poster for The Iron Giant: Signature Edition.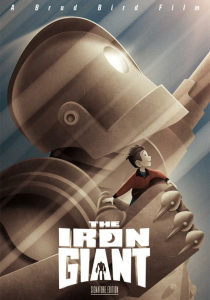 The re-release will be extremely limited. It will be in theaters on Wednesday, September 30th at 7:00PM (local time) and have an additional airing in select markets on Sunday, October 4th at 12:00PM (local time).
Not only is the movie remastered, but it will also include two new scenes that didn't make the original cut (theatrically or on any of the DVD's). Talk about icing on the cake.
posted by Pi Visuals at 1:37 pm
Tags:&nbsp
The Iron Giant
August 17, 2014 : Finally, An Iron Giant Toy
This is a few weeks late, but Mondo (the art company that primarily makes stylized posters of movies) recently announced that it is getting into the toy business; and they're doing it the best way I can imagine… by releasing a 16″ Iron Giant Toy!
A few things that will be included with it: a Hogarth figure, scraps of metal to chew on, and an interchangeable head and gun attachment – thus giving him a choice between his regular version and his 'Battle Mode' version.
Apparently to ensure its accuracy, the figure was designed from the actual CG files used in the film. As a side note, how awesome would it be to get said CG files?
The specifics of the release have not been announced, including when it will be made available or the cost; however, something tells me it will not be cheap. In any event, I plan on keeping an eye out for any updates.
posted by Pi Visuals at 11:36 am
Tags:&nbsp
The Iron Giant
October 23, 2009 : The Iron Giant Turns Ten
Ten years ago, in August, one of the greatest movies of all time was released… to pretty much empty theaters.
The Iron Giant is one of my favorite all-time movies. More so than any other animated movie, live action movie, and even Ace Ventura (yeah, you read that right).
Tonight there will be a 10th anniversary panel discussion about the movie in Burbank. Panelists include the art director, lead animator, and the super awesome Brad Bird. Tickets for this event sold out within 24 hours; and because of its demand, the location was changed in order to sell additional tickets.
Going to this would be worth a trip out to Cali on its own. Hopefully there will be some video about it on the interweb.
posted by Pi Visuals at 1:48 pm
Tags:&nbsp
Animation
&nbsp,&nbsp
The Iron Giant
0 Comments | Post a comment