June 29, 2019 : Spirited Away vs. Toy Story
Last weekend, Toy Story 4 topped U.S. box office receipts. The results had one of two narratives:
– It was the fourth best opening for an animated film ever, and the best yet for the franchise.
– It fell significantly short of projections, indicating audiences were wary for another chapter in the franchise.
Personally, I've enjoyed the Toy Story movies but would prefer new material versus sequels That said, I am sure the movie is solid and will eventually watch it.
What I found more interesting was with China's Box Office. Specifically, the premiere of Miyazaki's Spirited Away more than doubled Toy Story 4's receipts.
To be fair, Spirited Away played at more theaters (with about a 3:2 ratio), and I don't believe China was previously exposed to any of the previous Toy Story films. Still, I always love me some Miyazaki love, and this should not be viewed necessarily as a knock on Toy Story but praise for Spirited Away – and who doesn't like that?
posted by Pi Visuals at 11:59 pm
Tags:&nbsp
Hayao Miyazaki
&nbsp,&nbsp
Pixar
December 2, 2016 : Spirited Away 15th Anniversary Theatrical Re-Release
Fathom Events is known to do some limited re-releases – most notably The Iron Giant last year. In honor of its 15th anniversary, they will have a 3-day theatrical run for Spirited Away. The screenings will take place Sunday, December 4, as well as the following Monday and Thursday. Sunday's screening will be the English dub, while Monday's will be English subtitled. I am not sure about Thursday.
Spirited Away is Miyazaki's most successful movie. I was surprised to find out it is still Japan's highest grossing film (Number 2 and 3 is Titanic and Frozen, respectively). To be honest, I think my favorite Miyazaki film is Princess Mononoke – although that's probably because that was my first exposure to the director/ animator. Either way, Spirited Away is beyond solid and seeing it at the theaters would be a great way to appreciate the artwork (and story).
posted by Pi Visuals at 2:48 pm
Tags:&nbsp
Anime
&nbsp,&nbsp
Hayao Miyazaki
&nbsp,&nbsp
The Iron Giant
September 10, 2013 : Hayao Miyazaki Calls It Quits
After an insanely long and successful career, legendary anime director and manga artist, Hayao Miyazaki has decided to retire. He is calling it a career at the ripe age of 72, and he is definitely going out on top.
Miyazaki is probably best known in the United States for his Studio Ghibli films (a studio he co-founded). I haven't watched all of them, but I certainly enjoyed the ones I've seen. Something tells me despite the retirement, Miyazaki will still have his hand in many animation related pies.
posted by Pi Visuals at 10:18 pm
Tags:&nbsp
Hayao Miyazaki
0 Comments | Post a comment
September 3, 2009 : I Don't Think The Onion Liked It
Most people probably heard about the failure that was Delgo. Its backstory made it tough to root against – an animator wanting to make a CGI movie not just outside of Hollywood (like Coraline) but also without a major studio backing. Unfortunately, its pipeline was plagued with an avalanche of horrible decisions and poor execution. Still, this review of the movie by The Onion's A.V. Club was too funny not to mention. Ouch.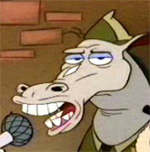 Also – Hayao Miyazaki's new movie, Ponyo, is out in theatres. Like most of his work, it looks pretty sweet. My favorite is still Princess Mononoke.
posted by Pi Visuals at 12:46 pm
Tags:&nbsp
Animation
&nbsp,&nbsp
Hayao Miyazaki
&nbsp,&nbsp
Laika
1 Comment | Post a comment