July 10, 2015 : The Iron Giant's Special Re-Release
The Iron Giant, one of my favorite all-time movies (animated or non), is getting a special limited re-release this Fall. Below is the new poster for The Iron Giant: Signature Edition.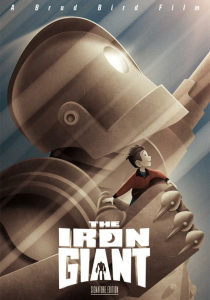 The re-release will be extremely limited. It will be in theaters on Wednesday, September 30th at 7:00PM (local time) and have an additional airing in select markets on Sunday, October 4th at 12:00PM (local time).
Not only is the movie remastered, but it will also include two new scenes that didn't make the original cut (theatrically or on any of the DVD's). Talk about icing on the cake.
posted by Pi Visuals at 1:37 pm
Tags:&nbsp
The Iron Giant