February 7, 2013 : The Real Life Models For Archer's Characters
With Archer's new season underway, you expect one or two behind-the-scenes articles like this to come out. The one below was particularly fun to read. It details who specifically was used for each character design, and it was in Executive Producer Matt Thompson's own words.
http://www.vulture.com/2013/02/archer-characters-real-life-models.html#
Now in it's fourth season, Archer continues to deliver – in terms of quality, the new season has picked up where the last one left off. It's nice to see a show not heading downhill after a few successful seasons (did somebody say Sunny?).
posted by Pi Visuals at 11:06 am
Tags:&nbsp
Archer
0 Comments | Post a comment
January 20, 2012 : Archer's Return
Last night was the season 3 premiere of Archer, a show that keeps getting better and better. The next 12 weeks will certainly be brighter because of it. I haven't had a chance yet to watch the new show following Archer, Unsupervised. While the commercials haven't been all that impressive, I plan on giving it a shot. In addition to being created by producers from It's Always Sunny (including Rickety Cricket), the creators of both Archer and Sunny serve as Executive Producers. So it definitely has potential.
As for Ninja Tales, the second short is moving along. If all goes well, it should be complete early next week – then onto the next one. Below is a render from a few days ago.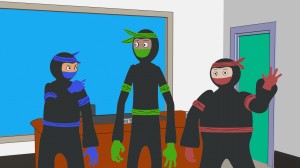 Plenty more to come.
posted by Pi Visuals at 2:57 pm
Tags:&nbsp
Archer
&nbsp,&nbsp
It's Always Sunny
&nbsp,&nbsp
Ninja Tales
0 Comments | Post a comment
January 12, 2012 : FOX Tries Its Own Version Of Adult Swim
Classified under 'Intriguing News', FOX has decided to follow in the mold of Adult Swim and form a late night animation block on Saturday night. They even hired on a former development executive from Adult Swim. Many of the details have yet to be divulged, but it is expected to start up in early 2013. The block is also going to have online and user generated content (still not sure exactly what that entails).
FOX has tried to create a formidable late night block on Saturdays for quite some time – particularly since the cancellation of Mad TV. If they have a similar budget for shows as Adult Swim, it will most likely be a financial success – even if it doesn't pull in the same ratings as Saturday Night Live or other networks for the night. Of course, the quality of the shows will dictate the ratings; but the big question is how risque the material will be for the block. Shows like Archer, The Boondocks, or Venture Bros. might not get past the censors… even late on Saturday night – and that could be a concern to get it off the ground and running.
posted by Pi Visuals at 2:07 am
Tags:&nbsp
Adult Swim
&nbsp,&nbsp
Archer
1 Comment | Post a comment
April 6, 2011 : More Archer To Come
Despite the some recent bad news about Titan, Archer has at least received a well deserved greenlight for a third season.
Last year's season 2 order was for 13 episodes, while this new season is slated for 16. The extra 3 episodes will air in September. FX hopes pairing it with It's Always Sunny for a month will help garner even more fans. I think it's a pretty smart move that should pay off.
The remaining 13 episodes will air early 2012 and be paired with a new comedy that was developed by three writers from Sunny (including Rickety Cricket… aka David Hornsby).
posted by Pi Visuals at 12:08 pm
Tags:&nbsp
Archer
&nbsp,&nbsp
It's Always Sunny
0 Comments | Post a comment
January 6, 2011 : Archer Bob's Alchemy Premieres
The cold weather got you down? Fear not, January is riddled with premieres guaranteed to lift the spirits, and it all starts this weekend!
– Full Metal Alchemist: Brotherhood's new season starts back up this Saturday. With Bleach's horrible filler episodes (aka the Captain Amagai Saga) currently airing, FMAB is by far the best anime Adult Swim has to offer.
– Bob's Burgers finally premieres on FOX this Sunday. If you've watched ten minutes of FOX in the last month, you've no doubt seen commercials for the show. If only they pimped out American Dad that much. Oh well… with H. Jon Benjamin involved, I'll keep an open mind.
– Speaking of Mr. Benjamin, Archer's second season kicks off January 27th on FX. The network is finally airing episodes from season 1 – granted, late at night on weekends – but it has reminded me how funny it is.
With respect to the production of SMD's upcoming short, things are going smoothly (or as much as could be expected). A few more post-production items remain, but it is reasonable to see a finished product in a few weeks.
posted by Pi Visuals at 4:42 pm
Tags:&nbsp
Archer
&nbsp,&nbsp
Bleach
&nbsp,&nbsp
Fullmetal Alchemist
&nbsp,&nbsp
Spilled My Drink Productions
0 Comments | Post a comment
November 23, 2010 : Bob's Burgers – Loren Bouchard's Latest
It's been under the radar, but FOX has started airing commercials for its new animated series, Bob's Burgers.
I'm not sure what to think of this show. FOX claims it will fill the void of King Of The Hill (ugh…). However, the show was created by Loren Bouchard – who was involved with Dr. Katz, Professional Therapist and also co-created Home Movies and Lucy, The Daughter Of The Devil. So I guess it can go either way. As with all of the previously mentioned  shows, H. Jon Benjamin stars in it; and that's always a good thing (by the way, new Archer airs in January).
FOX will air a 'sampling' of Bob's Burgers this Thursday (not sure what that means, either) after the premiere of The Simpsons Movie. Regular episodes will start up in January – as expected, on Sundays. As a midseason show, it could easily be over after a season; but I'd prefer new episodes of Bob's Burgers over reruns of any show on the current Animation Domination lineup (except for possibly American Dad).
posted by Pi Visuals at 12:06 am
Tags:&nbsp
Archer
&nbsp,&nbsp
Home Movies
0 Comments | Post a comment
September 1, 2010 : God & Co.
Stephen and Joel Levinson created, wrote, and directed a few animated shorts called God & Co. The shorts aren't bad. They have won several awards, and apparently they are pitching the idea around.
The really cool part about this is the backstory to the creation of these shorts. After writing the first script, these NYC brothers asked a few famous comedians to be in their short – comedians they didn't know… and to do so without any compensation. The cool thing, was they all said yes.
The end result, a bunch of pretty funny people lending their voices. Leading the charge, is Jonathan Katz… starring as God. The shorts were also animated under the supervision of Ed Mundy (who has experience with Archer and Sealab 2021).
Needless to say, a pretty impressive cast and crew.
posted by Pi Visuals at 3:29 pm
Tags:&nbsp
Animation
&nbsp,&nbsp
Archer
0 Comments | Post a comment
February 23, 2010 : FX Renews Archer, My Faith In Network Executives
Filing it under "News That Made My Day", FX has renewed Archer for a second season. The new season should kick off in 2011.
Archer was created by Adam Reed and is executive produced by him and Matt Thompson. These guys are most known for creating Adult Swim's Sealab 2021 and Frisky Dingo, and the animation is similar to the latter. The writing for Archer has been much more impressive than the aforementioned AS shows, and the cast is pretty solid.
The renewal was far from a sure thing. The ratings for Archer has dropped significantly since its premiere. However, the airing on 2/25 did see a slight ratings increase (while it was up against the Olympics nonetheless). Some have attributed this uptick to FX airing repeats of the show on Hulu in order to increase the show's exposure, and this might have given the network a little more confidence to stick with it for another year.
This show definitely has the potential to do well, especially if it can be paired up with another comedy that already has an audience (It's Always Sunny or The League comes to mind). As a side note, FX will not air a new episode this week of Archer. Instead, they will air a four episode mini-marathon. Hey… if it will attract more viewers, then I'm all for it.
posted by Pi Visuals at 1:25 pm
Tags:&nbsp
Archer
0 Comments | Post a comment