August 10, 2021 : Adult Swim and Crunchyroll… and Cartoon Network and Original Anime
I recently heard about Adult Swim's upcoming show, Blade Runner: Black Lotus. The trailer is below; and while it doesn't blow me out of the water, I find it intriguing:
First, I know nothing about Blade Runner, having never watched any of the films so I have zero attachment to franchise. However, the environment shots and action sequences look pretty cool. That said, the character design seems lackluster, and the show doesn't seem to fit with the rest of the Toonami's anime block. The interesting tidbit is that this is a co-production between Adult Swim and Crunchyroll.
To add a little extra spice to the pepper, it was just announced that Toonami co-creator Jason Demarco will lead a new division in charge of producing anime at Warner Bros. and Cartoon Network. On his Twitter feed, he goes as far to say it won't be 'anime inspired,' but created and produced in Japan.
Personally, I don't think the former is worse than the latter, as long as it tells a good story. However, I am curious what types of shows get made. Demarco is currently overseeing production on Black Lotus, but I assume this doesn't fall under the 'genuine anime' label.
posted by Pi Visuals at 10:54 pm
Tags:&nbsp
Adult Swim
&nbsp,&nbsp
Anime
&nbsp,&nbsp
Cartoon Network
&nbsp,&nbsp
Toonami
September 27, 2019 : Genndy's Latest and Greatest
For whatever reason, this has flown under my radar, but Genndy's newest project premieres on Adult Swim in a few weeks. Below is the most recent trailer – although I haven't watched it since I like going in fresh:
I'm still a little uncertain what the scope of this project is. It premieres October 7th, which is a Monday, and will air the remaining four episodes one a night for the remaining days of the week. I suppose it means this is more of a mini-series versus a full fledged show?
To make things weirder, it is getting a limited seven day run at a theater in Los Angeles – ahead of its premiere date. Some speculate this is being done to qualify it for the Oscars. It is worth pointing out Adult Swim previously submitted Aqua Teen Hunger Force Colon Movie Film for Theaters to the Academy for consideration.
Either way, I'm watching it – with the full expectation of being entertained and impressed. The DVR is queued up so I'm ready to go.
posted by Pi Visuals at 10:41 pm
Tags:&nbsp
Adult Swim
&nbsp,&nbsp
Genndy Tartakovsky
March 23, 2018 : New FLCL Premiere Dates Announced (And They Are Right Around The Corner)
Premiere dates for the two new FLCL seasons were recently announced. The 12 new episodes will be broken up into two 6-episode seasons.
The first season, FLCL: Progressive, will premiere June 2nd – while the following season, FLCL: Alternative, will air in September. The episodes will air in Japan and America concurrently (ala Space Dandy).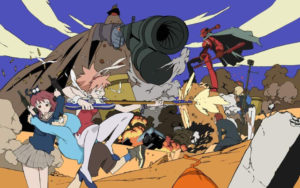 I have tried to avoid trailers or spoilers of any kind, but I did find out that the two seasons won't have much in common. They will follow different characters and even had different crews working them (except for the high level positions like Chief Director and Script Writer).
To be honest, I'm not sure how I feel about the different cast and crew for the two seasons. I was hoping for a unifying story. Yet again, FLCL tends to dance to the beat of a different drum. Either way, I'll still watch whatever they make with bated breath.
One thing I do know: The Pillows are involved throughout; and for that, I'm stoked no matter what. Do you like Foo-Ree Coo-Ree?
posted by Pi Visuals at 9:38 pm
Tags:&nbsp
Adult Swim
&nbsp,&nbsp
FLCL
&nbsp,&nbsp
Toonami
April 17, 2015 : Behind The Scenes At Adult Swim
The Wall Street Journal ran a few articles last month on Adult Swim. While they were part fluff piece, they did have some interesting tidbits about the inner workings of the channel. I do find some of their programming questionable, but it's tough to argue with the results; and they've been doing it for nearly 15 years.
Now if only The Venture Bros. would have shorter times between seasons.
posted by Pi Visuals at 1:15 am
Tags:&nbsp
Adult Swim
&nbsp,&nbsp
Venture Bros.
July 2, 2013 : FX Expanding… With More Channels?
If you've seen any of the recent promos for It's Always Sunny In Philadelphia, you might have seen mentions of 'FXX'. Apparently, FX is expanding it's programming in September with a new channel, FXX, along with expanding their movie channel nexwork, FXM.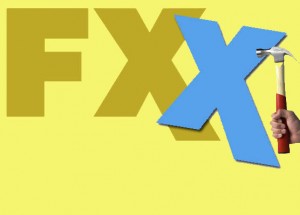 Both channels are intended to target a younger demo – with FXX targeting the same 18-34 demo that Adult Swim goes after. With the bulk of the original programming heading over to FXX, I am not quite sure what FX will be airing – Â probably more syndicated episodes of Two And A Half Men and How I Met Your Mother (I just vomited a little in my mouth).
However, I am more concerned about whether or not cable/ satellite will make this channel available right away. I personally do not get FXM, which is fine with me, but there are a few shows I watch that presumably will be on FXX – The League has already been mentioned, and I am betting Wilfred and Archer will as well.
Hopefully the new network will result in an increase in original programming… preferably solid ones (and maybe a few that are animated), but I'll believe it when I see it.
posted by Pi Visuals at 12:35 am
Tags:&nbsp
Adult Swim
&nbsp,&nbsp
It's Always Sunny
1 Comment | Post a comment
October 18, 2012 : FOX Launches ADHD (Sorta)
Earlier in the year, I mentioned how FOX will attempt to create a late night animation block on Saturday's – in the same vain as Adult Swim. The block is called ADHD (Animation Domination High-Def) and is supposed to be a multi-platform property. While programming won't begin airing on TV until early next year, that hasn't stopped them from performing a 'soft-launch' for the product. A beta website has gone up this month, and they have also uploaded two videos onto their YouTube channel. Below is their latest video:
Meh. It's not too far off from much of the original programming now shown on Adult Swim, which isn't necessarily a good thing in my opinion (excluding Venture Bros. of course). The website is also a mess. For the most part, it's just a bunch of gif's thrown up there. Apparently, ADHD doesn't believe in web designers.
Still, I will wait to pass judgement on the programming block. As of now, only one series has been announced – Axe Cop, which I know nothing about. Yet again, I know very little about ADHD overall: how long will the block be on Saturday nights? How many shows will they have? Will they syndicate existing shows or will it be entirely original programming? So ultimately, I guess we'll have to wait until early 2013 to see the finished product.
posted by Pi Visuals at 11:31 pm
Tags:&nbsp
ADHD
&nbsp,&nbsp
Adult Swim
&nbsp,&nbsp
Venture Bros.
0 Comments | Post a comment
July 10, 2012 : Anime Back In Full Force
With Toonami's recent return to Adult Swim, enjoyable anime is once again on TV. Deadman Wonderland has been impressive (although Cashern is still subpar). The concept is original, and it has moved at a very brisk pace. It's unlikely Bleach will ever return to its prime, so hopefully Toonami will continue to pick up solid new anime. One show I'm hoping they get the rights to is Panty And Stocking With Garterbelt. The official trailer is below.
It's obviously bizarre – yet again, that shouldn't be too surprising since it's by the creators of FLCL. The director of Garterbelt was also heavily involved in that show. The only drawback I can think about the series is that there isn't any music from The Pillows.
posted by Pi Visuals at 12:39 am
Tags:&nbsp
Adult Swim
&nbsp,&nbsp
Bleach
&nbsp,&nbsp
Deadland Wonderland
&nbsp,&nbsp
FLCL
&nbsp,&nbsp
Toonami
0 Comments | Post a comment
April 7, 2012 : Toonami… On Adult Swim
I have no idea how I missed this, but last Saturday's Adult Swim broadcast aired as if people were watching Toonami. Not only did they have old school Toonami shows like DBZ, Gundam, Yu Yu, and Outlaw Star; but they also created new bumps with Tom the robot. This was apparently their yearly April Fool's prank (it aired March 31st – April 1st).
Adult Swim asked on Twitter how many people would like to have Toonami return by using #BringBackToonami. It created such a positive reaction among its fans. The result is below:
I'm not sure what a potential return could entail. Toonami was a great programming block… when it was on during the week. They had great shows that filled the desire of anime. I was sad to see it go; but after being relegated to Saturday evenings, it went downhill because the number of solid shows being aired were few and far between. If this means more anime on Cartoon Network, then I say use the Dragonballs to wish Toonami back to this dimension. If this means going back to Saturday evenings with sub-par programming, then maybe we should call off the search for the balls.
posted by Pi Visuals at 8:27 pm
Tags:&nbsp
Adult Swim
&nbsp,&nbsp
DBZ
&nbsp,&nbsp
Toonami
1 Comment | Post a comment
February 18, 2012 : The MC Chris Cartoon Looks Bizarre… But Awesome
Apparently MC Chris is trying to make a cartoon and get it on Adult Swim. He used Kickstarter to raise funds to make a trailer (and I believe produce two or three five minute clips). Titmouse of Venture Bros. fame is the studio doing the animation so you know the look will be polished. Below is the trailer:
This is clearly the work of MC Chris. In addition to his voice, MC Chris' humor permeates throughout the trailer. There is even a Facebook page demanding the cartoon be put on Adult Swim. Not sure what, if any, obstacles there are to moving forward with the show; but considering the current slate of cartoons on Adult Swim, hopefully it will get the greenlight soon… just as long as it doesn't slow down the production of Venture Bros.
posted by Pi Visuals at 5:21 pm
Tags:&nbsp
Adult Swim
&nbsp,&nbsp
Venture Bros.
0 Comments | Post a comment
January 12, 2012 : FOX Tries Its Own Version Of Adult Swim
Classified under 'Intriguing News', FOX has decided to follow in the mold of Adult Swim and form a late night animation block on Saturday night. They even hired on a former development executive from Adult Swim. Many of the details have yet to be divulged, but it is expected to start up in early 2013. The block is also going to have online and user generated content (still not sure exactly what that entails).
FOX has tried to create a formidable late night block on Saturdays for quite some time – particularly since the cancellation of Mad TV. If they have a similar budget for shows as Adult Swim, it will most likely be a financial success – even if it doesn't pull in the same ratings as Saturday Night Live or other networks for the night. Of course, the quality of the shows will dictate the ratings; but the big question is how risque the material will be for the block. Shows like Archer, The Boondocks, or Venture Bros. might not get past the censors… even late on Saturday night – and that could be a concern to get it off the ground and running.
posted by Pi Visuals at 2:07 am
Tags:&nbsp
Adult Swim
&nbsp,&nbsp
Archer
1 Comment | Post a comment