May 20, 2021 : Venture Bros. Movie Announced
As alluded to since their cancellation, The Venture Bros. will live on – at least in the form of a new movie on HBO Max, which was announced last week.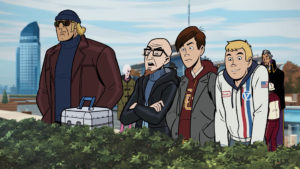 Movies for Metalocalypse and Aqua Teen were also mentioned in the release (no Stroker and Hoop? weak); but I am curious if these are simply development deals, and their actual execution is still up in the air.
That said, Venture Bros. looks to be a stand alone movie, thus leaving loose ends still untied. Who knows if other episodes are still in play. I hope that's not contingent on the movie's success because then we won't know one way or another until 2028.
posted by Pi Visuals at 11:38 pm
Tags:&nbsp
Venture Bros.
September 8, 2020 : Venture Bros. Is Cancelled? Huh.
Last night, Jackson Publick posted on Twitter that Adult Swim has cancelled Venture Bros. after seven seasons (and 17 years). I found the news surprising – particularly since he also mentioned they were in the middle of writing season 8.
While a lot of people expressed confusion and dismay, proving the show still has a solid fanbase, I gotta say my response was more subdued. I used to be a huge fan; but between the increased complexity with the show's mythology and the crazy long time between seasons, my love of the show has long since twindled. Couple that with the fact that I just don't have that much time to watch TV these days, and it's no wonder my response was mostly indifference.
I suppose a streamer can swoop in and continue the show, but I won't lose any sleep if that doesn't come to fruition (how did the last season end again?). Ultimately, I'll reflect on the show's early years, which captured my interest… and even inspired a pretty sweet, albeit esoteric, Hank costume. If anything, perhaps I will be on the look out for a rerun here and there late at night on a weekend when I can't make up my mind on what to watch… but still want another few drinks.
With that said, Go Team Venture! You are still the source of many random references of mine that few people actually get.
posted by Pi Visuals at 11:27 pm
Tags:&nbsp
Venture Bros.
June 29, 2018 : Venture Bros. News Galore!
I read a recent interview with Christopher McCulloch (Venture Bros. creator) and io9. It's a solid read. There are a lot of interesting topics, but I really enjoyed hearing McCulloch's take on how the landscape of superheroes in popular culture has changed over the duration of the show.
He also talks about social media, Star Wars, and coolest of all – Go Team Venture! It is a soon to be released book that discusses the making of each episode. It includes art and even has a foreword by Patton Oswalt. Definitely cool to hear.
The interview talks about Season 7; and at the time it was published, a premiere date had not been set- although it did say this summer. A few days ago, news broke that the new season is set to kick off August 5.
This is actually ahead of schedule as the original target was November. That's a nice change of pace for the show. There is a trailer out and about if interested, but I want to go in fresh so I'm not linking to it. I also found out that Season 8 has already been confirmed. So hopefully it won't be another 2 or 3 year hiatus between seasons. One can dream…
posted by Pi Visuals at 8:08 pm
Tags:&nbsp
Venture Bros.
July 6, 2016 : Plenty Coming Down Toonami's Pipeline
Anime tends to be comprised of short runs – either for a season or the series as a whole. This means Toonami must frequently add new material to its lineup; and there has recently been much to talk about their schedule, both in the short-term and long-term.
In the immediate future, One-Punch Man will be starting on July 16th, and it looks… interesting.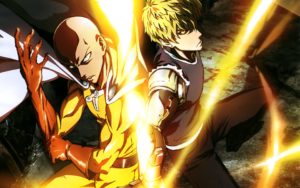 One-Punch Man started as a Web-comic back in 2009 and quickly went viral. The webcomic is still ongoing, but it was also remade into a digital manga and that was later adapted into an anime series. It apparently parodies the superhero genre as well as martial arts anime (like DBZ). Needless to say, I am intrigued.
The next bit of news is the announcement that Season 2 of Attack On Titan will air next Spring. For the record, I believe this is the Japanese premiere date and not Toonami's. However, given Titan's popularity, smart money says it will soon follow.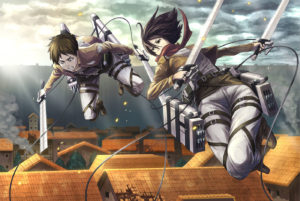 To be honest, I am mixed on this show. It had so much promise, but I felt the second half of the the first season really dragged. As a side note, the first season was made in 2013 (and aired on Toonami back in 2014) – it seems they are taking a page from the Venture Bros.' production schedule.
Lastly, Adult Swim released a cool behind-the-scenes video for Samarai Jack. It doesn't show any footage, but it has plenty of Genndy – and that's more than enough to get me even more excited for the show's return. I always prefer these types of videos versus trailers because they remain spoiler free, yet still provide insight into show.
I was originally going to start the post with this info, but decided against it since I have talked plenty about Samarai Jack lately. I was going to type that I've talked about it 'more than enough', but I don't think you can ever talk enough about Jack.
posted by Pi Visuals at 11:53 pm
Tags:&nbsp
DBZ
&nbsp,&nbsp
Genndy Tartakovsky
&nbsp,&nbsp
Samurai Jack
&nbsp,&nbsp
Toonami
&nbsp,&nbsp
Venture Bros.
April 17, 2015 : Behind The Scenes At Adult Swim
The Wall Street Journal ran a few articles last month on Adult Swim. While they were part fluff piece, they did have some interesting tidbits about the inner workings of the channel. I do find some of their programming questionable, but it's tough to argue with the results; and they've been doing it for nearly 15 years.
Now if only The Venture Bros. would have shorter times between seasons.
posted by Pi Visuals at 1:15 am
Tags:&nbsp
Adult Swim
&nbsp,&nbsp
Venture Bros.
February 17, 2015 : My Issues With The Venture Bros. (And Its Production)
Last month, Adult Swim aired The Venture Bros. hour long special All This and Gargantua-2. It was definitely entertaining, and I have been a fan of the show since it first aired back in 2004; however, after watching the special, I was reminded of my frustrations with the show as a whole. The complexity with its over arcing storylines is what makes the show stand out among most other programs.
Unfortunately, the exceedingly large gaps between seasons makes it tougher and tougher to stay invested with the series. Below is a table I put together that shows the general timeline of the seasons of Venture Bros.
For the most part, there has been a two year gap between seasons – there was only one year between seasons 4a and 4b, but there were three years between 4b and 5. This higher than typical production times is not news; but if you look closer, the general output of episodes have also slowed over the years. The four year span between seasons 1-3 yielded 39 episodes, but the four year span between seasons 4a/b and 5 resulted in only 24 episodes.
While the episodes have gotten better over its run, the storylines have also increased in its intricacies. When you are several years removed from the previous season, it makes it difficult to remember everything that's going on – both big and small. Watching reruns of Venture Bros. is definitely a joy, but having it a requirement to fully appreciate new episodes doesn't feel right.
At the end of the day, I will still watch new episodes of the Venture Bros. – although who knows when Season 6 will finally air. I know I'll like it, but something tells me it won't be nearly as much as I should; and that bothers me.
posted by Pi Visuals at 12:39 am
Tags:&nbsp
Venture Bros.
September 2, 2014 : The Tick Get Revived?
The reports are pretty vague, but Amazon Studios is looking to revive the live version of The Tick. The story only goes as far as citing unnamed sources so it's far from a done deal. However, the fact that this is even being considered is good news.
At this point, Patrick Warburton has signed on to reprise his role, and creator Ben Edlund is slated to produce and write. Of course, no time table has been hinted at, nor has there been any word about other cast members.
It's worth pointing out that Venture Bros. creator, Jackson Publick, not only wrote for the live-action series, but he was also a staff writer and storyboard artist for the earlier animated series. While it would be awesome if he was involved in this revival, I'm not counting on it. After all, he needs to devote most of his time dragging his feet with the new season of Venture Bros.
posted by Pi Visuals at 11:05 am
Tags:&nbsp
The Tick
&nbsp,&nbsp
Venture Bros.
April 12, 2014 : Bruce Timm's Batman: Strange Days
In honor of Batman's 75th anniversary, Bruce Timm created the short Batman: Strange Days, which can now be viewed on DC's YouTube page.
Bruce Timm is best known for being the co-creator and producer of Batman: The Animated Series – by far my favorite version of the series. The short clearly takes a page from that series' design, which I absolute enjoy.
The main villain is Dr. Hugo Strange, an arch nemesis of the Caped Crusader who predates even the Joker. Personally I don't know much about him. However, he is not to be confused with Dr. Strange from the Marvel Universe. The latter was used as inspiration for Dr. Orpheus from Venture Bros.
And that concludes this week's portion of 'Better Know A Fictional Comic Doctor'.
posted by Pi Visuals at 11:51 pm
Tags:&nbsp
Batman
&nbsp,&nbsp
Venture Bros.
0 Comments | Post a comment
October 18, 2012 : FOX Launches ADHD (Sorta)
Earlier in the year, I mentioned how FOX will attempt to create a late night animation block on Saturday's – in the same vain as Adult Swim. The block is called ADHD (Animation Domination High-Def) and is supposed to be a multi-platform property. While programming won't begin airing on TV until early next year, that hasn't stopped them from performing a 'soft-launch' for the product. A beta website has gone up this month, and they have also uploaded two videos onto their YouTube channel. Below is their latest video:
Meh. It's not too far off from much of the original programming now shown on Adult Swim, which isn't necessarily a good thing in my opinion (excluding Venture Bros. of course). The website is also a mess. For the most part, it's just a bunch of gif's thrown up there. Apparently, ADHD doesn't believe in web designers.
Still, I will wait to pass judgement on the programming block. As of now, only one series has been announced – Axe Cop, which I know nothing about. Yet again, I know very little about ADHD overall: how long will the block be on Saturday nights? How many shows will they have? Will they syndicate existing shows or will it be entirely original programming? So ultimately, I guess we'll have to wait until early 2013 to see the finished product.
posted by Pi Visuals at 11:31 pm
Tags:&nbsp
ADHD
&nbsp,&nbsp
Adult Swim
&nbsp,&nbsp
Venture Bros.
0 Comments | Post a comment
February 18, 2012 : The MC Chris Cartoon Looks Bizarre… But Awesome
Apparently MC Chris is trying to make a cartoon and get it on Adult Swim. He used Kickstarter to raise funds to make a trailer (and I believe produce two or three five minute clips). Titmouse of Venture Bros. fame is the studio doing the animation so you know the look will be polished. Below is the trailer:
This is clearly the work of MC Chris. In addition to his voice, MC Chris' humor permeates throughout the trailer. There is even a Facebook page demanding the cartoon be put on Adult Swim. Not sure what, if any, obstacles there are to moving forward with the show; but considering the current slate of cartoons on Adult Swim, hopefully it will get the greenlight soon… just as long as it doesn't slow down the production of Venture Bros.
posted by Pi Visuals at 5:21 pm
Tags:&nbsp
Adult Swim
&nbsp,&nbsp
Venture Bros.
0 Comments | Post a comment