November 23, 2023 : Finally, A Christmas Batman Movie
File under something I never knew I needed but glad it exists, this December will see a new Batman Christmas movie. Here's the trailer:
For whatever reason, it will be on Amazon Prime (seriously, WTF WBD?). In either case, it has some solid names attached to its production. For starters, Luke Wilson is Batman, which for this light-hearted fare seems to work. It's co-written by Etan Cohen, who co-wrote Idiocracy and Tropic Thunder. Also, it is directed by Mike Roth, a writer on Regular Show… and after hearing that, I totally see the visual connection. Now, if Pops makes a cameo, I might lose it.
posted by Pi Visuals at 1:06 am
Tags:&nbsp
Batman
February 24, 2021 : The Heart of Batman Documentary
It apparently came out in 2018, but there's a documentary about Batman: The Animated Series – and DC just put it up on their YouTube Channel.
The history of the show's development was really cool, with plenty of insight and interviews from all the key players… and even a Kevin Conroy sighting!
Throw in some character sheets, tons of stills and Boards, and a bunch of 2.5D parallax effect on photos; and it's a nice stroll down memory lane.
posted by Pi Visuals at 10:04 pm
Tags:&nbsp
Batman
&nbsp,&nbsp
Kevin Conroy
January 30, 2016 : Cartoon Network's New Justice League Series
Unbeknownst to me, Cartoon Network announced (or rather confirmed, amidst speculation) a new Justice League series last Fall, entitled Justice League Action. This past week, a few more details have emerged about the show. Specifically, Kevin Conroy will reprise his role as Batman (awesome!). Similarly, Mark Hamill will once again voice the Joker (also sweet).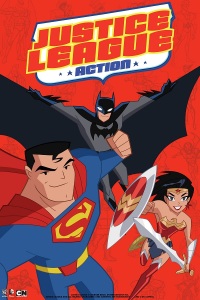 The episodes will only be 11 minutes long; and while they claim they will be action-packed and fast-paced, I do worry the plots will be simplified and skewed to a younger audience. Either way, I'm still watching it.
The release date for JLA has yet to be unannounced, although I wonder if it will coincide with the release of the Batman Vs. Superman movie – which is slated for the end of March.
posted by Pi Visuals at 1:10 am
Tags:&nbsp
Batman
&nbsp,&nbsp
Joker
&nbsp,&nbsp
Justice League
&nbsp,&nbsp
Kevin Conroy
October 21, 2014 : Say Goodbye To Beware The Batman
It what seems to be a yearly tradition, another animated show I enjoy has had its run prematurely ended. This year, the tragedy belongs to Beware the Batman. While it's fate was sealed nearly a year ago when Cartoon Network pulled it from the airwaves, the first run of episodes didn't finally conclude until late September (with a seven episode marathon on Adult Swim to finish out its first and only season).
I don't know exactly where to rank this in terms of my disappointment, but it is up there – probably not as high as a Genndy series, but definitely above ThunderCats. It's not much of a secret, but I am a huge Batman fan. I am not sure how critics or other fans felt; but I enjoyed this series.
In addition to being 3D, I felt it did a good job of putting a new spin on the franchise. This was the first time I was introduced to Katana (a character who made sparring appearances in other DC properties), and I liked how Alfred was more than just a wise, old man. He was more than willing to bitch slap you to next Tuesday. Plus, the villains were a nice mix of popular and lesser known.
I am at least glad the overarching story for the season was wrapped up; but as is the case with most of these shows, another story line was set up that I would have wanted to see. Sadly, Anarchy's antics will have to wait for another time.
posted by Pi Visuals at 12:01 am
Tags:&nbsp
Batman
&nbsp,&nbsp
Cancelled
&nbsp,&nbsp
Genndy Tartakovsky
&nbsp,&nbsp
ThunderCats
April 12, 2014 : Bruce Timm's Batman: Strange Days
In honor of Batman's 75th anniversary, Bruce Timm created the short Batman: Strange Days, which can now be viewed on DC's YouTube page.
Bruce Timm is best known for being the co-creator and producer of Batman: The Animated Series – by far my favorite version of the series. The short clearly takes a page from that series' design, which I absolute enjoy.
The main villain is Dr. Hugo Strange, an arch nemesis of the Caped Crusader who predates even the Joker. Personally I don't know much about him. However, he is not to be confused with Dr. Strange from the Marvel Universe. The latter was used as inspiration for Dr. Orpheus from Venture Bros.
And that concludes this week's portion of 'Better Know A Fictional Comic Doctor'.
posted by Pi Visuals at 11:51 pm
Tags:&nbsp
Batman
&nbsp,&nbsp
Venture Bros.
0 Comments | Post a comment
July 10, 2013 : A New Batman Series… Sans Kevin Conroy
Cartoon Network's DC Nation block will premiere a new Batman series this Saturday, Beware The Batman. Different from previous reboots, this series will be CGI.
The bad news is Kevin Conroy isn't involved with the show. Yet again, he hasn't really been in any of the recent versions so it's not all that surprising. However, the CGI element sounds interesting, and I'm curious how the show will look with this new medium. I was a fan of the recently cancelled Green Lantern CGI series, and Batman definitely has more name recognition than his Justice League associate so hopefully this series will fair better.
posted by Pi Visuals at 11:08 pm
Tags:&nbsp
Batman
&nbsp,&nbsp
DC Nation
&nbsp,&nbsp
Kevin Conroy
0 Comments | Post a comment
May 13, 2013 : San Francisco's Cartoon Art Museum
During mid-April, I got a chance to go to San Francisco for a few days (yeah I know, I'm a little late relaying the info). While there, I found out the hotel I was staying at was very close to the Cartoon Art Museum. So naturally, I made sure to check it out.
To be honest, I wasn't overly impressed – however, after thinking about it since I went, I'm pretty sure a lot of that can be attributed to me being spoiled with Chicago's Museums. It did feel like many genres were left out; and they seemed to focus more on comics than animation. Still, there were some cool pieces. Below are two pieces I liked by comic book writer/ illustrator Sam Kieth.
I like most drawing of The Joker, but this one was particularly sweet and clearly needs to be followed by:
Kieth has created his own comics but has also been involved with DC properties. With this artwork, I am curious to check out the five issue Batman series he wrote and drew.
The museum rotates and changes out exhibits periodically. At the time of my visit, they did have a good portion of space dedicated to Chuck Jones, which was pretty cool. There was a great deal of artwork by him – in various steps of production:
The Chuck Jones exhibit was by far the most informative. Among other things, I learned that he directed the TV adaption to How The Grinch Stole Christmas! – a personal favorite of mine.
Overall, the museum was worth the few bucks I shelled out… but I wouldn't recommend having incredibly high expectations. Although, I'm willing to bet your experience is dependent upon when you go. If they have a really great exhibit when you're there, then it will be that much better.
posted by Pi Visuals at 12:24 am
Tags:&nbsp
Batman
&nbsp,&nbsp
Comics
&nbsp,&nbsp
Joker
1 Comment | Post a comment
February 2, 2012 : New Justice League: Doom Clip
A few months ago, I mentioned the new Justice League movie – which is set to come out in just a few weeks (Feb 28). A clip of the movie is now online:
It looks pretty sweet, and it doesn't even showcase Kevin Conroy even though he and Tim Daly are in the movie. I'm still a little bummed that Hal Jordan will be in it rather than John Stewart, but I'll live.
posted by Pi Visuals at 12:21 am
Tags:&nbsp
Batman
&nbsp,&nbsp
Justice League
&nbsp,&nbsp
Kevin Conroy
0 Comments | Post a comment
December 2, 2011 : We Are… DC Nation
It's not hot off the presses, but a few weeks ago Cartoon Network aired a trailer for its new Friday programming block set to start in 2012 – DC Nation.
The block will possess a mix of series and shorts, all supposedly DC Comics related. The three initial series are ThunderCats (is that DC related?), the new Green Lantern Series, and Young Justice. The shorts seem cool, but I'm more interested in seeing what other TV shows develop out of the programming block. If it's succes sful, hopefully it will spawn some cool new shows – maybe a new Kevin Conroy voiced Batman series?
posted by Pi Visuals at 1:34 pm
Tags:&nbsp
Batman
&nbsp,&nbsp
Cartoon Network
&nbsp,&nbsp
DC Nation
&nbsp,&nbsp
Kevin Conroy
&nbsp,&nbsp
ThunderCats
0 Comments | Post a comment
October 18, 2011 : Justice League: Doom Trailer
Below is the trailer for the next DC animated movie, Justice League: Doom, set to come out early 2012.
Kevin Conroy voices Batman, while Tim Daly takes care of Superman – so all is right with the universe. Plus, most of the old school voices for the Justice League will also be in it. One big change is that the Green Lantern in the film will be Hal Jordan. Even though I don't know much about Hal Jordan's character, I have grown attached to Phil LaMarr's portrayal of John Stewart. However, Hal will be voiced by Nathan Fillion, which is tough to complain about.
While the Justice League appears to be in full force, the Legion Of Doom cast is filled with unknowns – or at least significantly less popular villains. Bane is in it (I wonder why), but so is Vandal Savage – and he had a few good episodes in Justice League. Still, any time you include Kevin Conroy, it'll capture my interest.
posted by Pi Visuals at 1:51 pm
Tags:&nbsp
Batman
&nbsp,&nbsp
Kevin Conroy
1 Comment | Post a comment