August 10, 2021 : Adult Swim and Crunchyroll… and Cartoon Network and Original Anime
I recently heard about Adult Swim's upcoming show, Blade Runner: Black Lotus. The trailer is below; and while it doesn't blow me out of the water, I find it intriguing:
First, I know nothing about Blade Runner, having never watched any of the films so I have zero attachment to franchise. However, the environment shots and action sequences look pretty cool. That said, the character design seems lackluster, and the show doesn't seem to fit with the rest of the Toonami's anime block. The interesting tidbit is that this is a co-production between Adult Swim and Crunchyroll.
To add a little extra spice to the pepper, it was just announced that Toonami co-creator Jason Demarco will lead a new division in charge of producing anime at Warner Bros. and Cartoon Network. On his Twitter feed, he goes as far to say it won't be 'anime inspired,' but created and produced in Japan.
Personally, I don't think the former is worse than the latter, as long as it tells a good story. However, I am curious what types of shows get made. Demarco is currently overseeing production on Black Lotus, but I assume this doesn't fall under the 'genuine anime' label.
posted by Pi Visuals at 10:54 pm
Tags:&nbsp
Adult Swim
&nbsp,&nbsp
Anime
&nbsp,&nbsp
Cartoon Network
&nbsp,&nbsp
Toonami
March 23, 2018 : New FLCL Premiere Dates Announced (And They Are Right Around The Corner)
Premiere dates for the two new FLCL seasons were recently announced. The 12 new episodes will be broken up into two 6-episode seasons.
The first season, FLCL: Progressive, will premiere June 2nd – while the following season, FLCL: Alternative, will air in September. The episodes will air in Japan and America concurrently (ala Space Dandy).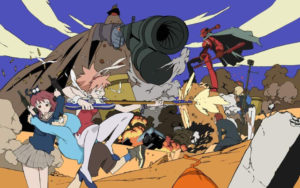 I have tried to avoid trailers or spoilers of any kind, but I did find out that the two seasons won't have much in common. They will follow different characters and even had different crews working them (except for the high level positions like Chief Director and Script Writer).
To be honest, I'm not sure how I feel about the different cast and crew for the two seasons. I was hoping for a unifying story. Yet again, FLCL tends to dance to the beat of a different drum. Either way, I'll still watch whatever they make with bated breath.
One thing I do know: The Pillows are involved throughout; and for that, I'm stoked no matter what. Do you like Foo-Ree Coo-Ree?
posted by Pi Visuals at 9:38 pm
Tags:&nbsp
Adult Swim
&nbsp,&nbsp
FLCL
&nbsp,&nbsp
Toonami
July 6, 2016 : Plenty Coming Down Toonami's Pipeline
Anime tends to be comprised of short runs – either for a season or the series as a whole. This means Toonami must frequently add new material to its lineup; and there has recently been much to talk about their schedule, both in the short-term and long-term.
In the immediate future, One-Punch Man will be starting on July 16th, and it looks… interesting.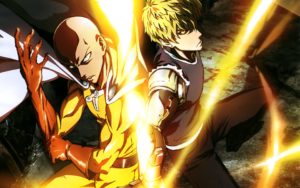 One-Punch Man started as a Web-comic back in 2009 and quickly went viral. The webcomic is still ongoing, but it was also remade into a digital manga and that was later adapted into an anime series. It apparently parodies the superhero genre as well as martial arts anime (like DBZ). Needless to say, I am intrigued.
The next bit of news is the announcement that Season 2 of Attack On Titan will air next Spring. For the record, I believe this is the Japanese premiere date and not Toonami's. However, given Titan's popularity, smart money says it will soon follow.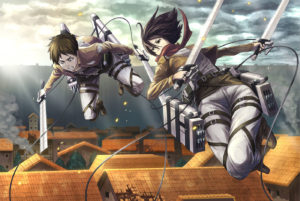 To be honest, I am mixed on this show. It had so much promise, but I felt the second half of the the first season really dragged. As a side note, the first season was made in 2013 (and aired on Toonami back in 2014) – it seems they are taking a page from the Venture Bros.' production schedule.
Lastly, Adult Swim released a cool behind-the-scenes video for Samarai Jack. It doesn't show any footage, but it has plenty of Genndy – and that's more than enough to get me even more excited for the show's return. I always prefer these types of videos versus trailers because they remain spoiler free, yet still provide insight into show.
I was originally going to start the post with this info, but decided against it since I have talked plenty about Samarai Jack lately. I was going to type that I've talked about it 'more than enough', but I don't think you can ever talk enough about Jack.
posted by Pi Visuals at 11:53 pm
Tags:&nbsp
DBZ
&nbsp,&nbsp
Genndy Tartakovsky
&nbsp,&nbsp
Samurai Jack
&nbsp,&nbsp
Toonami
&nbsp,&nbsp
Venture Bros.
May 16, 2016 : Gundam Back On Toonami
I remember when I was first introduced to the Gundam franchise. It was Gundam Wing, via Toonami… when it was still on Monday through Friday. It was a captivating series, but sadly was followed up with some lackluster iterations – the last one being Mobile Suit Gundam SEED in 2004. There hasn't been a Gundam franchise on Toonami (or Cartoon Network) since… until now.
A few weeks ago during their upfronts, Cartoon Network announced Gundam: Iron-Blooded Orphans will start up on Toonami in June. This entails all 25 episodes of the series, which has been decently reviewed.
The character design looks on par with a Gundam product. If anything, it looks modernized. I am curious to see if the Gundams were done with 3D software. Nowadays, one would think that that would be the direction. Yet again, when it comes to the highly successful Gundam franchise, perhaps it's best not to try and fix something that isn't broken.
posted by Pi Visuals at 11:50 pm
Tags:&nbsp
Cartoon Network
&nbsp,&nbsp
Gundam
&nbsp,&nbsp
Toonami
August 18, 2015 : Toonami's Intruder 2: Details Revealed
Early last year, Toonami announced a sequel to its 2000 miniseries, Intruder. Details were vague, only mentioning a release sometime in 2015. The amount of content for the new special was to be determined based off of the social media response (via #intruder2).
Since then, not much has been said about it. However, back in late May at MomoCon (Atlanta's main fan convention), Toonami revealed more details… along with a sneak peek.
In addition to the cool preview, Toonami stated that Intruder 2 will premiere in October (although no specific date was set). It is expected to span approximately 5 weeks, and there will be 20-25 minutes of footage.
While the lack of specifics is a bit annoying (albeit not surprising), I am stoked about it. A follow up to the first miniseries is long overdue. Plus, anytime I get to see Spike Spiegel in action, it's a good day.
posted by Pi Visuals at 10:40 pm
Tags:&nbsp
Toonami
July 10, 2012 : Anime Back In Full Force
With Toonami's recent return to Adult Swim, enjoyable anime is once again on TV. Deadman Wonderland has been impressive (although Cashern is still subpar). The concept is original, and it has moved at a very brisk pace. It's unlikely Bleach will ever return to its prime, so hopefully Toonami will continue to pick up solid new anime. One show I'm hoping they get the rights to is Panty And Stocking With Garterbelt. The official trailer is below.
It's obviously bizarre – yet again, that shouldn't be too surprising since it's by the creators of FLCL. The director of Garterbelt was also heavily involved in that show. The only drawback I can think about the series is that there isn't any music from The Pillows.
posted by Pi Visuals at 12:39 am
Tags:&nbsp
Adult Swim
&nbsp,&nbsp
Bleach
&nbsp,&nbsp
Deadland Wonderland
&nbsp,&nbsp
FLCL
&nbsp,&nbsp
Toonami
0 Comments | Post a comment
May 22, 2012 : Toonami's Return
This Saturday is Toonami's official return… on Adult Swim, and it is no longer just an April Fool's joke. Not much of the schedule has been revealed until recently, but two new anime that will be airing are Casshern Sins and Deadman Wonderland. Sadly, I've had the displeasure of watching the former, but I do not know much about the latter. Casshern had promise but was incredibly slow. It's cool color design couldn't make up for going absolutely nowhere with the story.
Adult Swim has stated they will not be able to air shows like DBZ or Naruto because they are no longer properties of Cartoon Network, but Toonami is supposedly looking at several other shows to air in the future. Most notably, Inuyasha: The Final Act – which will be awesome and will justify the return of Toonami in and of itself.
posted by Pi Visuals at 11:12 pm
Tags:&nbsp
Cartoon Network
&nbsp,&nbsp
DBZ
&nbsp,&nbsp
Inuyasha
&nbsp,&nbsp
Toonami
0 Comments | Post a comment
April 7, 2012 : Toonami… On Adult Swim
I have no idea how I missed this, but last Saturday's Adult Swim broadcast aired as if people were watching Toonami. Not only did they have old school Toonami shows like DBZ, Gundam, Yu Yu, and Outlaw Star; but they also created new bumps with Tom the robot. This was apparently their yearly April Fool's prank (it aired March 31st – April 1st).
Adult Swim asked on Twitter how many people would like to have Toonami return by using #BringBackToonami. It created such a positive reaction among its fans. The result is below:
I'm not sure what a potential return could entail. Toonami was a great programming block… when it was on during the week. They had great shows that filled the desire of anime. I was sad to see it go; but after being relegated to Saturday evenings, it went downhill because the number of solid shows being aired were few and far between. If this means more anime on Cartoon Network, then I say use the Dragonballs to wish Toonami back to this dimension. If this means going back to Saturday evenings with sub-par programming, then maybe we should call off the search for the balls.
posted by Pi Visuals at 8:27 pm
Tags:&nbsp
Adult Swim
&nbsp,&nbsp
DBZ
&nbsp,&nbsp
Toonami
1 Comment | Post a comment
April 28, 2011 : The Reverse Blade Sword Strikes Again… Eventually
The newest issue of Jump Square announced that a new Rurouni Kenshin anime will be put in development soon. While this is cool news, sadly that was the extent of the announcement. Will this be a full series, OVA, remake, leave off where the old series ended? None of that was revealed. Plus, the fact that it's in development means it will be a while until it's out… in Japan.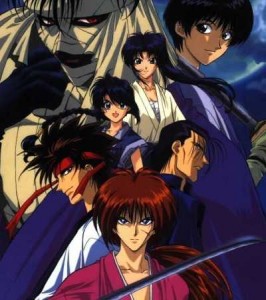 Frankly, I loved Rurouni. The fights scenes, the arcs, the character design, everything. Too bad it wasn't all that well received in the United States. Cartoon Network barely aired the series (once a week in fact on the now defunct Toonami). They only aired the first two seasons – concluding the Shishio saga. Now granted, this was 62 of the 95 total episodes,  and those last 33 did not follow the manga. So who knows how good they were. But something tells me they were still tons better than Bleach's Bounts Arc.
Either way, I am curious what this new version will contain. And I will probably find out in about three years. Actually, Jump Square is supposed to reveal more information in their next issue. Still, I don't know how they are going to top Freckles as the intro song.
posted by Pi Visuals at 9:26 pm
Tags:&nbsp
Rurouni Kenshin
&nbsp,&nbsp
Toonami
0 Comments | Post a comment
October 2, 2008 : The Revolution Will Be Televised
They say all good things must come to an end.  Apparently that is also true about great things.  Unfortunatley, after eleven years, Toonami has aired its final episode.
Even though this programming block on Cartoon Network has long since peaked, it was an incredibly innovative and successful franchise.  It helped fuel the mainstream interest of anime in America and acted as a precursor to Adult Swim.
While it reminded people of cool shows from their past (Thundercats, Voltron, Batman: The Animated Series), Toonami extended beyond nostalgic programming by introducing a lot of incredible shows (Dragon Ball Z, ReBoot, Gundam Wing, Justice League…the list could go on).
During its peak, everything about it screamed quality:
The 3D bumps were top notch.    TOM and SARA always looked cool.  They even had Moltar in it for a while.
The Midnight Run was awesome – Gundam Wing Uncut?  It didn't get any better than that.
The Rising Sun was a good way to go to bed ("Here's your wake up call").
Their promos were amazing.  'Pardon Our Dust' was editing perfection.
The In Flight Movies every Friday were a real joy – ranging from cool Batman/Superman crossovers to the Endless Waltz, how could you not love it?
Kudos on airing 'The Month of Miyazaki'.  His movies definitely deserved their props.
Again, its cancellation was probably long overdue.  Especially since lately the Toonami block was relegated to airing derivative shows only once a week.  However, in its prime, it was simply incredible.
Ultimately, its footprint can be seen in many places – and not just on Cartoon Network.  Toonami showed how programming and marketing should be done.  They built a solid fan base, and then they expanded it…a lot.  Plus, they spawned several programming blocks, some of which were on other networks.
Therefore, even though it's gone, Toonami will not be forgotten.  It was an accomplishment that people should be proud of – and thankful for.
So long, Tom.
posted by Pi Visuals at 10:26 am
Tags:&nbsp
Animation
&nbsp,&nbsp
Anime
&nbsp,&nbsp
Cowboy Bebop
&nbsp,&nbsp
DBZ
&nbsp,&nbsp
Toonami
5 Comments | Post a comment