August 6, 2016 : Rurouni Kenshin's Live Action Trilogy
Rurouni Kenshin was a solid anime – one that due to Toonami's original demise didn't get a fair shake on US Broadcast Television. Over the last few years, a trilogy of live action films was made; and thanks to Funimation, they are finally coming to the States – with each movie getting a limited theatrical release. Below is a teaser trailer for the trilogy:
The first film is Rurouni Kenshin: Origins, which is obviously an Origins story. It is followed by Rurouni Kenshin: Kyoto Inferno, which has the anime's biggest villain – Shishio Makoto (although I doubt it was played by Steven Blum). The final film is Rurouni Kenshin: The Legend Ends, which wraps things up.
The action looks pretty solid; and while I don't think all anime are meant to be converted to live action, I definitely see Rurouni as one that can. Plus, it is cool seeing many of the characters come to life. If only the anime was back on Adult Swim…
posted by Pi Visuals at 12:06 am
Tags:&nbsp
Rurouni Kenshin
April 28, 2011 : The Reverse Blade Sword Strikes Again… Eventually
The newest issue of Jump Square announced that a new Rurouni Kenshin anime will be put in development soon. While this is cool news, sadly that was the extent of the announcement. Will this be a full series, OVA, remake, leave off where the old series ended? None of that was revealed. Plus, the fact that it's in development means it will be a while until it's out… in Japan.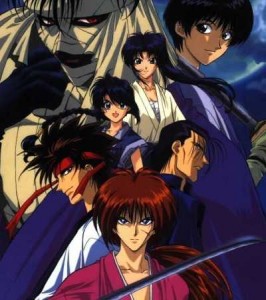 Frankly, I loved Rurouni. The fights scenes, the arcs, the character design, everything. Too bad it wasn't all that well received in the United States. Cartoon Network barely aired the series (once a week in fact on the now defunct Toonami). They only aired the first two seasons – concluding the Shishio saga. Now granted, this was 62 of the 95 total episodes,  and those last 33 did not follow the manga. So who knows how good they were. But something tells me they were still tons better than Bleach's Bounts Arc.
Either way, I am curious what this new version will contain. And I will probably find out in about three years. Actually, Jump Square is supposed to reveal more information in their next issue. Still, I don't know how they are going to top Freckles as the intro song.
posted by Pi Visuals at 9:26 pm
Tags:&nbsp
Rurouni Kenshin
&nbsp,&nbsp
Toonami
0 Comments | Post a comment