January 27, 2022 : Scott Pilgrim The Anime?!
I was a fan of Scott Pilgrim (the film… I haven't checked out the graphic novel yet). There was tons to like: the story, the cast, and of course the visuals. With its Japanese influences, I guess it's not a shock I enjoyed it; and that's also why I was stoked to hear Netflix is developing it into an Anime series.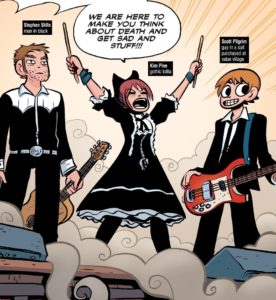 While the creator's involved, it's worth noting there isn't a series order yet so it's not a sure thing. I suppose either way I should temper my expectations. After all… Bebop 🙁
posted by Pi Visuals at 3:51 pm
Tags:&nbsp
Anime
&nbsp,&nbsp
Cowboy Bebop
&nbsp,&nbsp
Scott Pilgrim
November 19, 2021 : Anime's Global Popularity
With today's release of the live-action Cowboy Bebop, it seems fitting to celebrate the popularity of anime.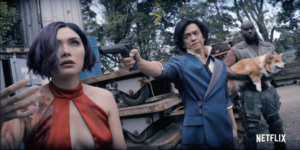 Earlier this month, the Association of Japanese Animations (AJA) released its annual Animation Industry Report. It's in Japanese, but the Anime News Network has a great analysis article, highlighting the key points.
It's an interesting read, but one of the big takeaways for me was the fact that 2020 marked the first time that the overseas market size surpassed the domestic market. Moving into 2022 and beyond, the article anticipates a growing global demand for anime. All in all, great news for fans of the genre.
posted by Pi Visuals at 9:13 am
Tags:&nbsp
Anime
&nbsp,&nbsp
Cowboy Bebop
August 28, 2021 : Bebop Live Action Photos and Premiere Date
Netflix released some first-look images of Spike, Faye, and Jet; and it's getting me more and more interested in the show. To be fair, I was already pretty stoked. Below is a cool cast shot, presumably on board the Bebop: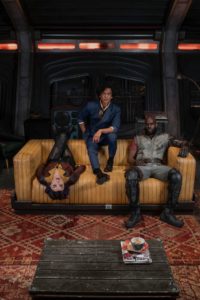 One of the released images also implies a Ballad Of Fallen Angels scene. Which. Would. Be. Awesome!
Lastly, a premiere date of November 19th was set. The first season will be 10 hour long episodes. There are expectations of more seasons, but nothing official has been announced.
In either case, I am getting pumped. Between this and the new Matrix movie (which I'm pretty sure is only the second one in the franchise), there's plenty to look forward to this Holiday season.
posted by Pi Visuals at 9:32 pm
Tags:&nbsp
Cowboy Bebop
&nbsp,&nbsp
The Matrix
May 31, 2020 : Oh Yeah, A Live Action Bebop
I totally forgot that Netflix was making a live action Cowboy Bebop. Announced about a year and a half ago, production actually started in 2019 but was halted due John Cho injuring his knee during production. It resulted surgery and rehab for about 9 months
In a recent interview with the show's EP, it sounds like a few episodes are already in the can from before the injury, and they have started writing scripts for a second season. While it doesn't sound like we'll see a premiere until Summer or Fall of 2021, it's nice to see a commitment from Netflix on the series.
posted by Pi Visuals at 12:34 am
Tags:&nbsp
Cowboy Bebop
February 7, 2019 : Hood Cowboy Bebop
I'm not sure what is weirder: that I found this or that I didn't do so sooner:
The video has the Bebop vibe through and through, and Spike nailed it. The real Spike wouldn't have smiled as much, but it works. The dancing through me for a loop at first, but I loved it; and while the sound quality could be improved, having the intro theme song playing on top of the action sequence was perfect.
posted by Pi Visuals at 8:43 pm
Tags:&nbsp
Cowboy Bebop
December 8, 2018 : Live Action Cowboy Bebop On Netflix
It isn't much of a secret that Cowboy Bebop is my favorite anime. That is why the news of Neflix making a Live-Action series piqued my interest.
In the past, I would have been skeptical about things moving forward and actually coming to fruition. However, with Netflix's recent tweet, it seems like it'll happen.
Personally, I don't think it will be anything incredible, but I'll definitely give it a shot – especially since Watanabe is on board as a consultant. Of course it's not a shocker to learn many people on the Interwebs think the idea alone is sacrilege. In either case, it won't diminish the greatness of the original series (because it's awesome).
On a side note, I just found out (or maybe was reminded of?) that Netflix made a Live-Action series of Death Note last year. Sounds like it didn't light the Earth on fire… or destroy it. So there's that.
posted by Pi Visuals at 4:16 pm
Tags:&nbsp
Cowboy Bebop
&nbsp,&nbsp
Watanabe
April 19, 2018 : Bebop Cafes In Japan?!
As if I needed another reason to go to Japan, in honor of its 20 Anniversary, not one but two Cowboy Bebop themed cafes will open for a limited time.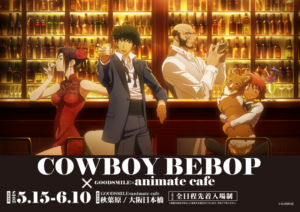 New art for the cafe was recently released, and it's menu has even been constructed with the series in mind (presumably shiitake mushrooms are somewhere on it). Chances of me making it out there to enjoy it is rare, but I have to believe there will be plenty of cool footage about it out there on the Interwebs.
posted by Pi Visuals at 10:51 pm
Tags:&nbsp
Cowboy Bebop
January 28, 2018 : Checking In (And A Bebop Mention)
Has it really been over a month since my last post? Sadly, yes – but for good reasons. Since the New Year, things have been crazy hectic working on several projects. They have been fun but are slated to be around for a few more weeks.
Shifting gears, I came across this article, highlighting the fact that Cowboy Bebop turns 20 years old this April (although technically it didn't premiere in the US until 2001). So how is Kyoto celebrating this event? By having an all night, 26 episode marathon of course. I'd totally go if I didn't use my miles on that trip to Namek last Fall.
posted by Pi Visuals at 12:44 am
Tags:&nbsp
Cowboy Bebop
August 27, 2017 : New FLCL Teaser Trailer
A few weeks back, a teaser came out for the new seasons of FLCL. It isn't long, and much like the original show, it is fast paced and tough to decipher on first watch; but it was still great:
The best part of the teaser for me? Without a doubt hearing The Pillows.
The 12-episode revival will get split into two six episode seasons – the first debuting next year (although not sure when in 2018). Below is Adult Swim's earlier release describing what to expect:
Meanwhile, the war between the two entities known as Medical Mechanica and Fraternity rages across the galaxy. Enter Hidomi, a young teenaged girl who believes there is nothing amazing to expect from her average life, until one day when a new teacher named Haruko arrives at her school. Soon enough, Medical Mechanica is attacking her town and Hidomi discovers a secret within her that could save everyone, a secret that only Haruko can unlock.
But why did Haruko return to Earth?
What happened to her Rickenbacker 4001 she left with Naota?
And where did the human-type robot 'Canti' go?
I can't think of an anime I'm more stoked is coming back with new episodes. Bebop is my favorite anime, but they need to leave well enough alone with that series – it ended masterfully. With FLCL, the door was left open for more. Who thought it would take nearly two decades to finally do something about it?
posted by Pi Visuals at 10:02 am
Tags:&nbsp
Cowboy Bebop
&nbsp,&nbsp
FLCL
February 11, 2016 : Nimbus Done Right!
This is what I call "Hoverboard, done right":
Apparently there are several videos in which people convert a Hoverboard to a Nimbus, but dressing up as Goku and going out in public was a nice touch. I'm not sure I get the ending – or why Goku is wearing shades – but I still like it.
I also stumbled upon this gem:
I believe Spike would approve… had he survived his fight with Vicious.
posted by Pi Visuals at 12:50 am
Tags:&nbsp
Cowboy Bebop
&nbsp,&nbsp
DBZ