December 8, 2018 : Live Action Cowboy Bebop On Netflix
It isn't much of a secret that Cowboy Bebop is my favorite anime. That is why the news of Neflix making a Live-Action series piqued my interest.
In the past, I would have been skeptical about things moving forward and actually coming to fruition. However, with Netflix's recent tweet, it seems like it'll happen.
Personally, I don't think it will be anything incredible, but I'll definitely give it a shot – especially since Watanabe is on board as a consultant. Of course it's not a shocker to learn many people on the Interwebs think the idea alone is sacrilege. In either case, it won't diminish the greatness of the original series (because it's awesome).
On a side note, I just found out (or maybe was reminded of?) that Netflix made a Live-Action series of Death Note last year. Sounds like it didn't light the Earth on fire… or destroy it. So there's that.
posted by Pi Visuals at 4:16 pm
Tags:&nbsp
Cowboy Bebop
&nbsp,&nbsp
Watanabe
December 3, 2013 : Watanabe's Latest – And It's On Adult Swim!
Space Dandy, the latest series by Shinichiro Watanabe, is set to premiere this January. The really cool news is that the English version will debut at the same time as the Japanese version, and it will be on Adult Swim. Toonami has made the following trailer for the series:
It definitely looks Watanabe's work – who created among other things, the awesome Cowboy Bebop (still my favorite anime). This is  also the first time that the English version will premiere simultaneously with the Japanese version. It looks like Adult Swim is really stepping up their game when it comes to anime. If this pays off, there's a good chance this will happen more frequently…. it's a win-win.
posted by Pi Visuals at 4:10 pm
Tags:&nbsp
Cowboy Bebop
&nbsp,&nbsp
Watanabe
0 Comments | Post a comment
November 18, 2009 : Genius Party
Having just recently heard about this DVD, I think it's worth a mention.
Genius Party is a series of animated short films from Studio 4°C. It consists of seven shorts, with each one coming from a different big-name animator – the coolest of them all being Shinichiro Watanabe (the awesome director of the awesome Cowboy Bebop… awesome).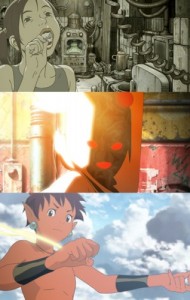 A second DVD was released 7 months later, entitled Genius Party Beyond. It has five shorts that were supposed to be released with the original films but unfortunately were not completed in time.
These releases tend to be hit or miss. Mostly because each short is hit or miss. A perfect example is the Animatrix. Some of the chapters were pretty impressive, while some dragged on. However anime fans will probably be pleased with the overall product.
posted by Pi Visuals at 4:52 pm
Tags:&nbsp
Anime
&nbsp,&nbsp
Cowboy Bebop
&nbsp,&nbsp
Watanabe
0 Comments | Post a comment
May 5, 2009 : Sloppy Seconds
It's pathetic that I missed this, but fortunately Moridin picked up the slack.
A live action movie of Cowboy Bebop is in development and slated to release in 2011. The big news is that Keanu Reeves is signed on to star as Spike Spiegal. Apparently, Reeves is an anime fan and was hoping to do this project.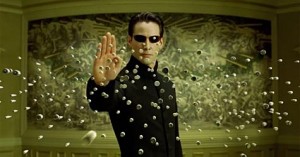 Hopefully the movie will get made, but the good news is that several people from the anime will be involved with production. Most notably, series director Shinichiro Watanabe will serve as an associate producer alongside series writer Keiko Nobumoto. Also, series producer Masahiko Minami will be a production consultant.
I have always felt that Keanu Reeves tends to choose pretty interesting movies – many very successful. Let's hope this is one of them.
posted by Pi Visuals at 12:04 pm
Tags:&nbsp
Cowboy Bebop
&nbsp,&nbsp
Watanabe
0 Comments | Post a comment