November 16, 2015 : Gundam With A Bebop Flare?
One of the more recent Gundam Manga, Mobile Suit Gundam Thunderbolt, is starting production on its anime adaptation. Last week they released a teaser for the series. Does it remind you of anything?
It's brief, but that music certainly has a Cowboy Bebop vibe to it. It's worth mentioning the studio producing Thunderbolt is Sunrise, Inc – the same one that did Bebop. Plus, the anime's official website posted a key visual for the first episode: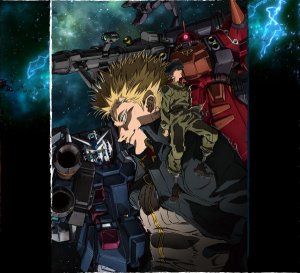 The poster features two main characters, whose designs have a definite Bebop feel to them. The studio release a tagline with the image: "The two are fated to kill each other."
Thunderbolt is set during the One Year War, the same time as Mobile Suit Gundam (the original series); and it pits characters from the Earth Federation against the Principality of Zeon. I don't remember too much about the Gundam Timeline (I believe Gundam Wing took place over a hundred years after this – although apparently there are multiple timelines, and I'm not sure they all exist within the same universe).
I can't say I'm a huge fan of the Gundam franchise. I've watched a few series – some impressed me more than others; but I'm open to watching more, particularly if it has a Cowboy Bebop feel to it.
posted by Pi Visuals at 11:47 am
Tags:&nbsp
Cowboy Bebop
December 3, 2013 : Watanabe's Latest – And It's On Adult Swim!
Space Dandy, the latest series by Shinichiro Watanabe, is set to premiere this January. The really cool news is that the English version will debut at the same time as the Japanese version, and it will be on Adult Swim. Toonami has made the following trailer for the series:
It definitely looks Watanabe's work – who created among other things, the awesome Cowboy Bebop (still my favorite anime). This is  also the first time that the English version will premiere simultaneously with the Japanese version. It looks like Adult Swim is really stepping up their game when it comes to anime. If this pays off, there's a good chance this will happen more frequently…. it's a win-win.
posted by Pi Visuals at 4:10 pm
Tags:&nbsp
Cowboy Bebop
&nbsp,&nbsp
Watanabe
0 Comments | Post a comment
November 18, 2009 : Genius Party
Having just recently heard about this DVD, I think it's worth a mention.
Genius Party is a series of animated short films from Studio 4°C. It consists of seven shorts, with each one coming from a different big-name animator – the coolest of them all being Shinichiro Watanabe (the awesome director of the awesome Cowboy Bebop… awesome).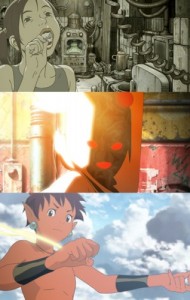 A second DVD was released 7 months later, entitled Genius Party Beyond. It has five shorts that were supposed to be released with the original films but unfortunately were not completed in time.
These releases tend to be hit or miss. Mostly because each short is hit or miss. A perfect example is the Animatrix. Some of the chapters were pretty impressive, while some dragged on. However anime fans will probably be pleased with the overall product.
posted by Pi Visuals at 4:52 pm
Tags:&nbsp
Anime
&nbsp,&nbsp
Cowboy Bebop
&nbsp,&nbsp
Watanabe
0 Comments | Post a comment
May 5, 2009 : Sloppy Seconds
It's pathetic that I missed this, but fortunately Moridin picked up the slack.
A live action movie of Cowboy Bebop is in development and slated to release in 2011. The big news is that Keanu Reeves is signed on to star as Spike Spiegal. Apparently, Reeves is an anime fan and was hoping to do this project.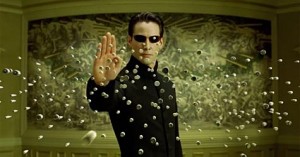 Hopefully the movie will get made, but the good news is that several people from the anime will be involved with production. Most notably, series director Shinichiro Watanabe will serve as an associate producer alongside series writer Keiko Nobumoto. Also, series producer Masahiko Minami will be a production consultant.
I have always felt that Keanu Reeves tends to choose pretty interesting movies – many very successful. Let's hope this is one of them.
posted by Pi Visuals at 12:04 pm
Tags:&nbsp
Cowboy Bebop
&nbsp,&nbsp
Watanabe
0 Comments | Post a comment
February 12, 2009 : Bang!
A few days ago, I received a totally unexpected and awesome gift (thanks Moridin).
For those you unaware, it is Spike Spiegel from Cowboy Bebop. Spike is my favorite anime character, and Bebop is my favorite anime.
The figure is really sweet, and it got me thinking about the series. A running debate is whether or not Spike dies at the end of the series (it's not really a spoiler, but sorry for ruining it for anybody). Theories run abound, but it is never stated explicitly either way. This includes Shinichiro Watanabe, the director.
Personally, I like to think Spike died. This might be the less popular view, but it serves best for the series. I am usually not a big fan of sequels (that will be for a later post); and even though sequels can be a great thing for certain franchises, it does not apply to Cowboy Bebop.
Bebop did a great job ending the series. There wasn't definite finality with Spike, but there was closure with every character; and that is what makes a great story – whether the medium is anime, movie, or TV show. So while I might be in the minority, I say, "Rest In Peace, Spike Spiegel. You are a true hero. If you are alive… I will still watch you and love it."
As a side note, I realized I was titling too many posts as questions. I figured the polar opposite would be a pertinent exclamation statement. Take that, expected masses!
posted by Pi Visuals at 11:08 pm
Tags:&nbsp
Anime
&nbsp,&nbsp
Cowboy Bebop
&nbsp,&nbsp
Sequels
3 Comments | Post a comment
October 2, 2008 : The Revolution Will Be Televised
They say all good things must come to an end.  Apparently that is also true about great things.  Unfortunatley, after eleven years, Toonami has aired its final episode.
Even though this programming block on Cartoon Network has long since peaked, it was an incredibly innovative and successful franchise.  It helped fuel the mainstream interest of anime in America and acted as a precursor to Adult Swim.
While it reminded people of cool shows from their past (Thundercats, Voltron, Batman: The Animated Series), Toonami extended beyond nostalgic programming by introducing a lot of incredible shows (Dragon Ball Z, ReBoot, Gundam Wing, Justice League…the list could go on).
During its peak, everything about it screamed quality:
The 3D bumps were top notch.    TOM and SARA always looked cool.  They even had Moltar in it for a while.
The Midnight Run was awesome – Gundam Wing Uncut?  It didn't get any better than that.
The Rising Sun was a good way to go to bed ("Here's your wake up call").
Their promos were amazing.  'Pardon Our Dust' was editing perfection.
The In Flight Movies every Friday were a real joy – ranging from cool Batman/Superman crossovers to the Endless Waltz, how could you not love it?
Kudos on airing 'The Month of Miyazaki'.  His movies definitely deserved their props.
Again, its cancellation was probably long overdue.  Especially since lately the Toonami block was relegated to airing derivative shows only once a week.  However, in its prime, it was simply incredible.
Ultimately, its footprint can be seen in many places – and not just on Cartoon Network.  Toonami showed how programming and marketing should be done.  They built a solid fan base, and then they expanded it…a lot.  Plus, they spawned several programming blocks, some of which were on other networks.
Therefore, even though it's gone, Toonami will not be forgotten.  It was an accomplishment that people should be proud of – and thankful for.
So long, Tom.
posted by Pi Visuals at 10:26 am
Tags:&nbsp
Animation
&nbsp,&nbsp
Anime
&nbsp,&nbsp
Cowboy Bebop
&nbsp,&nbsp
DBZ
&nbsp,&nbsp
Toonami
5 Comments | Post a comment
August 20, 2008 : Nothing. Nothing? Nothing!
Halloween is a great time. It allows people who are truly into the holiday to be really creative – it also allows women an excuse to dress up rather scantily (Jim Gaffigan's bit on this is funny).
With this wonderful excuse to play dress up on the horizon, a brief recap of the past few costumes is in order. It should be noted that a wedding in 2006 preempted any sort of Halloween plans that year – the wedding was a blast, though.
2004 – Spike Spiegel. The always cool main character from Cowboy Bebop (still my favorite anime series).
How many people can say they have a picture of Spike, Samurai Jack, and Chas Tenenbaum all in one glorious shot? Not many…there's probably a reason for that, though.
This one was a blast to do, and as expected, very few people recognized the costume. Had I found somebody dressed up as Faye Valentine, I am sure I would have proposed on the spot (yes, Spike and Faye weren't together…but dressing up as Julia would have been even more obscure and unrecognizable than Spike).
In addition to the outfit, the costume also required green hair. Not one to half-ass it, I went all out:
It should be pointed out that this was done with semi-permanent hair dye. Traces of the color remained for well over a week. Don't think people at the office didn't stare.
2005 – Hansel. The up-and-coming male model displacing Derek Zoolander.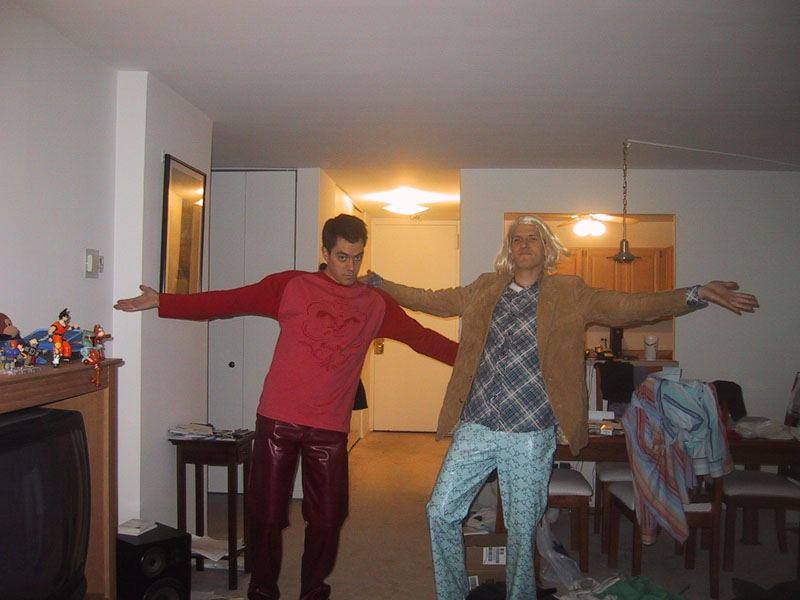 While not in the picture, a scooter was present during the night – which was definitely the icing for the costume. Most people actually got this costume. It didn't hurt that Zoolander was hanging out next to me for the bulk of the night.
Needless to say, many people repeatedly said, "that Hansel…he's so hot right now." The number of times somebody said it and how badly the line was butchered was directly proportional to the amount of alcohol consumed.
And no…unfortunately there was no walk-off that night. Definitely a regret of Hansel's and Zoolander's.
2006
As previously mentioned, a wedding trumped any Halloween plans in 2006. In fact, I had three weddings alone in the month of October that year. Oh well – all were a blast.
2007 – Hank Venture. One of the titular brothers in the hit show, Venture Bros.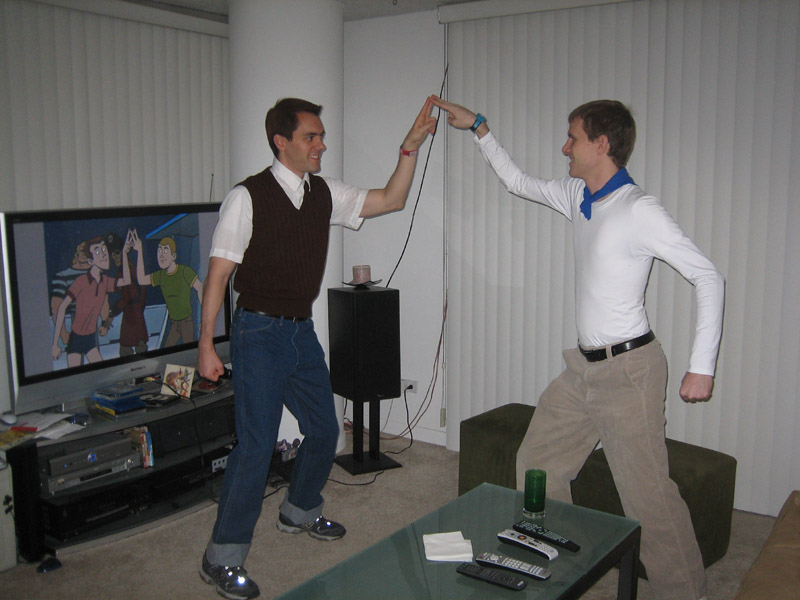 This pose was duplicated many of times during the night – and always accompanied with the "Go Team Venture!" catchphrase. Even with the Venture Bros being chaperoned by Dr. Girlfriend, few people got the costume. Again, not much of a surprise since it is a show on basic cable.
In case you were wondering, SpongeBob SquarePants watches were sported in lieu of the Venture Communicators. FYI, the title of this post was a reference to an episode of Venture Bros.
While it is always fun to review Halloweens of year's past, this exercise did have a point. All of these costumes required a decent amount of work, creativity, and most importantly, planning.
Each one was unique. Not trendy or cliché or overdone. Therefore it requires a decent amount of thought; and even though Halloween is two months away, by now a few ideas should have already been brainstormed. Unfortunately, I am drawing a blank. With nothing currently in mind right now, things look grim for the Halloween O' 2008.
posted by Pi Visuals at 11:43 am
Tags:&nbsp
Cowboy Bebop
&nbsp,&nbsp
Halloween
&nbsp,&nbsp
Venture Bros.
2 Comments | Post a comment