October 31, 2021 : Remembering Some Halloween Fun
In tribute to the day, here's a Halloween Throwback: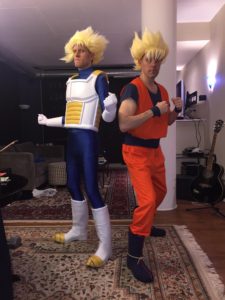 It's crazy to think this was 5 years ago! The costume required the most amount of planning and work compared to any of the others I've done, but it was also the most well received and recognized.
Sadly, Halloween costumes has been sparse for me since this bad boy. Hopefully a trend that will be reversed in the near future.
posted by Pi Visuals at 12:50 am
Tags:&nbsp
DBZ
&nbsp,&nbsp
Halloween
September 29, 2017 : Dragon Soul Piano Cover (in Cosplay)
This Spring not only did I make my usual trek to C2E2, but I also spent a day doing some Cosplaying for the first time (the previous Halloween actually served as a trial run for the costumes).
In addition to enjoying the experience (the costumes were very well received), I also shot a short video that mashed my love of the DBZ theme song, Dragon Soul, with our Cosplay theme. I finally got around to uploading it:
I hope to make another post in the next week that details the efforts put into making this video. I didn't just record it and throw it online. Multiple steps were taken after the fact to improve the quality as well as address issues that arose.
In the meantime, enjoy the silliness!
posted by Pi Visuals at 11:05 am
Tags:&nbsp
C2E2
&nbsp,&nbsp
DBZ
&nbsp,&nbsp
Dragon Soul
&nbsp,&nbsp
Halloween
&nbsp,&nbsp
Piano
January 13, 2017 : Costume Tweaks For C2E2 – Gloves
I was very proud of last year's Halloween Costume . That night was actually a trial run for a day of Cosplaying at this Spring's C2E2 (Chicago Comics & Entertainment Expo). The run through went well, but a few tweaks were identified.
One of these alterations was the gloves. The original set was created from a spandex suit, thin EVA foam, and a good deal of adhesive. It wasn't the most stable (or comfortable) concoction. I wanted to make a new pair that was strictly fabric, sewn together.
So after purchasing a sewing machine, learning the basics of sewing, and doing some research online; I was able to make some acceptable gloves. Below is a screenshot of the unfinished gloves: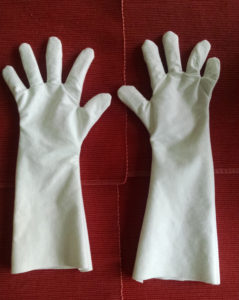 The material used for these was flannel. I considered using a 4-way stretch fabric but was happy with the durability this provided. IÂ still need to hem the edges at the forearms as well as Scotchgard them, but I am happy with the final product. There are a few things that could be improved, but I have decided it would be a better use of my time to focus on other aspects of the costume that need work.
posted by Pi Visuals at 2:42 pm
Tags:&nbsp
C2E2
&nbsp,&nbsp
Halloween
October 30, 2016 : Halloween: DBZ Style
While I often dress up for Halloween in costumes unrecognized by most, this year was not case. Going as Goku and Vegeta, Moridin and I were regularly identified (and appreciated) – often getting asked to be in photos, selfies, and the like.
Having spent nearly two months working on the costumes, Moridin and I learned a great deal about the process; and we were very pleased with the end result.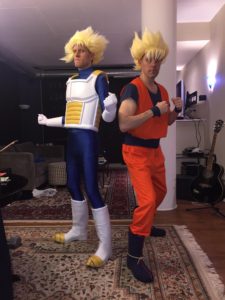 For the record, our costumes were from the Cell Saga. This explains why Goku didn't have a symbol on his uniform – front or back. Last night was actually a trial run. The goal is to make any necessary adjustments so we can do some Cosplay next Spring at the Chicago Comic & Entertainment Expo (C2E2).
posted by Pi Visuals at 10:06 pm
Tags:&nbsp
DBZ
&nbsp,&nbsp
Halloween
October 26, 2016 : Halloween's A Coming
Halloween is right around the corner; and while I don't want to give away specifics, this year's costume is probably the most involved – requiring months of planning and work. Rest assured, there will be pictures posted; but in the meantime, here is a shot of one of the accessories.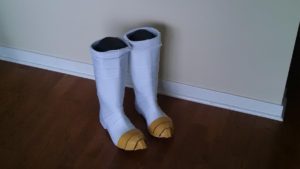 It's not perfect, but I'm still very happy with how they came out. There are several other pieces to the costume, which also took a good deal of time to make, but those won't be revealed quite yet.
posted by Pi Visuals at 8:22 am
Tags:&nbsp
Halloween
November 6, 2015 : Halloween: Obscure-Cancelled-TV-Show Style
I'm not adverse to Halloween costumes that most people don't recognize. This year was no exception, and the theme was Arrested Development (the cancelled-too-soon FOX Show). While I dressed up as Lindsay Funke, I was joined by Tobias and Gob.
Seeing as how the show was cancelled almost a decade ago, it wasn't too surprising that few people got our costumes. While it didn't bother me, I was expecting a little better of a reception. The show has garnered a cult following sine its initial run – so much so that Netflix produced a new season back in 2013 (although, for the record, I couldn't get past the second episode) – so I assumed there would be more recognition. Instead, Tobias was assumed to be a Smurf, Gob an ordinary magician, and I was a prostitute.
Despite this, I was still pleased with the final outcome. I've done plenty of themes that aren't very mainstream so I'm used to it. Plus, the few people who got our costumes did appreciate them. The other great thing that came out of the night: we have a solid idea for next year's theme.
posted by Pi Visuals at 1:46 pm
Tags:&nbsp
Halloween
October 28, 2013 : Halloween: Indiana Jones Style
Halloween this year brought about its usual festiveness, albeit out East this time around. However, I was able to get in on a four-person theme – the most I've been a part of (three being my previous high). I dressed up as Indiana Jones, and the movie in question should be pretty obvious based on the pic below.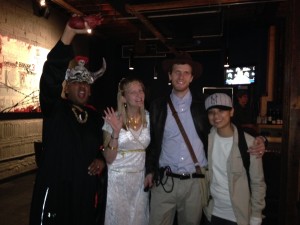 For the record, Temple Of Doom is my least favorite of the three (as far as I'm concerned, that's how many they've made). After all, I'm pretty sure the whole Nazi costume would have been highly frowned upon. Plus, I was finally able to convince the Mrs to dress up as Short Round – something I have been trying to do for years. Below is a shot we staged to duplicate a scene from the movie.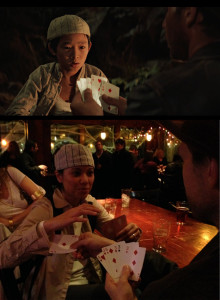 Prior to heading out that night, we even freeze-framed the movie to determine which cards were in Indy's hands for the scene. I wanted to capture catching Short Round cheating so I added the ace of diamonds coming out of the sleeve to the shot. The lesson to learn from this image? Asians can't be trusted.
posted by Pi Visuals at 11:25 pm
Tags:&nbsp
Halloween
0 Comments | Post a comment
October 31, 2012 : Halloween: Street Fighter Style
After taking a year off, I got back into the Halloween spirit this past weekend and dressed up as the infamous Ken Masters from Street Fighter (yeah, I didn't know his last name either until I googled it). It was sorta last minute, which is why Moridin and I were unable to find anybody else to join in on the theme.
Many people recognized the costumes, which isn't always the case with our choices. As a side note, the 'Hadouken' fireball was created in After Effects. I ended up using a technique similar to the flamethrower effect from the 12th and final episode of Ninja Tales.
posted by Pi Visuals at 9:19 pm
Tags:&nbsp
Halloween
&nbsp,&nbsp
Ninja Tales
0 Comments | Post a comment
November 8, 2010 : Halloween: Villain Style
It's a little late, but here's a few pics from Halloween – 2010.
So I went as the Joker – accompanied by the beautiful and devious Harley Quinn. I first got into Batman via Batman: The Animated Series. So it was only fitting to base my Joker off that series. Plus, I think it's still a little too cliche to dress up as the Joker from the Dark Knight (the movie still rocks, though).
Unlike some previous years, just about everybody recognized who I went as. Sadly, not quite as many people got Harley's costume – at least until they saw me next to her. But more people than not got it. It's worth noting that I tried to make that bizarre smile for every picture I was in – something that felt both fun and creepy.
In addition to Harley Quinn, I also spent my night with Edward Nigma… aka The Riddler.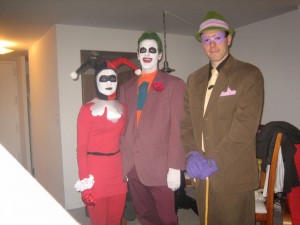 His costume was also pretty sweet. Too bad the Riddler won't be in The Dark Knight Rises. I'm sure Christopher Nolan would have had some interesting spins on the character.
posted by Pi Visuals at 11:20 pm
Tags:&nbsp
Batman
&nbsp,&nbsp
Halloween
0 Comments | Post a comment
November 3, 2009 : Halloween: Bleach Style
It's a few days late, but here's a pic from Halloween.
Going with an anime theme this year, the costumes were characters from Bleach. I was Ichigo Kurosaki (the main character from the show), and to my right was Byakuya Kuchiki. My brother's costume was much more involved than mine, and he did an impressive job with it (particularly on such short notice).
As expected, very few people got the costumes – and by very few, I mean zero. Fortunately, we had digital references via the iPhone to show people we weren't making things up. Plus it was a good conversation starter.
All in all, a fun Halloween. But that goes without saying.
posted by Pi Visuals at 3:32 pm
Tags:&nbsp
Anime
&nbsp,&nbsp
Bleach
&nbsp,&nbsp
Halloween
0 Comments | Post a comment