October 30, 2016 : Halloween: DBZ Style
While I often dress up for Halloween in costumes unrecognized by most, this year was not case. Going as Goku and Vegeta, Moridin and I were regularly identified (and appreciated) – often getting asked to be in photos, selfies, and the like.
Having spent nearly two months working on the costumes, Moridin and I learned a great deal about the process; and we were very pleased with the end result.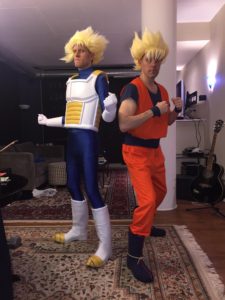 For the record, our costumes were from the Cell Saga. This explains why Goku didn't have a symbol on his uniform – front or back. Last night was actually a trial run. The goal is to make any necessary adjustments so we can do some Cosplay next Spring at the Chicago Comic & Entertainment Expo (C2E2).
posted by Pi Visuals at 10:06 pm
Tags:&nbsp
DBZ
&nbsp,&nbsp
Halloween