April 19, 2018 : Bebop Cafes In Japan?!
As if I needed another reason to go to Japan, in honor of its 20 Anniversary, not one but two Cowboy Bebop themed cafes will open for a limited time.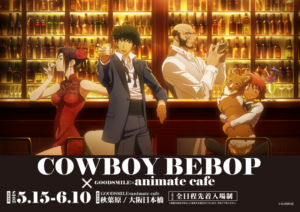 New art for the cafe was recently released, and it's menu has even been constructed with the series in mind (presumably shiitake mushrooms are somewhere on it). Chances of me making it out there to enjoy it is rare, but I have to believe there will be plenty of cool footage about it out there on the Interwebs.
posted by Pi Visuals at 10:51 pm
Tags:&nbsp
Cowboy Bebop