August 28, 2021 : Bebop Live Action Photos and Premiere Date
Netflix released some first-look images of Spike, Faye, and Jet; and it's getting me more and more interested in the show. To be fair, I was already pretty stoked. Below is a cool cast shot, presumably on board the Bebop: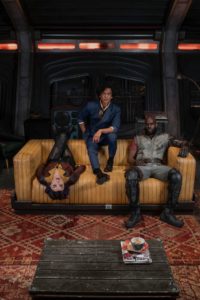 One of the released images also implies a Ballad Of Fallen Angels scene. Which. Would. Be. Awesome!
Lastly, a premiere date of November 19th was set. The first season will be 10 hour long episodes. There are expectations of more seasons, but nothing official has been announced.
In either case, I am getting pumped. Between this and the new Matrix movie (which I'm pretty sure is only the second one in the franchise), there's plenty to look forward to this Holiday season.
posted by Pi Visuals at 9:32 pm
Tags:&nbsp
Cowboy Bebop
&nbsp,&nbsp
The Matrix
September 2, 2019 : Transitions In The Matrix (Are Awesome)
The recent news of a new Matrix movie certainly got me stoked. It also gave me reason to think about the awesomeness of the first movie; and low and behold, I stumbled on this killer video detailing how incredible the transitions were for the movie:
It's not like I need to be told the movie was incredible, but the analysis in this video pointed out a few things I hadn't noticed before. Well done, fellow Matrix fan. Well done.
As for the upcoming movie, it will be interesting to see new details as they come out. Although, I will keep apprised of the ones that are more from a production standpoint. Plot wise, I will try to avoid those… I like to go in fresh.
posted by Pi Visuals at 12:17 am
Tags:&nbsp
The Matrix
October 27, 2018 : Someone Actually Understands (And Likes) The Matrix Sequels
It's been longer than I'd like since my last post, but things have been pretty crazy (a common theme these days). As penance, I figured I'd share a Matrix-related link. I often check out Just Write's channel since it discusses writing and story structure.
In the link below, he analyzes the Matrix sequels. The general narrative is he hated them originally but re-watched them and now appreciates it… and even likes it (?):
I can see the "their target audience were 13 year olds… with PhD's in philosophy" descriptor; and the saturated exposition is one of the reasons it soured me. Ultimately, I felt the first movie's story structure was very tight, while the latter two meandered.
However, I did find the analysis of the sequels intriguing, and it gave me some clarity for them (and even some appreciation?). Although, I still find them a disappointing follow-up to one of my favorite movies of all-time.
To be fair, I was originally not a fan of the Reloaded, but it did grow on me in that I at least liked what the Wachowski's were trying to do with the world they created. It was just the execution left me unsatisfied. Plus, it didn't help that they wrote Tank off…
posted by Pi Visuals at 1:05 am
Tags:&nbsp
The Matrix
October 28, 2017 : So The Matrix Code Was Supposed To Make Me Hungry?
Things have been busy and so it's been a while since I've made a post. While I don't have much substance to share at the moment, I'll link to this article – which describes the inspiration for the design of the Matrix Code. As you'd expect, it was a mash up of… sushi recipes?
The article is pretty interesting. However, the part that really caught my attention was the latter half, which talked about new movies currently in pre-production. It technically isn't considered a Reboot (thankfully), nor is the new material sequels. Instead, it is just expanding the universe. Color me intrigued.
posted by Pi Visuals at 12:43 am
Tags:&nbsp
The Matrix
March 28, 2016 : Agent Smith: The Real 'The One'?
Apparently it isn't that new, but there is a fan theory that claims Agent Smith was the True 'One'. I can't say I really buy into it, but it's interesting nonetheless. Plus, I'm always game to hear somebody talk about The Matrix. An older (written) argument for this hypothesis can be found here.
The big problem for me with fan theories is they are extrapolated opinions, which take liberties with the creator's intentions. They are often fun to read but can turn obnoxious in the comments section when disagreeing parties take offense. Still, when well conceived and executed, they can make one think. Or at the very least, kill some time.
posted by Pi Visuals at 12:16 am
Tags:&nbsp
The Matrix
December 22, 2015 : Random Time Killer: IFC's Matrix Quiz
If you have a few minutes, feel free to waste your time and take IFC's Ultimate Matrix Quiz. It was a nice stroll down memory lane – forcing me to recall details of one of my all-time favorite movies. However, I believe the quiz is flawed since it asks questions about two movies that don't exist.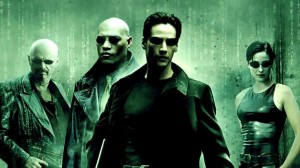 Actually, I did pretty well. And oddly enough, the only question I missed was about the first movie. To be fair, I guessed several times. One would say that it was luck, but I believe the Oracle had a hand in it…
posted by Pi Visuals at 11:06 pm
Tags:&nbsp
The Matrix