June 9, 2021 : The Simpsons' Animation Style Over the Years
I've long since stopped watching the show, but the video below is a cool history of The Simpsons' animation style – including its visual development and impact of technological advances in the medium.
It was interesting to hear about the challenges that came with each of the changes made to its Production pipeline – particularly, the switch to 16:9. The differences in compositional methodology between SD and HD are often overlooked until they have to stage out scenes in the new format.
posted by Pi Visuals at 8:58 am
Tags:&nbsp
Animation
&nbsp,&nbsp
The Simpsons
August 27, 2013 : The Simpsons Doubling Up On The Crossovers
A mere eighteen years removed from the mildly controversial Critic Crossover episode (I enjoyed it), The Simpsons have decided to do it again – except with Matt Groening on board. This time, The Simpsons will appear on an episode of Family Guy.
I haven't watched Family Guy since 2006 or The Simpsons since 2003… so I'm pretty sure I won't tune in to see it. Either way, it's pretty safe to say the rivalry these two shows once had it no more. Yet again, that probably fizzled when Seth MacFarlane provided a voice on a newer Futurama episode.
Speaking of Futurama, it has also been announced that they will crossover onto a Simpsons episode sometime in 2014. Sadly, Futurama's post renewal decline has lead me to stop watching that show a few seasons back, so I am pretty sure I won't be viewing this one either. Now, if only these episodes were made 10-12 years ago. Oh well.
posted by Pi Visuals at 12:22 am
Tags:&nbsp
Family Guy
&nbsp,&nbsp
Futurama
&nbsp,&nbsp
The Simpsons
0 Comments | Post a comment
September 29, 2011 : An All Simpsons TV Channel: A 30% Chance Of Hilarity
Apparently Fox is considering a TV channel solely for The Simpsons. Ten years ago, I would have been ecstatic (although they didn't have nearly enough episodes to even consider the possibility). My reaction now to hearing the news? Meh.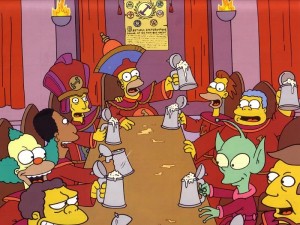 The channel is still several years away from forming since syndication deals would first have to expire. Frankly, if I were to get the channel, I don't know how often I would actually watch it. The Simpsons is about to kick off their 23rd season (yeah, it's been that many). The first nine seasons were solid (an opinion these people share) so I would clearly watch those.
But I would only watch episodes from the next five seasons if nothing better was on… and I was bored… and content with laughing only three times over 22 minutes. And I wouldn't bother with anything after those seasons unless I wanted to punish myself (and I couldn't get to a Denny's).
posted by Pi Visuals at 9:27 pm
Tags:&nbsp
The Simpsons
0 Comments | Post a comment
September 9, 2011 : Is That Stern Lecture Plumbing?
Walking around, I stumbled on this gem.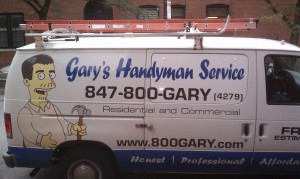 By the way, the title of the post is a reference to my favorite Simpsons episode. Stern Lecture was the plumber at the beginning of the episode, and his slogan was, "I told you not to flush that."
Anyway, I've never seen a local business (or any business) so blatantly rip off The Simpsons'. However, with the episode quality over the past ten years, I wonder if using their likeness has helped or hurt business.
posted by Pi Visuals at 7:04 pm
Tags:&nbsp
The Simpsons
0 Comments | Post a comment
April 14, 2010 : Troy McClure In All His Glory
While I have soured to newer Simpsons' episodes, it's always fun to see cool sites devoted to the show. Simpson Crazy has compiled numerous lists, including:
Most of these are references to the older (and in my opinion) better episodes. Plus, anything with Troy McClure rocks – I overlook his fish fetish and remember him for playing The Human in The Planet Of The Apes (the musical, not the planet).
In unrelated news, apparently Trigun will see new toys coming out via Revoltech. It looks like the figures will be just of Vash and Wolfwood, but they look bad-ass. The link has numerous pics.
posted by Pi Visuals at 10:23 am
Tags:&nbsp
The Simpsons
&nbsp,&nbsp
Trigun
0 Comments | Post a comment
April 24, 2009 : Countless Hours Wasted
This site has the possibility of turning a productive day into the exact opposite. Nonetheless, it's still a fun and nostalgic look at The Simpsons. Plus, it's description ensures it will cater to my views of the show:
"Eye On Springfield is a retrospective of Simpsons hilarity spanning from seasons 1 to 9, when it was still funny."
I'm not quite sure where exactly I would say the show stopped being funny, but I do know I kept watching well past that point. It's fun to try and remember which episode goes with which screencap (some are more obvious than others).
posted by Pi Visuals at 3:36 pm
Tags:&nbsp
The Simpsons
0 Comments | Post a comment