October 6, 2017 : SyFy Says, "Goodbye Dark Matter, Hello Futurama"
The news is about a month old, but SyFy cancelled Dark Matter. Season 3 is waiting to be watched on my DVR Queue, but I was a fan of the show. I will still view it – after I finish up a few other older shows – but now it will be bittersweet. Dark Matter was intended to be a 5 season series, and so it clearly will leave stories left untold and questions unanswered.
In better news (or should I say "Good News, Everyone"), SyFy purchased the rights to Futurama and will begin airing episodes in November. It sounds like the deal is for multiple years; and while it has a hefty price tag, it isn't exclusive. That said, it will be nice to see Futurama back on TV while flipping through the old Boob Tube. I just hope they don't do the awful editing that Comedy Central did when it ran them.
posted by Pi Visuals at 2:02 pm
Tags:&nbsp
Cancelled
&nbsp,&nbsp
Futurama
April 29, 2016 : Animation Software Toonz Now Open Source
Toonz, a professional software package, has released an open source version. Not only is it the software of choice for Studio Ghibli, but it was used to make Futurama. First developed by an Italian company (Digital Video), Toonz was purchased by Dwango, a Japanese media and entertainment company. As part of the agreement, an open source version of the software was released in late March. Here is a link to the free version.
In addition to the open source platform, a premium version of Toonz is available. This Open Source Business Model is new to me so I don't know if the free version is very watered down. Although, Toonz Premium is supposed to be sold at a "competitive price", which probably means cheaper than the more popular Toonboom.
I haven't installed the open source version yet, but I plan on checking it out soon. It's been a while since I had a 2D animation program in my pipeline. Way back when, I used Mirage (from Bauhaus); but it grew obsolete, and I didn't purchase its successor, TV Paint.
posted by Pi Visuals at 8:32 pm
Tags:&nbsp
Futurama
August 31, 2015 : Incredible Futurama CGI Video
Prior to its original FOX cancellation, few shows were better than Futurama. Between the solid writing, great character development, and seamless interplay of 2D and 3D animation; I was definitely a fan. Plus, it made me forget how far The Simpsons had slipped in quality.
Anyway, I came across this awesome 3D Futurama video. It's not very long, which makes me want more.
Needless to say… wow! I am not sure if this was just a pet project nor how long it took, but it is impressive (and then some). There is also a cool making-of video that is linked in the video's description.
posted by Pi Visuals at 12:34 am
Tags:&nbsp
Futurama
August 27, 2013 : The Simpsons Doubling Up On The Crossovers
A mere eighteen years removed from the mildly controversial Critic Crossover episode (I enjoyed it), The Simpsons have decided to do it again – except with Matt Groening on board. This time, The Simpsons will appear on an episode of Family Guy.
I haven't watched Family Guy since 2006 or The Simpsons since 2003… so I'm pretty sure I won't tune in to see it. Either way, it's pretty safe to say the rivalry these two shows once had it no more. Yet again, that probably fizzled when Seth MacFarlane provided a voice on a newer Futurama episode.
Speaking of Futurama, it has also been announced that they will crossover onto a Simpsons episode sometime in 2014. Sadly, Futurama's post renewal decline has lead me to stop watching that show a few seasons back, so I am pretty sure I won't be viewing this one either. Now, if only these episodes were made 10-12 years ago. Oh well.
posted by Pi Visuals at 12:22 am
Tags:&nbsp
Family Guy
&nbsp,&nbsp
Futurama
&nbsp,&nbsp
The Simpsons
0 Comments | Post a comment
June 14, 2009 : Welcome (Back) To The World Of Tomorrow
It is now official, Futurama will return with new episodes. The two, 13-episode seasons will air on Comedy Central (and if desirable, perhaps on a network).
This is pretty cool news if you are a fan, which I am. However, I am also a little skeptical. Futurama did have four straight to DVD movies over the past two years. I personally felt the movies progressively got worse, and none of them reached the level of quality that the series attained when it was still on the air. The optimist in me attributes this to the format the DVD movies had to adhere (four 22-minute parts, with each part having traditional story breaks as if it was a standalone episode).
However, I am worried that the Futurama revival will follow the path of Family Guy's – in that it will be alright but not as good as it used to be. Of course the cast is returning; but since the show is going to air on Comedy Central, the budget has been reduced. This means some of the animation sequences will be more simplified, and the writing staff is smaller. Theref0re, two key elements of the show that made it great (the phenomenal writing and the sweet 2D/3D animation) will be reduced.
Hopefully Futurama will return to form with these new episodes. Unfortunately, there are people who have cause for concern.
posted by Pi Visuals at 4:30 pm
Tags:&nbsp
Family Guy
&nbsp,&nbsp
Futurama
0 Comments | Post a comment
December 3, 2008 : Raskolnikov Filibuster Deoxymonohydroxinate
Yeah, it's been too long since my last post.  Between the holidays and things being generally hectic, it hasn't left very much time to post anything new.  However, there have been a few cool things worth sharing.
The Astro Boy Teaser does not divulge very much content, but it still looks like it could be good.  While seeing Astro in 3D form does take some getting used to, it doesn't appear to detract from the overall coolness of the manga/anime.  Besides, Imagi Animation Studios was responsible for the 3D TMNT movie, which looked well done.
The fourth (and potentially final) straight to DVD Futurama Movie, Into the Wild Green Yonder, will be released in late February.  It should be pretty good, but it is worth mentioning because Seth McFarlane is supposed to do a guest voice.  This is interesting since it seemed that McFarlane and Groening always had an odd relationship since the start of Family Guy.  Obviously not as acromonious as McFarlane's relationship with Trey Parker and Matt Stone, but there always seemed to be resentment or jealousy or something off.  Apparently Groening and McFarlane have gotten past prior grievances.
Bolt is Disney's new animated movie (only their third 3D animated film).  It received good reviews but fell flat during its opening weekend at the box office.  This was disappointing since it probably was one of their better films in recent history.  This most likely was also the first film that Pixar had some involvement with since their merger.  The interesting thing is that word of mouth really helped turn this flick from a disappointment to potential success.  Its second week at the box office actually saw a rise in weekend ticket sales.  This is usually only seen with independent or lower-budget movies that begin in limited release and slowly expand to more theaters.
Soak it all in because now I'm spent.  Later.
posted by Pi Visuals at 2:28 pm
Tags:&nbsp
Animation
&nbsp,&nbsp
Disney
&nbsp,&nbsp
Family Guy
&nbsp,&nbsp
Futurama
&nbsp,&nbsp
Matt Stone
&nbsp,&nbsp
Pixar
&nbsp,&nbsp
Random
&nbsp,&nbsp
Trey Parker
1 Comment | Post a comment
July 10, 2008 : You Win Again Gravity!!!
This was too funny not to mention. Oh the things people look for (or offer) on Craig's List.
Not only is it an homage to a great show, but this person picked a classic character to represent it. Feel free to click on the image to get a larger version of the Craig's List Ad.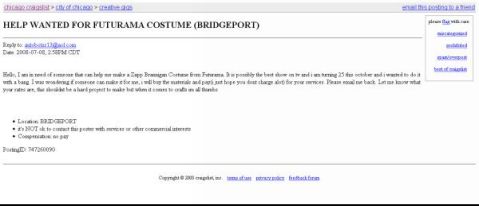 It cannot be all that difficult to complete the outfit – at least if you're resourceful. Still, this guy definitely knows how to have fun on his birthday!
As a side note, other titles considered for this post include: The Velour Fog, The Zapper, Sexlexia… rest assured the list could go on for quite some time.
posted by Pi Visuals at 9:09 pm
Tags:&nbsp
Futurama
&nbsp,&nbsp
Random
3 Comments | Post a comment