March 26, 2012 : The Sweatbox Documentary
The Sweatbox was the nickname of the old room at Disney studios used to screen films throughout their various stages of productions (it apparently had no air conditioning). It is also the name of an unreleased 2002 documentary that went behind the scenes for the making of Kingdom Of The Sun. The film eventually became The Emperor's New Groove.
Disney has kept the film under wraps, which is legal since they own the rights. However over the last week, a rough cut of the film was leaked online. It has already been posted on YouTube, viewed nearly 100,000 times, and then removed. If you're interested in checking out the film, I suggest using the Google these kids always talk about.
The film was interesting, although I thought it had too much Sting in it (he was signed on to write music for the original film, and his wife apparently was the filmmaker of the documentary). A movie altering its plot in pre-production is nothing new – nor is changing directors, which was done in this case. What I found extremely interesting was how much time and money was invested into the film prior to writing a finished (or near finished) script that was approved by the higher ups.
I never saw The Emperor's New Groove so I can't comment on the final product. However, the documentary showed that there were a lot of people besides the director that disagreed with altering the plot so significantly – including actors, animators, and even the great Sting. They claimed the original story was deeper and more original.
Something tells me that both sides were right. The original film was probably much more interesting and could have been great, but the story had flaws; and the fact that these flaws weren't exposed much earlier in the process was a huge oversight by the creative team. I'd like to think that this is one of the main reasons why Disney has not wanted to release The Sweatbox because Disney's collaborative process failed. Still at the end of the film, the producers did acknowledge their mistakes; and while it may not be your traditional Disney ending, it's at least a mildly happy outcome.
posted by Pi Visuals at 2:50 pm
Tags:&nbsp
Disney
0 Comments | Post a comment
June 14, 2011 : Andreas Deja Reflects On Disney's Nine Old Men
Disney animation veteran Andreas Deja has entered the world of blogs. Deja has worked at Disney for over 30 years and possesses a great deal of knowledge and skill. Even cooler, he also has had countless encounters with Disney's Nine Old Men.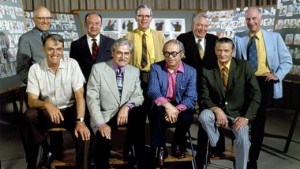 The blog, which is just over a week old, is filled with stories about these various legends of animation. He shares many lessons learned from them along with drawings they did over the years. He has even included pencil tests of theirs. Truly amazing work.
posted by Pi Visuals at 9:57 pm
Tags:&nbsp
Blogs
&nbsp,&nbsp
Disney
2 Comments | Post a comment
December 3, 2008 : Raskolnikov Filibuster Deoxymonohydroxinate
Yeah, it's been too long since my last post.  Between the holidays and things being generally hectic, it hasn't left very much time to post anything new.  However, there have been a few cool things worth sharing.
The Astro Boy Teaser does not divulge very much content, but it still looks like it could be good.  While seeing Astro in 3D form does take some getting used to, it doesn't appear to detract from the overall coolness of the manga/anime.  Besides, Imagi Animation Studios was responsible for the 3D TMNT movie, which looked well done.
The fourth (and potentially final) straight to DVD Futurama Movie, Into the Wild Green Yonder, will be released in late February.  It should be pretty good, but it is worth mentioning because Seth McFarlane is supposed to do a guest voice.  This is interesting since it seemed that McFarlane and Groening always had an odd relationship since the start of Family Guy.  Obviously not as acromonious as McFarlane's relationship with Trey Parker and Matt Stone, but there always seemed to be resentment or jealousy or something off.  Apparently Groening and McFarlane have gotten past prior grievances.
Bolt is Disney's new animated movie (only their third 3D animated film).  It received good reviews but fell flat during its opening weekend at the box office.  This was disappointing since it probably was one of their better films in recent history.  This most likely was also the first film that Pixar had some involvement with since their merger.  The interesting thing is that word of mouth really helped turn this flick from a disappointment to potential success.  Its second week at the box office actually saw a rise in weekend ticket sales.  This is usually only seen with independent or lower-budget movies that begin in limited release and slowly expand to more theaters.
Soak it all in because now I'm spent.  Later.
posted by Pi Visuals at 2:28 pm
Tags:&nbsp
Animation
&nbsp,&nbsp
Disney
&nbsp,&nbsp
Family Guy
&nbsp,&nbsp
Futurama
&nbsp,&nbsp
Matt Stone
&nbsp,&nbsp
Pixar
&nbsp,&nbsp
Random
&nbsp,&nbsp
Trey Parker
1 Comment | Post a comment