September 29, 2011 : An All Simpsons TV Channel: A 30% Chance Of Hilarity
Apparently Fox is considering a TV channel solely for The Simpsons. Ten years ago, I would have been ecstatic (although they didn't have nearly enough episodes to even consider the possibility). My reaction now to hearing the news? Meh.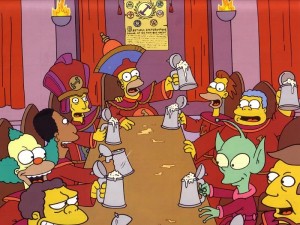 The channel is still several years away from forming since syndication deals would first have to expire. Frankly, if I were to get the channel, I don't know how often I would actually watch it. The Simpsons is about to kick off their 23rd season (yeah, it's been that many). The first nine seasons were solid (an opinion these people share) so I would clearly watch those.
But I would only watch episodes from the next five seasons if nothing better was on… and I was bored… and content with laughing only three times over 22 minutes. And I wouldn't bother with anything after those seasons unless I wanted to punish myself (and I couldn't get to a Denny's).
posted by Pi Visuals at 9:27 pm
Tags:&nbsp
The Simpsons