March 31, 2011 : Say Goodbye To Sym-Bionic Titan
Genndy Tartakovsky has yet another series end prematurely on Cartoon Network. They released next season's schedule, and it does not have Genndy's Sym-Bionic Titan on it. While it hasn't been formally cancelled, the absence of the show on the upcoming season's schedule shows it has not been renewed – a similar fate as Genndy's greatest show, Samurai Jack.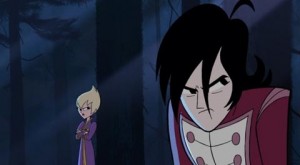 According to the article, while Titan received competitive ratings, the decision to not move forward with another season was because "it didn't have enough toys connected to it". Personally, this seems like a weak reason, but it obviously contributes to the show's bottom line. The more pressing question is – how does a show featuring robots not have marketable toys? Not only does each character their own robot, but they form together to create an entirely new one (Titan… the baddest of them all).
That means the remaining two episodes will be the series last, barring any miracles. Sadly, so many cool storylines will not be resolved (or even touched). But I guess at this point, there's no use crying over spilled milk – all one can do now is make sure they enjoy these last two episodes.
Although, it is disheartening to see another good show end too soon.
posted by Pi Visuals at 12:41 pm
Tags:&nbsp
Cancelled
&nbsp,&nbsp
Disappointing
&nbsp,&nbsp
Genndy Tartakovsky
&nbsp,&nbsp
Samurai Jack
&nbsp,&nbsp
Sym-Bionic Titan
[…] >>Say Goodbye To Sym-Bionic Titan […]
[…] not be one of the returning shows next year. This comes nearly a year after the cancellation of Sym-Bionic Titan. For the record, I will be more bummed about losing Titan, but ThunderCats was still a worthwhile […]