July 4, 2022 : Welcome Home, Genndy!
In a move that seems obvious for Cartoon Network and Warner Bros. Animation, Genndy Tartakovsky signed an exclusive multiyear agreement with the studio pair. The article also mentions the premiere of Primal's second season.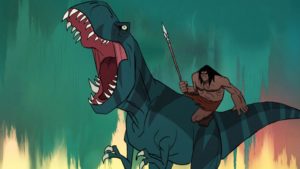 Anytime Genndy is creating original material, it's a good thing. I was unaware of his current project, Unicorn: Warriors Eternal, but I also want to see what else he'll get to work on. The dude's a workaholic.
Other fans have expressed hope he'll resurrect his Popeye Animated movie or previously cancelled shows (specifically Sym-Bionic Titan). Whatever it is, sign me up!
posted by Pi Visuals at 12:08 am
Tags:&nbsp
Genndy Tartakovsky
&nbsp,&nbsp
Sym-Bionic Titan
June 14, 2016 : Dexter's Laboratory's Importance To Cartoon Network
Den Of Geek has a solid article about the impact of Dexter's Laboratory on the Cartoon Network's success over the last twenty years. It talks about the history of the network as well as the origins of the series.
Besides Genndy Tartakovsky, who created the show, it mentions other important people involved with production who went on to have very successful animation careers: specifically Butch Hartman, Craig McCracken, and Seth MacFarlane. The article is an interesting read.
Even though I didn't get Cartoon Network obsessed until after Dexter's Laboratory, I always enjoyed reruns whenever on. For me, its greater value was paving the way for shows I really enjoyed. Most importantly, it allowed Genndy to create more – specifically Samurai Jack (and to a lesser extent Star Wars: Clone Wars and Sym-Bionic Titan…sigh, RIP). For that, props to you Dexter's Laboratory!
posted by Pi Visuals at 11:16 pm
Tags:&nbsp
Genndy Tartakovsky
&nbsp,&nbsp
Samurai Jack
&nbsp,&nbsp
Sym-Bionic Titan
September 23, 2015 : Solid (And Lengthy) Genndy Interview
Cartoon Brew interviewed the force that is Genndy Tartakovsky. It's pretty long, which in this example is great. He talks about plenty – including Samurai Jack and Sym-Bionic Titan (sniff, sniff). You can read it here.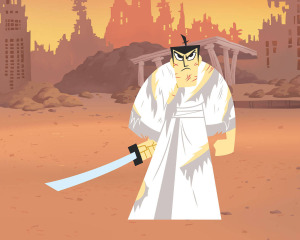 It's interesting to hear his usual optimism interwoven with subtle frustration. Personally, I appreciate both his passion and his humility. However, I'll still continue to hold my breath about any reboot/ revival of Samurai Jack, but you never know. After all, Reboot is making a comeback (sorta).
posted by Pi Visuals at 3:09 pm
Tags:&nbsp
Genndy Tartakovsky
&nbsp,&nbsp
ReBoot
&nbsp,&nbsp
Samurai Jack
&nbsp,&nbsp
Sym-Bionic Titan
March 30, 2012 : Say Goodbye To ThunderCats
Apparently it wasn't that thunderous of a return. Cartoon Network's recent upfront release showed that ThunderCats will not be one of the returning shows next year. This comes nearly a year after the cancellation of Sym-Bionic Titan. For the record, I will be more bummed about losing Titan, but ThunderCats was still a worthwhile show.
The new season just premiered last week, which implies this decision was made without TV ratings in mind (or at least the new season's). Many speculated the demise of the show due to no new toys being released at the recent Toy Fair.
The question is – which action precipitated which? Were no new toys made because the show was about to be cancelled, or was the show cancelled because their weren't marketable toys? If it was the former, then why would a second season even be green lit if the show was to be canned before the new season started? If it was the latter, then what the hell? Growing up, I couldn't have enough ThunderCat toys. Then again, I couldn't believe Sym-Bionic Titan couldn't find a market for toys with a giant robot as its main character.
posted by Pi Visuals at 12:13 am
Tags:&nbsp
Cancelled
&nbsp,&nbsp
Sym-Bionic Titan
&nbsp,&nbsp
ThunderCats
0 Comments | Post a comment
March 9, 2012 : ThunderCats' Thunderous Return
After a 4 month hiatus (and an apparent gag order on its future), Cartoon Network finally announced the premiere date for ThunderCats' second season – and they even released a few clips of the first episode. The show is moving to Saturday mornings, and the new season kicks off March 24th.
After not hearing much about the show's production status, I was starting to worry that it was going to suffer a fate similar to Symbionic Titan. It's far from a runaway hit, but it at least got a new season – and that is reason to celebrate.
posted by Pi Visuals at 1:44 am
Tags:&nbsp
Sym-Bionic Titan
&nbsp,&nbsp
ThunderCats
1 Comment | Post a comment
July 7, 2011 : A New ThunderCats Series? Oh. I Mean Hooooo.
While I'd prefer to see Sym-bionic Titan back, Cartoon Network premieres the new ThunderCats series in a few weeks. The reboot kicks off with an hour long episode on July 29th.
I'm really digging the anime feel; and with Studio 4°C in charge of the animation, it's a good bet that it will done well. To make things even cooler, Will Friedle (of Batman Beyond fame) voices Lion-O.
Another interesting tidbit… the original voice of Lion-O (Larry Kenney) will also be in the series – as the voice of Lion-O's father. Throw in the voice talents of Claus from American Dad (Dee Bradley Baker), and this is a series I plan on giving a shot. Besides, based off my childhood, I believe I'm obligated.
posted by Pi Visuals at 12:11 am
Tags:&nbsp
American Dad
&nbsp,&nbsp
Studio 4°C
&nbsp,&nbsp
Sym-Bionic Titan
&nbsp,&nbsp
ThunderCats
0 Comments | Post a comment
March 31, 2011 : Say Goodbye To Sym-Bionic Titan
Genndy Tartakovsky has yet another series end prematurely on Cartoon Network. They released next season's schedule, and it does not have Genndy's Sym-Bionic Titan on it. While it hasn't been formally cancelled, the absence of the show on the upcoming season's schedule shows it has not been renewed – a similar fate as Genndy's greatest show, Samurai Jack.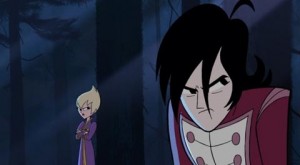 According to the article, while Titan received competitive ratings, the decision to not move forward with another season was because "it didn't have enough toys connected to it". Personally, this seems like a weak reason, but it obviously contributes to the show's bottom line. The more pressing question is – how does a show featuring robots not have marketable toys? Not only does each character their own robot, but they form together to create an entirely new one (Titan… the baddest of them all).
That means the remaining two episodes will be the series last, barring any miracles. Sadly, so many cool storylines will not be resolved (or even touched). But I guess at this point, there's no use crying over spilled milk – all one can do now is make sure they enjoy these last two episodes.
Although, it is disheartening to see another good show end too soon.
posted by Pi Visuals at 12:41 pm
Tags:&nbsp
Cancelled
&nbsp,&nbsp
Disappointing
&nbsp,&nbsp
Genndy Tartakovsky
&nbsp,&nbsp
Samurai Jack
&nbsp,&nbsp
Sym-Bionic Titan
2 Comments | Post a comment
February 10, 2011 : Sym-Bionic Titan's New Season… Already Underway
I totally forgot to mention this, but Sym-Bionic Titan's new season has already started – and it's on a new night! The second episode of the sophomore season aired yesterday.
While I don't know why the show was moved from Fridays to Wednesdays, it seems to have been a pretty good idea thus far – at least, according to Wikipedia, which says the season premiere drew in higher ratings than any of the Season One episodes. A third season has yet to be greenlit, but hopefully that will take place sooner rather than later. Production times for these episodes are fairly high; and understandably so, considering the quality of each episode.
While Titan's standalone episodes are often entertaining, this season needs to flesh out more of the underlying mythology that was touched upon during Season One. Ideally, this will include development of the G3 Organization on Earth as well as General Modula on Galaluna.
An interesting side note that I just learned, the setting of the show is apparently in Sherman, Illinois – a town nearby Springfield, IL.
posted by Pi Visuals at 2:57 pm
Tags:&nbsp
Genndy Tartakovsky
&nbsp,&nbsp
Sym-Bionic Titan
1 Comment | Post a comment