July 4, 2022 : Welcome Home, Genndy!
In a move that seems obvious for Cartoon Network and Warner Bros. Animation, Genndy Tartakovsky signed an exclusive multiyear agreement with the studio pair. The article also mentions the premiere of Primal's second season.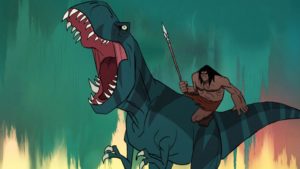 Anytime Genndy is creating original material, it's a good thing. I was unaware of his current project, Unicorn: Warriors Eternal, but I also want to see what else he'll get to work on. The dude's a workaholic.
Other fans have expressed hope he'll resurrect his Popeye Animated movie or previously cancelled shows (specifically Sym-Bionic Titan). Whatever it is, sign me up!
posted by Pi Visuals at 12:08 am
Tags:&nbsp
Genndy Tartakovsky
&nbsp,&nbsp
Sym-Bionic Titan