June 23, 2016 : Samurai Jack Update
During the recent Annecy Interational Animated Film Festival, Genndy Tartakovsky revealed some updates on the new Samurai Jack, along with some concept art.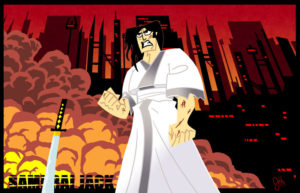 While a premiere date for the new season was not mentioned, they did say it will be 10 episodes long – and with a pacing of a "five-hour movie". It will also take place 50 years after the events of the last episode. I'm not sure how they will address Jack being 50 years older, but I assume it won't be a Batman Beyond situation.
The article goes on to state the tone of the show will be darker and more mature than the previous iteration, which makes sense since it will air on Adult Swim. While some are worried this change in the show's makeup will do harm, I'm optimistic Samurai Jack will still Samurai Jack.
posted by Pi Visuals at 12:47 pm
Tags:&nbsp
Genndy Tartakovsky
&nbsp,&nbsp
Samurai Jack