May 12, 2014 : Dexter's Lab Makes A Cameo In Chicago
Last month, I was in Chicago for a few weeks doing some TCB (taking care of business). On several occasions, I would ride the rails out to the burbs; and while on the Blue Line, I came across this little gem. Keep in mind, I was only able to get the shot while the train was moving.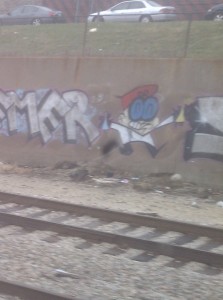 I've stated before, I'm not an advocate of graffiti. However, it's tough not to appreciate any homage to Genndy Tartakosky. Had it been Samurai Jack, I might have gotten off the train to get a picture with me in it.
posted by Pi Visuals at 9:42 pm
Tags:&nbsp
Genndy Tartakovsky
0 Comments | Post a comment
July 23, 2013 : Watch Out! Samurai Jack Comic Coming Out
Solid news for Samarai Jack fans – a new comic book is due out this fall, which will pick up where the series (abruptly) ended. It's not a movie (or a new season), but it's better than nothing… even if it's 9 years late. Below is one of the covers, and as expected, it's pretty bad ass.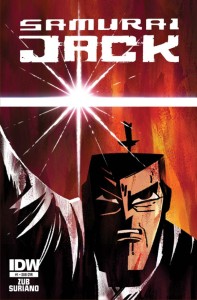 I'm not huge into comic books, although to see Jack again, I'm willing to make an exception. Of course, the bigger picture is that it might be successful enough to gain enough traction for a movie, something that Genndy Tartakovsky still shops around. One can only hope.
posted by Pi Visuals at 11:58 pm
Tags:&nbsp
Genndy Tartakovsky
&nbsp,&nbsp
Samurai Jack
0 Comments | Post a comment
September 27, 2012 : Genndy's Hotel Transylvania Opens This Weekend
Being a huge fan on Genndy Tartakovsky, I am curious how well Hotel Transylvania will do this weekend. He was the fifth director signed on to the project, which has been in development since 2006 – so clearly there is some extra baggage associated with this film. However, it's worth pointing out that Sony Pictures liked his work enough on this film to sign him to direct another animated feature (sadly, it'll be a movie based on Popeye as opposed to new material… or Samurai Jack).
While the concept doesn't blow you away, I do like how the movie possesses a cartoony feel despite being a 3D movie. This was intentional, as Genndy himself stated in an article for the movie. I certainly enjoy the realism of 3D animation, but I'm also a huge fan of traditional 2D animation; so I'm interested to see how a 3D movie is executed by someone with such an accomplished background in 2D. Now let's just hope the story doesn't ruin it.
posted by Pi Visuals at 7:55 am
Tags:&nbsp
Genndy Tartakovsky
0 Comments | Post a comment
March 14, 2012 : Hotel Transylvania: World's Colliding
Images for Hotel Transylvania, Genndy Tartakovsky's latest film, were recently released. I definitely like the character designs, and I am curious to see how Genndy does in his directorial film debut. The film is set to come out late-September, although there's a chance this could get pushed back.
Despite my excitement, there is reason for concern. First off, the film has been in development since 2006. In fact, Genndy is the fourth director attached to the film. Plus, Adam Sandler stars in it  (insert your AWESOM-O jokes here). Fortunately, it doesn't look like he wrote or produced it – so that's at least something… right?
posted by Pi Visuals at 1:05 am
Tags:&nbsp
Genndy Tartakovsky
0 Comments | Post a comment
March 31, 2011 : Say Goodbye To Sym-Bionic Titan
Genndy Tartakovsky has yet another series end prematurely on Cartoon Network. They released next season's schedule, and it does not have Genndy's Sym-Bionic Titan on it. While it hasn't been formally cancelled, the absence of the show on the upcoming season's schedule shows it has not been renewed – a similar fate as Genndy's greatest show, Samurai Jack.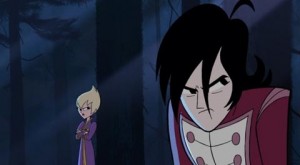 According to the article, while Titan received competitive ratings, the decision to not move forward with another season was because "it didn't have enough toys connected to it". Personally, this seems like a weak reason, but it obviously contributes to the show's bottom line. The more pressing question is – how does a show featuring robots not have marketable toys? Not only does each character their own robot, but they form together to create an entirely new one (Titan… the baddest of them all).
That means the remaining two episodes will be the series last, barring any miracles. Sadly, so many cool storylines will not be resolved (or even touched). But I guess at this point, there's no use crying over spilled milk – all one can do now is make sure they enjoy these last two episodes.
Although, it is disheartening to see another good show end too soon.
posted by Pi Visuals at 12:41 pm
Tags:&nbsp
Cancelled
&nbsp,&nbsp
Disappointing
&nbsp,&nbsp
Genndy Tartakovsky
&nbsp,&nbsp
Samurai Jack
&nbsp,&nbsp
Sym-Bionic Titan
2 Comments | Post a comment
February 10, 2011 : Sym-Bionic Titan's New Season… Already Underway
I totally forgot to mention this, but Sym-Bionic Titan's new season has already started – and it's on a new night! The second episode of the sophomore season aired yesterday.
While I don't know why the show was moved from Fridays to Wednesdays, it seems to have been a pretty good idea thus far – at least, according to Wikipedia, which says the season premiere drew in higher ratings than any of the Season One episodes. A third season has yet to be greenlit, but hopefully that will take place sooner rather than later. Production times for these episodes are fairly high; and understandably so, considering the quality of each episode.
While Titan's standalone episodes are often entertaining, this season needs to flesh out more of the underlying mythology that was touched upon during Season One. Ideally, this will include development of the G3 Organization on Earth as well as General Modula on Galaluna.
An interesting side note that I just learned, the setting of the show is apparently in Sherman, Illinois – a town nearby Springfield, IL.
posted by Pi Visuals at 2:57 pm
Tags:&nbsp
Genndy Tartakovsky
&nbsp,&nbsp
Sym-Bionic Titan
1 Comment | Post a comment
August 11, 2010 : Sym-Bionic Jack… I Mean Titan
Genndy Tartakovsky is returning to Cartoon Network, and it will be next month. While I am not sure the exact date  – his new show, Sym-Bionic Titan, premieres in September.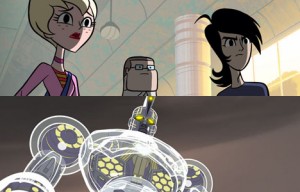 Being a huge fan of Samurai Jack and the original Star Wars: Clone Wars, hearing this definitely made my day. Plus, it stars John DiMaggio (Bender from Futurama) and Brian Posehn (the big guy from Mr. Show, The Sarah Silverman Program, and Mission Hill).
Seeing as how I just found out about Sym-Bionic (how did I not hear about this sooner?), I've decided not to learn much about the show. I want to go in fresh… fresh. So you're on your own using Google to find clips.
posted by Pi Visuals at 10:07 pm
Tags:&nbsp
Genndy Tartakovsky
&nbsp,&nbsp
Samurai Jack
3 Comments | Post a comment
January 26, 2009 : Samurai Man Or Iron Jack?
I finally got around to watching Iron Man.  I was never huge into the comics - but either way, it was pretty impressive.  There was also a lot of cool DVD features and behind the scenes info.
The cool thing I just found out is that Genndy Tartakovsky will be working on the storyboarding for Iron Man 2.  Director Jon Favreau apparently is a fan of Genndy's work.  I'm not sure, but I think he said that Genndy is, "So money, and he doesn't even know it."
posted by Pi Visuals at 12:11 pm
Tags:&nbsp
Genndy Tartakovsky
&nbsp,&nbsp
Iron Man
0 Comments | Post a comment
October 9, 2008 : Looks Promising, It Does Not
As expected, Star Wars: The Clone Wars looks to be a sub-par series – at least for older fans of the show.  The concerns about the look and design of the series/movie were expressed in a previous post; and while this is still an issue, the bigger worry was whether or not the storyline would be intriguing to all fans.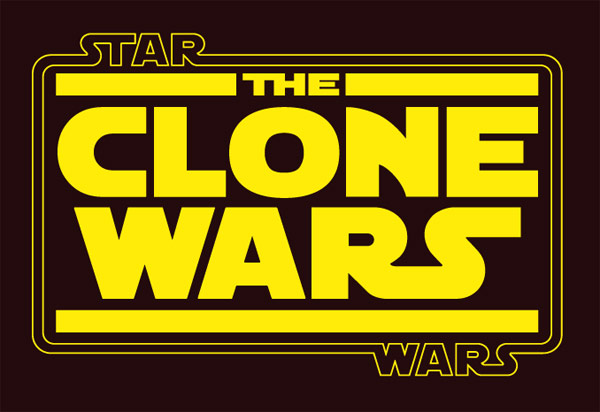 Unfortunately, the movie was received very poorly by both critics and fans alike; and one of the sticking points was how it was geared almost solely to kids (I believe a few critics called it a Saturday Morning Cartoon).  Of course as no surprise, the movie was still a commercial success.
I decided not to see the film.  After all, I was not about to shell out $12 to see something that I had heard nothing but bad things about.  Therefore, I decided to reserve my judgement until I saw an episode or two.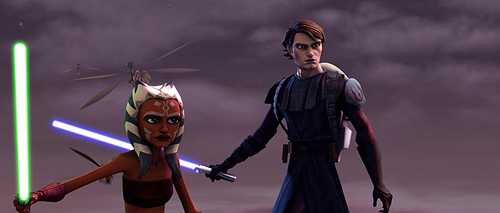 After watching one episode, I don't know if I can get through episode two.  There are definitely worse things on TV, but this is by far the most disappointing albeit no longer surprising.  The show does gear itself towards a younger crowd, which does not have to mean it's bad.  After all, the same could be said of the earlier series of Star Wars: Clone Wars, but that was a great series.  It still had an interesting story, with great animation and effects.  The new series…does not.
It should also be pointed out that in the episode I watched, Yoda had way too many lines. – and long lines at that.  With his style of speaking, it just sounded awful and a bit annoying.
I will probably watch a random episode here and there – but rest assured, it will be more so out of boredom rather than excitement.
posted by Pi Visuals at 1:29 pm
Tags:&nbsp
Disappointing
&nbsp,&nbsp
Genndy Tartakovsky
&nbsp,&nbsp
Star Wars
5 Comments | Post a comment