January 21, 2023 : Tis the Season – For An Overdue Post About A Holiday Card
I meant to crank out a quick post last month highlighting the most recent Holiday card, but I guess I never got around to it – which is weird since this Holiday season wasn't particularly busy. Well, better late than never: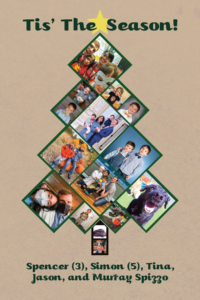 The theme for this last year's card (number 6, by the way) was locked in pretty early. The same goes for the layout and photos. However, there was a lot of back and forth with the coloring and smaller design details. I'm used to tweaking things to death, but this one seemed more than usual. Either way, I was happy with the final product – and a few ideas were even brainstormed (and documented) for next year.
posted by Pi Visuals at 12:08 am
Tags:&nbsp
Holidays