December 25, 2022 : Join the Team, Goten
Gohan lasted about 8 years. Piccolo is now past that age; and while it has been mostly running without issue, limitations are now starting to appear. Specifically, it is unable to update to Windows 11, and Adobe will be releasing an update soon that will no longer be stable with its current GPU. The HDD also crapped out this summer, which fortunately didn't result in the loss of many files.
As such, I already planned for a new computer last December to happen this year (it was also beneficial to do it this calendar year for tax purposes). I originally wanted to do it this summer, but I got sidetracked. With Black Friday sales providing the impetus, I finally started the process and purchased the components: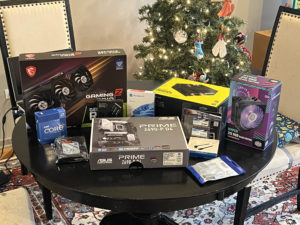 There were several starts and stops… the biggest one being me buying laptop RAM (doh!), but I also had limitations on when I was able to devote time to the build. That said, I was finally able to finish things up. The end result? Goten:
A big thank you to Moridin for returning the favor and doing the leg work on this build. I haven't had a chance to give Goten a spin and see how he runs. In fact, he isn't set up in my pipeline yet – I still need to figure out where he will physically sit – but it's only a matter of time before that happens. In the meantime, I'm please the process is over, and I can finally check this off my to-do list!
posted by Pi Visuals at 9:44 pm
Tags:&nbsp
DBZ
&nbsp,&nbsp
Pipeline