August 5, 2014 : I Christen Thee… Piccolo
To say it was long overdue would be an understatement, but I finally got myself a new computer! This is the first new one I've had in 8 or 9 years; and to make sure if fully met my current and future production requirements, I decided to build it from scratch… something I have never done before. Seeing as how I wasn't very knowledgeable about computer hardware, I had to do a lot of research into the various components.
It took some time and a great deal of effort, but the end result is the computer you see below (with and without side panels). I call him Piccolo.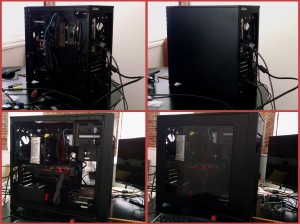 I am very stoked to have a computer that can easily (and quickly) handle the programs used for production. Granted, I still need to install most of these, but I'd like to think most of the hard work is over. This is technically the third computer I've owned that was built from scratch, however the first two were put together by Moridin.
In case you're curious about the name, I give all of my computers DBZ character names. This is the fourth one. The first one was Vegeta (obviously), who was one of the home-built computers I mentioned above. He was followed by Gohan, which was a Dell. I then received a used, home-built computer (mostly for music recording and additional storage), and it was named Tien.
And now, I can add Piccolo to the list. I considered naming it Trunks but felt the Saiyan race was already well represented. For the record, Vegeta is no longer with us. He died a painful death a few years ago, presumably at the hands of a virus named Frieza. Gohan and Tien are both still in my arsenal and was used to make Ultra. However, they are sorely outdated, and I have been questioning their usefulness for quite some time now. I briefly considered changing their names to Yamcha and Krillin…
posted by Pi Visuals at 9:54 pm
Tags:&nbsp
DBZ
&nbsp,&nbsp
Pipeline
&nbsp,&nbsp
Ultra
Looks good! If a component in Piccolo breaks, can he regenerate it?
[…] by the computer that Pi Visuals built, I decided to build my own computer. My last few computers have been Dell, but I have noticed that […]