December 10, 2021 : Tis' the Season – For A Simple, Yet Quaint Holiday Card
In addition to the normal Holiday hubbub, I also took on a side project. Even with things being so hectic, I still made time to create this year's Holiday card: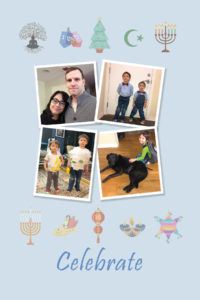 This marks the fifth straight year of making the card, which I'm proud of. Although, I must say this year was light on design. In fact, I had a more detailed background in earlier versions but pulled it back to the more simplified one seen above.
That said, I still like the overall aesthetic and its message. I suppose the people in the photos aren't bad either.
posted by Pi Visuals at 11:54 pm
Tags:&nbsp
Holidays