September 20, 2020 : Production Homestretch
The last two weeks were spent working on a very After Effects heavy set of sequences. It was a fun twenty seconds of footage that had challenging pieces, and I really like how it is coming together. Once that is out of the way, there are only three sequences left to animate – totaling about ten seconds.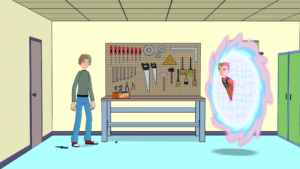 Even when the Lightwave and After Effects work is complete, there will still be several things on the 'To Do' list. Notably, writing two musical elements, creating a Title Card, and audio mixing. I also still need to go through revisions. Although since I've been regularly reviewing and revising pieces as they were completed, the revision process will be truncated.
That said, things are coming together, and we are in the homestretch. Here's hoping there aren't any last minute issues or surprises that spring up.
posted by Pi Visuals at 12:46 am
Tags:&nbsp
MeAndMe